If you're an ecommerce retailer, then you have probably heard of Product Listing Ads in Google AdWords.  Product Listing Ads (PLA's) are powerful ad units that enable you to display image thumbnails in the search results for products you sell on your site.  As you can imagine, the visual nature of the ads yield more ad real estate and can greatly help with click-through rate (since the ads are hard to overlook.)  And with the holidays quickly approaching, standing out from your competitors is an important aspect to landing new customers.
Here is a screenshot of product listings ads in action:
Interested in a Keurig Coffee Maker? I bet the ads on the right will catch your eye.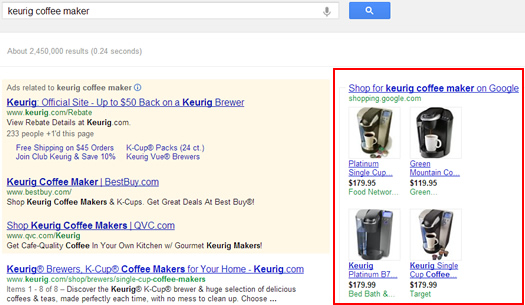 Are you looking for a new golf driver? Again, the PLA's on the right will probably catch your attention: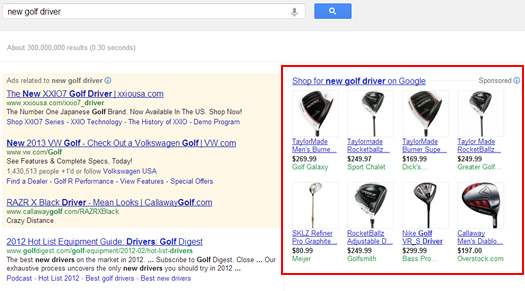 Google Shopping Goes Commercial
This past spring, Google announced that Google Product Search was moving to a full commercial model and would be called Google Shopping.  No longer would you be able to have your product ads show up for free (blended in the organic search results).  Google originally set a target deadline of October 1st, 2012 for the transition so ecommerce retailers could get familiar with product listings ads (which would be the mechanism for displaying products in the search results).  The ads would be cost per click-based (CPC), like PLA's have always been.
This was a big move for Google, as many ecommerce retailers relied on shopping results to gain free clicks to their sites from prospective customers searching for products.  Now, in order to have similar results, those ecommerce retailers would need to pay.  Therefore, many ecommerce retailers jumped on board the product listing ads bandwagon (as they should).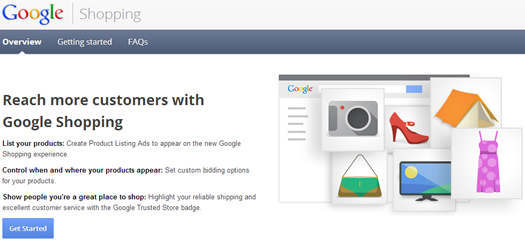 Optimization is Important
When you run product listing ads, you don't bid on keywords.  Instead, Google reviews your merchant center feed and then matches your ads with queries that it believes are relevant.  In my experience, there are times I see Google displaying product listing ads for queries that aren't directly tied to the product at hand, or that are more category-driven.  This can yield untargeted visitors, higher costs, and lower ROI.  And that's exactly what you don't want in SEM.  Therefore, it's important to optimize your product listing ads campaigns over time in order to increase performance.
It's Hard to Determine Out of the Box
Given what I listed above, where do you find the keywords triggering your product listing ads?  Unfortunately, they aren't so easy to find out of the box.  In addition, finding the keywords triggering your ads also depends on how you set up and structured your product listing ads campaigns.  For example, are you using product targets to segment your merchant feed, are you lumping all products in one ad group, etc?
Today, I'm here to help.  I'm going to list two ways to find the keywords triggering your product listing ads and I'll include a bonus custom report at the end of this post that provides even more information for you to analyze.  Let's get started.
Two Ways to Find Keywords Triggering Your Product Listing Ads
1. The AdWords UI
The first place you can find the keywords triggering your product listing ads is in the AdWords UI (managing your campaign on the web).  First, click the campaign holding your product listing ads (which should be a campaign that's separate from your other search or display network campaigns).  Then click the "Keywords" tab.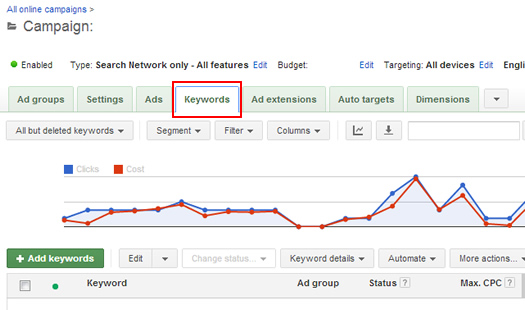 Next, click "Keyword Details", and finally "All".  This will reveal all the raw search queries that have triggered your product listing ads and that drove traffic to your site (by ad group).  Then you can adjust the columns in the report and export the report to Excel.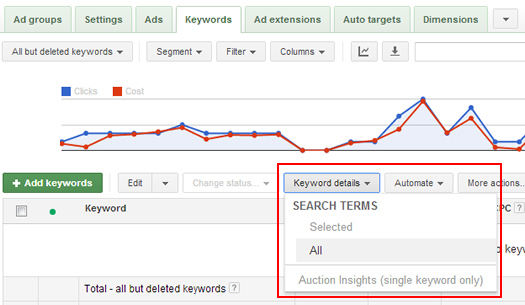 2. AdWords Reporting in Google Analytics (Match Search Queries + Second Dimension)
The second way you can find the queries triggering your product listing ads is to access your AdWords reporting in Google Analytics.  You can click the "AdWords" tab, and then the "Matched Search Queries" link to view all matched search queries for your campaigns.  Then, you can add a second dimension for "Ad Group" to view a list of raw search queries by ad group.  This is extremely powerful if you segmented your merchant feed using product targets (as mentioned earlier).  For example, imagine viewing all raw search queries by major brand, product type, etc.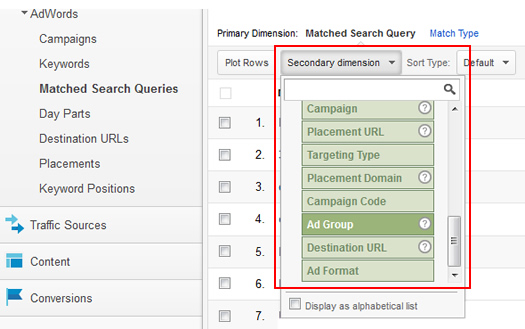 Next, you will need to filter this report based on your naming convention for product listings ads in AdWords.  That's because the report will initially contain all ad groups and matched search queries (and not just queries for your product listing ads).  You can use the filter box in your reporting to filter your ad groups to isolate the ad groups for your product listing ads.  For example, if your ad groups for product listing ads begin with "PLA", then you can filter the report to select ad groups that contain "PLA" in the title.  When you do this, you will be left with all of your ad groups for product listing ads and the matched search queries that have driven traffic to your site.  Then you can export this report to Excel for further analysis.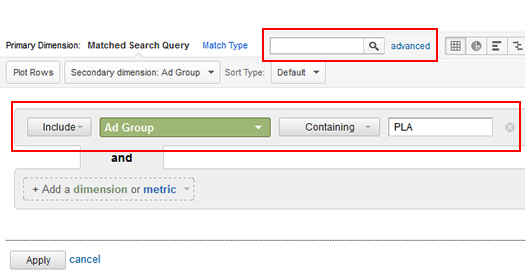 Bonus: Product Listing Ads Custom Report in Google Analytics
All of what I listed above works well, and can be extremely useful, but there's a quicker way to drill into this data.  You can use custom reporting in Google Analytics to create a new report that enables you to drill into campaign, ad group, raw search query, and then landing page by query.  Sounds awesome, right?
Well, I've built that report and provided a link to it below (so you can use it for your own campaigns).  If you are logged into your Google Analytics account, then clicking the link will launch the report in your account (just the structure, not the data).  Then you will need to tailor the report structure for your own campaigns.  For example, I created the report to isolate a campaign with "PLA" in the name.  You'll need to identify your own product listing ads campaigns based on your own naming convention.
Once you do, you'll be able to drill into your campaign, ad groups within that campaign, matched search queries per ad group, and then the landing page from each query.  The report will enable you to quickly identify negatives to use per ad group, and will help you double check landing pages per query.   Note, the landing page (destination URL) is based on your merchant center feed, and depending on the retailer, there can be thousands or tens of thousands of products in a feed.  It's always good to double check the destination URL's to make sure the right queries lead to the right product listing ads, which lead to the right product detail pages.  If not, you could be shooting yourself in the foot.
Click the link to access the product listing ads custom report I built.
Summary – Make the Most of Your Product Listing Ads
As I mentioned earlier, product listing ads are a powerful ad unit for ecommerce retailers.  And now with Google Shopping moving to a full commercial model, it's critically important for retailers to get a handle on their PLA's.  You can use the methods I provided above to find the search queries triggering your ads and driving prospective customers to your site.  In addition, you can use the custom report I provided to drill into your campaigns, ad groups, keywords, and landing pages.  Then it's up to you to analyze your newly-found reporting in order to refine your efforts.  And that's the name of the game in SEM.
Have a killer holiday season.
GG