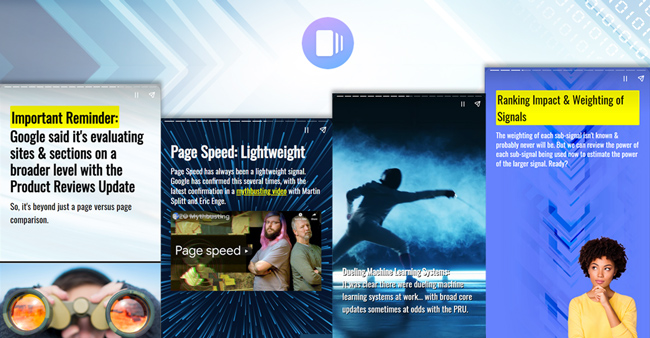 Web stories enable publishers to provide immersive experiences covering a topic over several pages or screens. They are similar to stories you might find on various social networks like Instagram and Snapchat. Web Stories can contain photos, video, sound, and animation and can quickly get your point across in a multimedia-driven format. From a device standpoint, Web Stories are perfect for mobile users, since they are driven by AMP, a performance-optimized framework that leverages caching by Google to produce quick-loading content. In addition to mobile, Web Stories also work extremely well in desktop browsers.

Since my roots are in multimedia application development, I have been working with Web Stories since Google first announced them in 2018 (when they were called AMP stories). Since then, I have developed and published several of my own Web Stories, while also helping clients understand how to best utilize the format. In addition, I have published a blog post covering a number of tips and recommendations for those looking to learn more about Web Stories.

Below, I have provided links to the various Web Stories I have developed, along with a short description of each story. They are best viewed on mobile devices, but you can absolutely view them in your desktop browser. And keep an eye on my Twitter feed… I am always looking to utilize Web Stories to cover additional important topics in SEO.
The December 2021 Product Reviews Update: Key Findings for Site Owners
Google released another Product Reviews Update on December 1, 2021 on the heels of the November 2021 broad core update (which rolled out on November 17, 2021 and completed on November 30, 2021). The December PRU was the second Products Reviews Update following the initial launch on April 8, 2021.

I published an extensive blog post about the December 2021 Product Reviews Update covering a number of important topics, including the extended and volatile rollout, new guidelines Google published for site owners, information about dueling machine learning algorithms, intent shifting in the SERPs, and more. And then I followed that blog post with a companion Web Story covering key points for site owners and SEOs. You can view the Web Story by clicking the image or link below.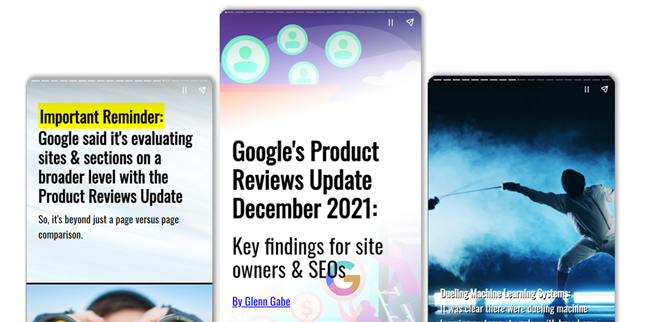 View the Web Story about the Dec Product Reviews Update now >>

The April 2021 Product Reviews Update: Analysis and Findings
Like with other major algorithm updates, I published a blog post containing my findings based on analyzing the original Product Reviews Update (which launched on April 8, 2021). The April PRU was core update-like for many sites that contained reviews content and caused surges and drops we typically only see with broad core updates. You can view the companion Web Story below by clicking the image or link below.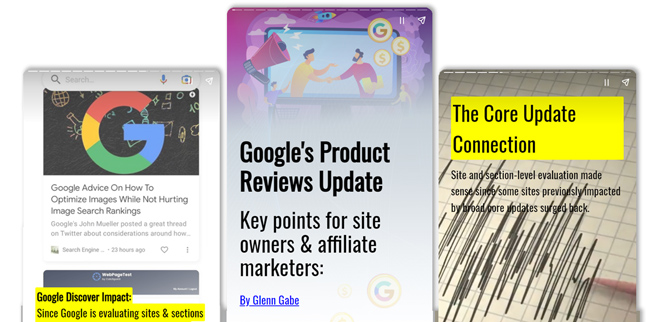 View the Web Story about the April Product Reviews Update now >>

Google's Page Experience Signal: How Powerful Will The New Signal Be?
Prior to the Page Experience Signal rolling out, I wrote a post on the Semrush blog covering Google's object-oriented approach to UX ranking factors (which included the various signals that are part of the larger Page Experience signal). That includes Core Web Vitals, mobile-friendly, https, and the mobile popup algorithm (intrusive interstitials). But from the start, Google was clear that the Page Experience signal would be a lightweight ranking factor… so I speculated about the power of the signal in that post. You can view the companion Web Story by clicking the image or link below.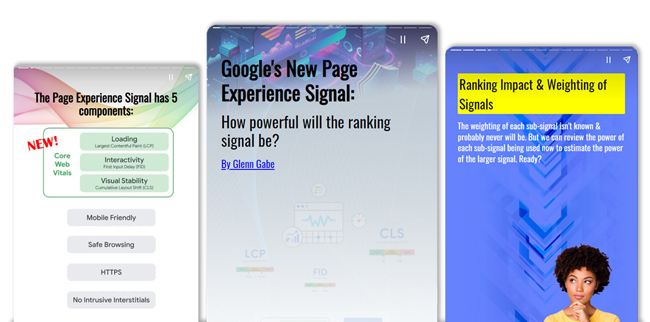 View the Web Story about the Page Experience Signal now >>

Google's Disqus Indexing Bug: Can Google Index Disqus Comments?
In June of 2018, after receiving reports that Disqus comments were not being indexed properly, Google's Martin Splitt looked into the issue. Martin found that Google was indeed having some issues indexing Disqus comments effectively and that a fix would be coming shortly. After the fix rolled out, Martin explained that when you rely on third-party dependencies (like Disqus for comments), then you cannot guarantee those comments will be indexed. i.e. If Google's systems can't fetch the necessary resources for rendering, then it can just skip that part (and Google will not find those comments). After covering the situation in my blog post about user comments and indexing, I published a companion Web Story specifically covering the Disqus situation. You can view the companion Web Story by clicking the image or link below.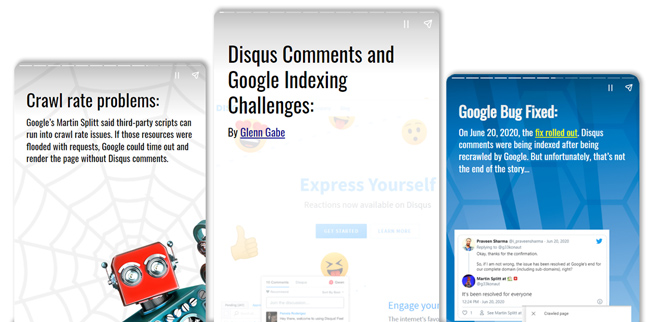 View the Web Story about Disqus indexing problems now >>

Constant Change in SEO Will Yield More Web Stories…
Since change is constant in SEO, I definitely plan to develop more Web Stories soon (covering major algorithm updates, SEO tutorials, technical SEO, and case studies). So definitely keep an eye on this page to find the latest Web Stories I have developed and published. And don't forget to follow me on Twitter. I'll definitely share new Web Stories there as soon as they are published.