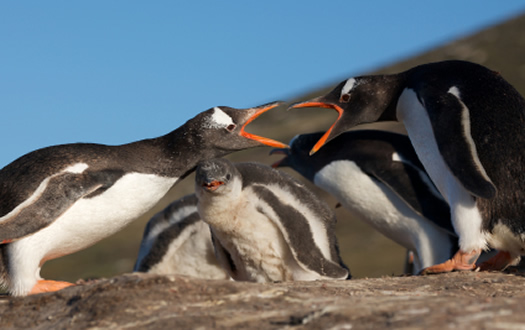 The past few days have been fascinating for SEO's.  Google's latest algorithm update, now officially named Penguin, has been rolled out.  The update was originally called the Over Optimization Penalty, then the Webspam Algorithm Update, and now Penguin.  As you can imagine, there have been screams from webmasters far and wide about the update (from both webmasters who should have gotten hit by Penguin, and some who believe they were wrongly penalized.)  False positives are absolutely going to occur with Penguin, and Google knows this.  More about this later in the post.
I've already started helping some companies that have been hit by Penguin analyze their websites and prepare for a Post-Penguin world.  I've also been monitoring the various webmaster forums to see examples of websites getting hit, to see what they were doing wrong.  Based on my research and analysis so far, I wanted to write a post explaining what I'm seeing and document the common thread across sites that are being penalized.  Note, we are still very early in the game, and Google will undoubtedly be rolling out updates to Penguin over time.  Therefore, this is what I'm seeing now.  Since it's a fluid situation, I will try and write follow-up posts about future Penguin releases.
Penguin and Exact Match Domains:
Before I get deeper into this post, I wanted to mention my first post about Penguin, which I published a few days ago.  I wrote about the potential impact of the Over Optimization Penalty on Exact Match Domains.  If you have been hit by Penguin, and you are using exact match domains, definitely check out that post.  There are several risks you might want to review.
Inbound Links – The Common Thread During Research and Analysis
Almost every penalized site that I've reviewed had issues with inbound links.  Specifically, their link profiles were littered were unnatural, spammy links.  And not all of those links were paid text links like some people would expect.  I saw a range of issues that could get a site pecked by Penguin.  Sorry, that's my first Penguin joke.  :)  Below, I'm going to cover several inbound link issues that I've seen during my analysis.  That said, I first wanted to mention other spammy tactics and Penguin 1.0.
What About Over Optimization?
I've been searching for a site that got hit for spammy title tags, keyword stuffing, doorway pages, etc., but I'm not seeing that as a driving force right now with Penguin.  And believe me, I've come across a lot of sites violating Google's Quality Guidelines over the years…  It doesn't seem like those factors are getting caught right now, with the key phrase being "right now".  My hope is that Google will roll out updates to Penguin that also catch those violations.  So, if you are a company that's keyword stuffing, employing doorway pages, overly optimizing your title tags, etc., now is the time to change…  It wouldn't shock me to see rolling updates to Penguin that include penalties targeting those violations as well.
Below, I'll list some of the inbound link issues I've seen on websites hit by Penguin.  Again, we are early on, and things can change.  But for now, this is what I'm seeing:
1. Paid Text Links Using Exact Anchor Text
As you can imagine, this one is a clear violation of Google's guidelines.  During my analysis, it was easy to pick up exact match, paid text links on sites that were rampant with sponsored links.  Many of the sites I analyzed had these types of links.  Similar to what I said in my first post on Penguin, if you want to check your own inbound links, read my post about finding paid text links using Open Site Explorer.
Checking inbound links via Open Site Explorer: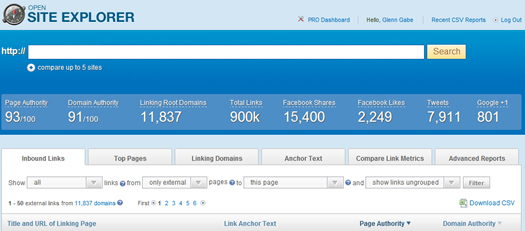 2. Comment Spam
When analyzing websites hit by Penguin, I also saw a lot of comment spam.  This came in two forms.  The first form was using signatures in comments using exact match anchor text.  For example, instead of using your name (like you're supposed to), people commenting were using the exact match anchor text for keywords they wanted to rank for.  For Google, this is pretty darn easy to pick up.
3. Guest Posts on Questionable Sites
I've also seen many guest posts on questionable sites that included exact match anchor text.  Note, I obviously don't think all guest posts are bad.  Actually, I think they can be ultra-powerful on the right websites and blogs.  But, the guest posts I'm referring to were on sites set up simply to generate income from those guest posts (based on the links they would drive).  And the posts themselves weren't strong… They were typically thin with a focus on the anchor text, and not the story.
4. Article Marketing Sites
Similar to the last bullet, I saw a lot of syndicated articles using exact match anchor text leading back to sites that got hammered by Penguin.  So yes, Penguins seem "cold" to article marketing tactics. Sorry, that's my second Penguin joke. :)  Again, these articles were relatively thin, used several instances of exact match anchor text leading back to the site, etc.
Inbound Link Profiles Heavily Weighted by These Tactics Got Hit
One of the most important findings included the weighting of inbound links for each site.  For the sites I analyzed, a majority of the inbound links included the tactics listed above.  Actually, for some sites, I couldn't find any natural links… most were unnatural.  As you can imagine, this is not a strong signal to Google that you're a typical webmaster looking to gain traffic by earning it.  You look like you're gaming the system to gain rankings.  And that's when Penguin steps in, and hammers you.  A natural link profile will contain many types of links, including URL's, brand names, image links, etc.  It won't contain 99% exact match anchor text from article sites, comment spam, etc.
Dangerous Sites and Not Just Spammy
There's another point I wanted to make before ending this post.  While analyzing inbound links across penalized sites, I found several linking websites that were flat out dangerous, and not just spammy.  I found sites flagged for malware, sites using numerous popups as I hit a page, etc.  So, when we know that Google doesn't like sending users to dangerous websites, and they it doesn't like spam, these dangerous sites could have been the kiss of death for downstream destinations.  If you have unnatural links on dangerous sites, then the Penguin outcome probably wasn't pretty for you.
An example of a website flagged for malware: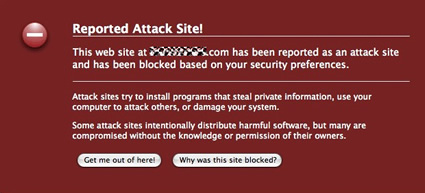 Next Steps for Penguin
Remember, this is just the beginning stages of Penguin and the situation can change quickly.  I'm going to keep analyzing websites that have been penalized, monitoring webmaster forums, and watching Google's response closely.
Here are some closing points about Penguin that are important to understand:
Google said you cannot file a reinclusion request if you've been hit by Penguin.  Since the update is algorithmic, and not manual, reinclusion requests will not help you.
Google set up a Penguin form to fill out if you believe that you've been wrongly hit by the algo update.  If you think you're a false positive, then fill out the form today.
Google also included a link to a form where you can report spam that you think should have been caught by Penguin, but hasn't.  You can click the button labeled "Report Webspam" on that page.  This is obviously a little subjective, but I'm glad Google is looking to catch more webspam in future releases of Penguin.
It's worth noting that both Panda and Penguin have been rolled out within a few days of one another.  Yesterday, Matt Cutts explained that the latest version of the Panda Update rolled out on 4/19, and then Penguin rolled out on 4/24.  You should check your reporting to make sure you know the date you were hit.  You don't want to go down the wrong path when making changes to your website…  i.e. Mistaking Panda penalties with Penguin penalties. <- and by the way, how ridiculous does that sound? :)
If you've been hit by Penguin, take a hard look at your site, your inbound link profile, etc., and plan to make changes.  I know this is going to be a painful time for you and your website, but don't just sit there. Analyze and take action.
Until the Next Version of Penguin rolls out…
That's what I have for now.  I hope this post helped shed some light on the latest Google algorithm update.  If you have any questions, or need assistance, don't hesitate to contact me.  Good luck.
GG