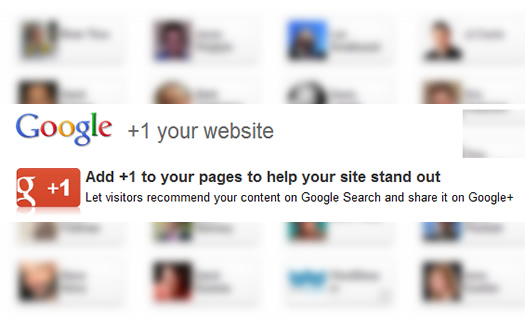 Google+ has now been around for close to a year, it has grown significantly since it launched, and Google is integrating its new social network across products.  Based on what I just listed, many business owners are wondering how Google+ has benefited their companies.  Unfortunately, I think many of them wouldn't know how to answer that question.
And what about the +1 button?  How do +1's impact exposure, click-through, and trust?  Sure, we've seen those +1 buttons show up across the web, in the search results, in ads, etc., but do they make a difference?  And since Google is primarily a search company, how are +1's affecting performance in the search results?  These are all good questions, and I hope to shed some light on the situation in this post.
Based on what I do for a living, I find myself analyzing data in Google Webmaster Tools a lot.  As I've mentioned many times before, Google Webmaster Tools is essential for webmasters.  It provides a wealth of data and functionality (directly from Google).  The problem is that I'm still finding many companies that aren't aware of Google Webmaster Tools, the reports available, the functionality that Google provides, etc.  So, it's not a shock to find that many webmasters are unaware of the +1 reports available in Google Webmaster Tools.  The reports provide a wealth of information about how +1's are affecting the search results, click-through rate, etc.  If you want to know how +1's are impacting your search performance, then the set of three reports in GWT is a great place to start.
+1 Annotations
Before I dive into the reports, let's quickly cover what +1 annotations are.  When you search Google, you can +1 a search result in both the organic and paid listings (when logged in).  In addition, you can also visit a webpage and +1 that content via a +1 button embedded on the site (similar to a Facebook "Like" button).  You will need to log into G+ for the +1 to stick.  Those +1's cast a vote for the webpage and are captured in your Google+ account.
+1 data is used as a ranking factor (yes, getting +1's can help your content rank higher in Search), and it helps Google personalize the search results for users.  After you +1 a webpage, there's a chance that your vote could be attached to a search result as a +1 annotation (when your social connections search Google).  The +1 annotation can help your social connections understand that you "recommend" that content.  By the way, your thumbnail and name can show up in the +1 annotation.
Here are some examples of +1 annotations in action:



In addition, as you search Google, you might see +1 annotations based on the actions of your social connections.  For example, if your friend +1'd a product page on Zappos, then that search result could provide a personalized recommendation from your friend (in the form of a +1 annotation).  And yes, ads can show +1 annotations as well (via Social Extensions in AdWords).  Both paid search ads on Google.com and display ads on The Google Display Network can display +1 annotations.
So What's the +1 Impact?
For those of you involved in Search Engine Marketing, you know that slight changes in the search engine results pages (SERPs) can pay huge dividends click through rate-wise.  For example, if you take 5 search listings, and one has a +1 annotation, it gives that listing a big advantage visually.  Standing out like that can absolutely help drive clicks.  But can you prove that?  How can you know that +1 annotations are impacting the search results and your search performance?
That's where +1 reporting in Google Webmaster Tools comes in handy.  You can view three +1 reports in Google Webmaster Tools that help marketers better understand how +1's are impacting search performance.  Let's take a look at the trio of reports currently available.
+1 Reports in Google Webmaster Tools
1. Search Impact Report
After logging into Google Webmaster Tools, you can click the "Traffic" tab, which will then reveal the "+1 Reports" link.  The first report is "Search Impact" and will display the number of +1 annotated impressions, +1 annotated clicks, and the search impact of +1 annotations (by showing the click through rate of listings with and without +1 annotations).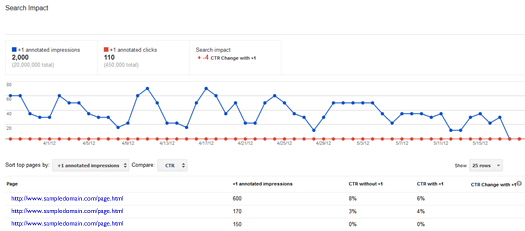 What this essentially shows you are the pages receiving annotated impressions, how many clicks those pages are getting (with and without +1 annotations), and then the percentage of click through rate change with the +1 annotation.
For example, here's a page that shows an 11% click through rate without the +1 annotation and a 27% click through rate with the +1 annotation.  Needless to say, that's a big difference in CTR.

2. Activity Report
The second report in the list is the "Activity Report".  This will show you new +1's to your site during the timeframe selected (from your own site and from outside your site).  For example, you can view the number of +1's from your own buttons on your site versus +1's from the search results or on ads.  You can also click a toggle button to reveal all +1's to the site in aggregate.  To clarify, the columns contain information about +1's from your site (via the +1 button), as well as +1's form other sites.  "Other sites" would be +1's from the search results or via ads.  You can also click a specific URL to drill into results just for that piece of content.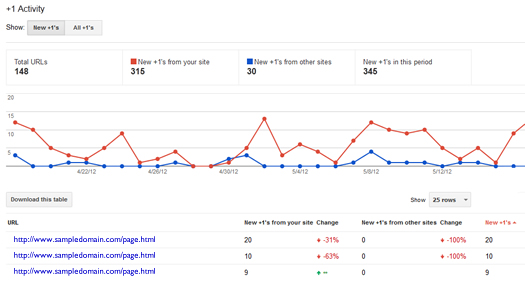 3. Audience Report
The third report in the list is the "Audience Report", which displays information about users +1'ing your content.  There's a trending graph of the number of users that have +1'd your content, along with graphs and charts for gender and age.  There's also a button at the top of the report which will show you the location of those users (by country).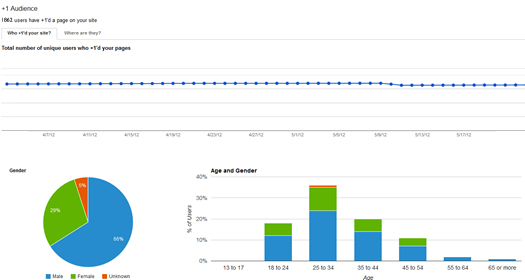 Yes, You Might Be Surprised
Once you analyze the +1 reporting, you might be surprised with what you find.  I have the ability to analyze a wide range of websites across industries, and the data isn't always what you think it will be.  For example, you would think that +1 annotations would yield higher click through rates across the board, but that's not the case.  For some sites, you will see higher click through rates without +1 annotations.
There are several reasons that could be happening, and it really depends on the site at hand.  For example, user intent, the competition in the search engine results pages, etc.  Some sites I manage are seeing a big increase in CTR based on +1 annotations, while others show a slight decrease for +1 annotations.  Since every site is unique, I highly recommend checking your own reporting today to see the impact.
Authorship Markup Could Skew Results
Before ending this post, I wanted to bring up one point about authorship markup.  Using authorship markup (rel=author), your search listings can show up with author details, including a thumbnail image of the author in question.  Here's a screenshot of one of my listings:

Needless to say, this can have a big impact on click through rate in the search results.  When analyzing +1 reports for sites using authorship markup, I've seen less than stellar search impact from +1 annotations.  That very well could be occurring since most of their listings show up with author details already.  So, a SERP jacked up with author details could be skewing the results.  For example, even if the listings don't have +1 annotations, they still have author details.  Users searching Google might click through based on seeing the listing with author details, which would be increasing the click through rate of non +1 annotated search results.  It's worth mentioning this in case your own +1 data doesn't show strong results.
Summary – Analyze your +1 Reporting
If you're like many webmasters, you want to know how certain changes impact the search results, click through rate, and traffic.  With the launch and growth of Google+, it's important to know how +1's are impacting your business.  I highly recommend logging into Google Webmaster Tools today and analyzing the +1 reports.  You might find that +1 annotations are providing a big lift in click through rate.  And if they are, you should be looking to gain more of them.  :)
GG