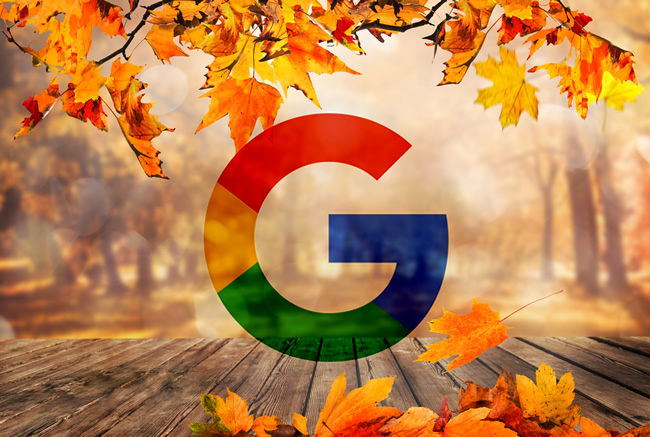 Google typically pushes broad core ranking updates only a few times per year, and on September 24, 2019, they pushed yet another. Google's Danny Sullivan pre-announced the update on Twitter and explained like previous core updates, it would be a global update and could take several days to fully roll out.

Although it was quiet initially, we began to see impact a full day or two into the rollout, with some sites surging and others dropping across categories and countries. That shouldn't shock anyone who follows core updates closely… I often explain that they can make the earth shake.

In this post, I'll explain some interesting case studies I've worked on, including sites that increased and other sites that dropped. These are sites that I've helped after they reached out to me about negative impact during core updates, so I have a lot of knowledge about the sites overall, their history during previous core updates, the types of problems each site had across categories, how they chose to tackle those problems, the speed at which those changes rolled out, and more.

Beyond the cases of surges and drops, I'll also cover the volatile health and medical niche (including alternative health), the impact to the ever-growing Discover feed, how technical problems could cause quality problems, and I'll underscore the importance of employing a "kitchen sink" approach to remediation (where it's important to surface ALL potential problems and fix them as quickly as you can).

I'll explain why that makes a lot of sense given how Google's core ranking algorithm works, which was reinforced by Google's Gary Illyes at Pubcon last Thursday (when he brought up millions of "baby algorithms" working together).

Definitely grab a cup of coffee, or two, we've got a lot to cover.
Google's Core Ranking Algorithm – Millions of "baby algorithms"
Google's core ranking algorithm is an interesting animal. Google has always explained that it's taking many factors into account when evaluating sites. Gary Illyes just explained at Pubcon that Google's core ranking algorithm is made up of millions of "baby algorithms" that work together to spit out a score. That makes complete sense given what I've seen in the field when helping companies that have been impacted.
I've often said there's never one smoking gun… Instead, there's usually a number of things that can be improved across a site, from content quality to user experience to aggressive and disruptive ads to technical SEO problems causing quality problems, and more. And beyond that, Google can tinker with many algorithms, which can obviously cause some sites to surge or drop without any changes being implemented.

Yep, welcome to the wonderful world of core updates.

My advice has always been to thoroughly analyze your site through the lens of quality, which can mean several things. Don't just cherry pick a few things to improve. Instead, improve the site overall.

That's also why running a user study is a great idea, and can be incredibly powerful. You can receive objective feedback about your site content, user experience, advertising situation, learn how much people trust your site, understand if they believe you are an expert in your niche, and more. You can read my post about running user studies through the lens of core updates to review some of the feedback we received for a health/medical client. Some of that feedback was eye-opening for my client.

Google's Algorithms Have Become More Critical Of Health And Medical Sites (and the adjustments keep coming…)
I've covered the health and medical niche a lot in my previous posts about core updates (especially since the Medic update in August of 2018). Since Medic, the health and medical niche has seen extreme volatility. There were many sites in that category seeing massive fluctuations in rankings. Some were dropping by over 80% while others surged like crazy.

For example, check out the crazy swings in search visibility below for several sites in the health/medical niche:



With each subsequent core update, many sites in the health and medical niche experienced major turbulence, with some sites surging with one update, only to drop with the next. And that's even for sites that were implementing a lot changes to improve overall.

It wasn't until May of 2019 that we specifically heard about the niche from Google's John Mueller. He explained that Google's algorithms have gotten more critical for health and medical sites over the past year or so. And, Google has gotten much better at determining quality in the health and medical niche. I'm really glad John explained that, since again, we had seen crazy volatility in the category leading up to that statement.

Here is John's comment from the webmaster video hangout:
"And then of course there are other kinds of websites where I'd say maybe our algorithms in the last year or so have been focusing more on and where they're a bit more critical. For example, one area that I've seen mentioned a lot is the whole medical space. Where I see people posting online talking about authority, expertise, … those kinds of things where I'd say that definitely makes sense. Where in the past it was really hard for us to judge kind of the quality of the medical or medically-oriented site. And over time our algorithms have gotten better in that regard."
I've been extremely vocal since the June core update that we would see a lot of volatility with the next core update in health and medical (as Google adjusts its algorithms again based on previous impact). That's because there were some sites that dropped heavily in June that probably shouldn't have (in my opinion). And then we had many alternative health sites that had gotten hammered by previous core updates (losing 80%+ of their search visibility) that also seemed to get hit a little too hard. So, I had a feeling that Google would be making adjustments with the September core update.

And as I thought, there was as ton of volatility in the health and medical space. A number of major health sites were impacted heavily, while a number of alternative health sites rebounded (but didn't increase much compared to where they were prior to getting hit). So they increased, but that increase pales in comparison to where they once were visibility-wise.

Here are some examples of the movement in the health and medical space during the September 2019 core update: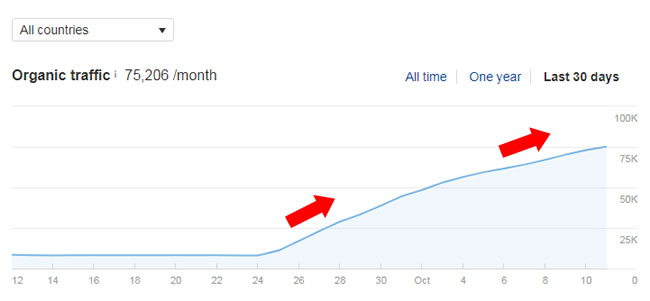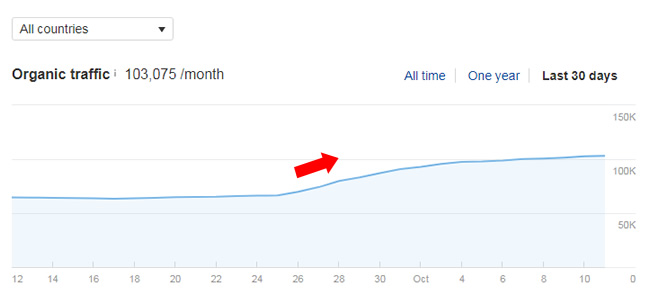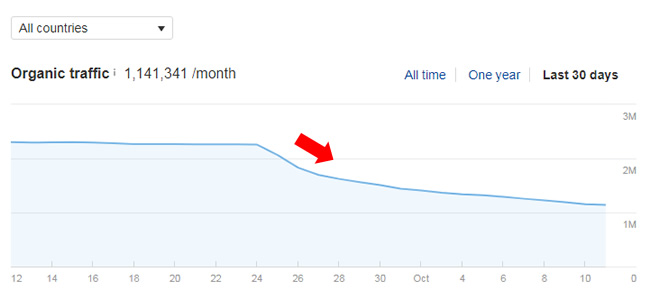 Controlling what they can control…
I have been helping a number of companies in the health and medical space over the past year and many of those companies have been working hard on improving their sites overall. That includes improving content, making sure that content is written by medical professionals, making sure they have a strong medical review board, cutting down on ad aggressiveness, improving the user experience, earning powerful links (naturally), and more.

But, health and medical sites can only control what they can control. They can't control Google's core ranking algorithm (which again, it is composed of many different algorithms, some of which can end up impacting health and medical sites significantly). In other words, those sites can absolutely see volatility based on Google tinkering with its algos alone… That doesn't mean health and medical sites shouldn't be looking to improve overall. They definitely should. But it's an important point that many site owners need to understand.

Control what you can control and hope that improving the site overall can yield stronger scores as the millions of algos that make up Google's core ranking algorithm do their thing.

So, always look to significantly improve your site and keep those changes in place over the long-term. But also understand that some of this is out of your control. That's exactly what we've seen with health and medical and I'll cover some cases below.

Interesting cases from the September 2019 core update:

Reviews website: Technical problems causing content quality problems
The first site I'll cover is a large-scale review site that was negatively impacted by a previous core update and had struggled to regain visibility. As with any large-scale site, you never know what you're going to find until you truly dig in.

It wasn't long before I uncovered a big technical problem that was causing tens of thousands of lower-quality pages to be indexed. This finding was actually part of my first deliverable for the client. It was a large-scale canonical problem that underscores the point that rel canonical is just a hint. Google can, and will, make its own decisions. And those decisions could end up adding many lower-quality or thin pages to the index. The problem impacted tens of thousands of pages across the site.

And remember, Google is on record explaining that every page indexed is taken into account when evaluating quality. You can watch John Mueller explain that at 10:06 in this video or at 25:20 in this video. That's why it's important to focus on "quality indexing", or making sure your highest-quality content is indexed while making sure low-quality or thin content isn't indexed.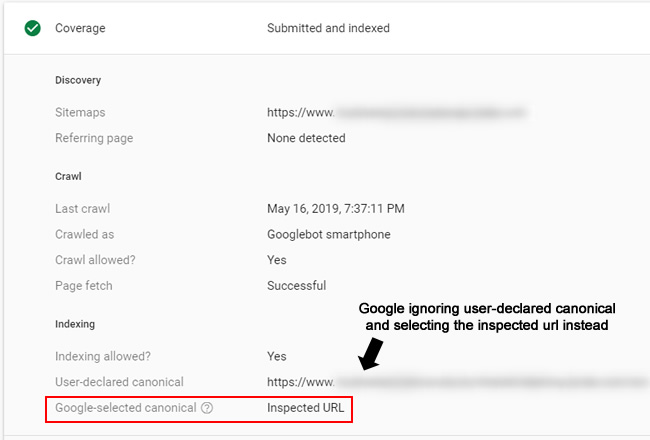 So that was a big issue for the site, but that was just one issue. There were many other problems that could be potentially impacting the site from a core update standpoint. For example, there were render issues on many pages across the site (where some content wasn't being rendered and indexed properly), important areas of the site were being blocked from crawling, there was a low-quality/thin content problem across certain areas of the site, and a host of other issues that could be causing quality issues.

The company employed a "kitchen sink" approach and began tackling many of the issues that were surfaced. And during the September update, they saw a nice increase in rankings and traffic. As of today, the site is up 31% since the update rolled out.

Here is their increase in search visibility: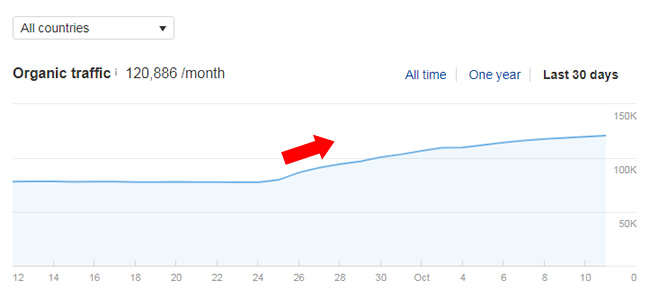 Here is the increase in GSC: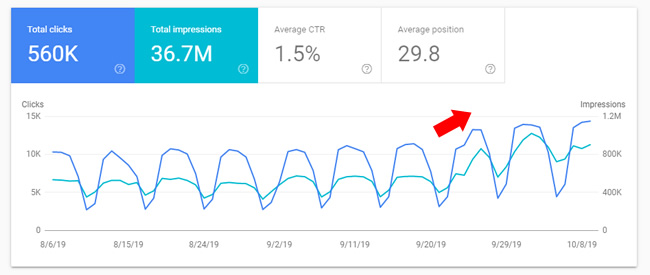 The most intriguing part about this case is the massive canonical situation that led to many low-quality pages getting indexed. That accounted for tens of thousands of pages. I've always said that technical problems could cause quality problems, and this was a great example of that happening.

News publisher surges after dropping heavily in June & "Discovers" an interesting side-effect:
The next site I'll cover is a news publisher that was heavily impacted by the June core update. The site dropped by 74% overnight in June and the site owner reached out to me for advice. I wasn't able to take them on as a client due to my schedule, but I did take a look at the site and provided several recommendations.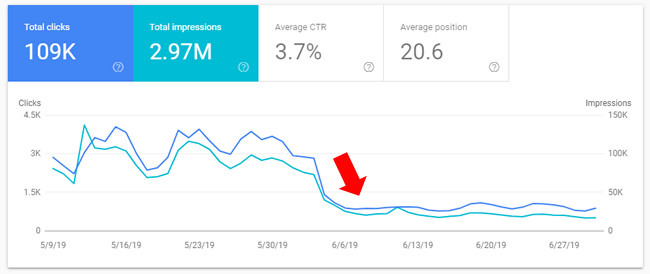 As with many sites that are impacted by core updates, there were a number of things that could be problematic (and not just one). For example, there was an aggressive ad situation, including a potential above the fold (ATF) problem. There were many ads on each page, and some larger ones at the top of articles pushing the main content down the page. In addition, there was a lot of older thin articles on the site. And some were written by writers without a lot of expertise.
So, the site owner went through the process of analyzing and removing a lot of thin content while continuing to publish higher quality content. I see a drop of about 2K urls in the coverage report when reviewing valid and indexed pages (showing the drop of thinner articles).
Beyond that, the site is in a dynamic niche and has been earning links from other sites in that niche (naturally, based on the content). That can also help from an authoritativeness and trust standpoint. Remember, Google's Gary Illyes explained in the past that E-A-T is heavily influenced by links and mentions from well-known sites. Also, Google published a whitepaper where it explained more about how it assesses expertise, authoritativeness, and trust. Google explained that one of the best-known signals it uses is PageRank, or links across the web, to understand authoritativeness. So, the right links do matter.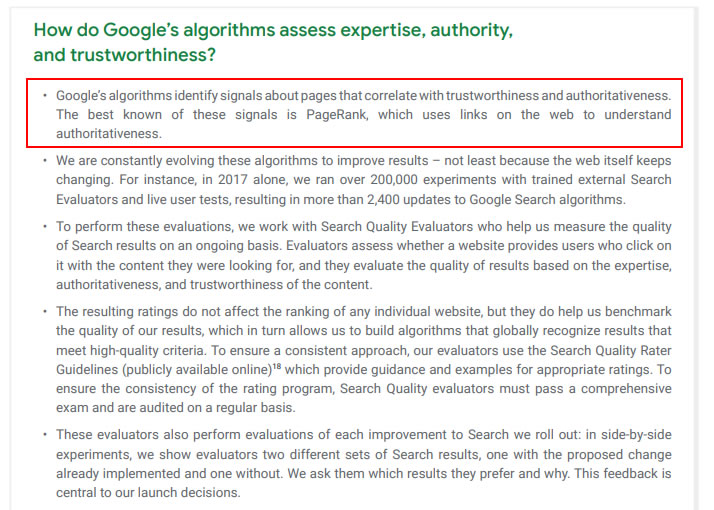 The site surged during the September update, including both Search and Discover traffic. Sessions from Google organic search increased from 600 visits per day to over 6K per day (and even topped 10K per day based on certain stories being run).

By the way, Google has explained that Discover visibility can be impacted during core updates and this is a great example of that happening. Discover traffic rose from the dead… Here is Google Analytics trending, and both the Search Performance reporting and Discover reporting from GSC: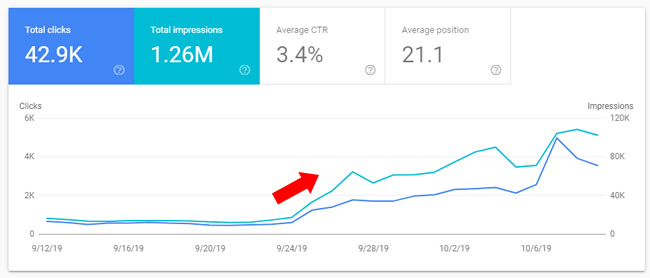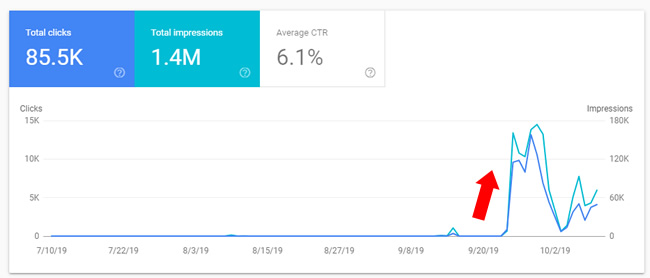 And if you want to see what MAJOR Discover impact looks like based on core updates, Chris Hawley shared a screenshot of a drop from 100K clicks per day to 0 from Discover after the September core update. I don't know if that has changed for them, but that's an insane drop:
Alternative Health Site Increases, But Pales In Comparison To Previous Levels:
The next site I'll cover is an alternative health site that got obliterated during the March 2019 update, losing over 55% of its traffic overnight. I covered the health/medical situation earlier, and the alternative health niche within that category is a crazy-volatile space.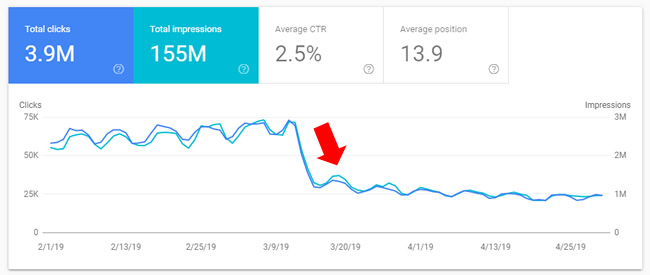 I explained earlier that Google could tinker with the millions of "baby algorithms" that make up its core ranking algorithm, and that alone, could cause a lot of volatility. And when mixed with the right site changes, certain sites can see a nice increase after an update. I believe we saw that again with the September 2019 core update for certain sites.

That being said, with any site in the health/medical space, it's hard to say how much impact is coming from improving a site overall versus Google turning the dials on its algos. This case I'm covering is representative of many others out there (especially in alternative health).

While auditing the website, I surfaced many issues during the audit that could be impacting the site from a quality standpoint. There was thin and low-quality content across the site, technical problems, aggressive advertising problems, user experience issues, performance problems, and more.

The site owners were somewhat handcuffed and could not make as many of the changes as they wanted to, but they did implement a number of changes across the site.

Regarding the changes they didn't implement, I do understand why they held their ground in some areas. In a nutshell, they aren't going to sell their souls to rank better in Google. They believe in something, and are sticking to their guns. The downside, of course, is a trickle of Google traffic compared to where they were in the past. Again, alternative health is a tough niche to deal with.

With the September 2019 core update, the site was positively impacted and increased by 33%. That's great, but is still pales in comparison to where they once were. Remember, they dropped by over 55% during the March core update. When the surge began on September 25, I was really hoping to see the site recover more… so the increase was pretty good, but not great.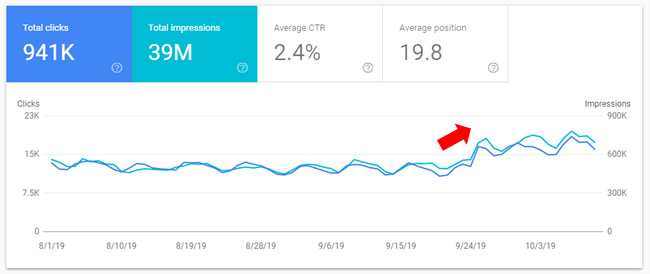 A note about scientific consensus and alternative health sites:
There has been a lot of talk about whether Google is using scientific consensus when evaluating and ranking sites in health and medical. Again, with core updates since August of 2018 (Medic), many sites that fall into "alternative health" have gotten hammered. And many of those sites produce content that goes against scientific consensus.

Google Gary Illyes was just asked about this during the Q&A with Jennifer Slegg at Pubcon. His answer was interesting. He first said that it's an area he doesn't want to provide too much information. That's a telling statement by the way. :) Next, he said that some of Google's algorithms use entities. And entities can map to terms.

Here are some tweets from the session covering Gary's answer:
And then Lily Ray tweeted an interesting comment from Bill Slawski (from his presentation at Pubcon). It made a lot of sense to think about the situation this way:
Again, alternative health is one of the toughest areas for SEO right now, with Google better-determining quality algorithmically for health/medical sites (over the past year or so since the Medic update) and possibly using signals to understand scientific consensus. Nobody is sure how they are doing this… but the volatility in the health/medical niche has been insane since the Medic update.

News publisher – Maintaining strong SEO hygiene as algorithmic battle scars remain
The next case is a site that got hammered by medieval Panda in the past, but has worked hard ever since to make sure the site is the best it can be. It's a large-scale news publisher with millions of urls indexed and hundreds of urls added each day.

After getting smoked by Panda in 2014 and losing 65% of its traffic overnight, I have worked with the company to continually audit and improve the site. It's a complex and large-scale site, so there are many gremlins that can rear their ugly heads (at any time). But since we are continually analyzing the site, we tend to pick up those problems relatively quickly and rectify them. That includes content quality problems, technical SEO issues, and more.

The site surged back in 2014 after making a ton of changes to improve and has done extremely well since then. Then during the June update, it surged once again, and now with the September update, it surged even more.

Anything can happen in the future, but I believe maintaining strong SEO hygiene has helped this site drive over 210K sessions per day from Google organic, while seeing surges during the previous two core updates. It's great to see.

The first screenshot below is from the June core update and the second is from the September core update: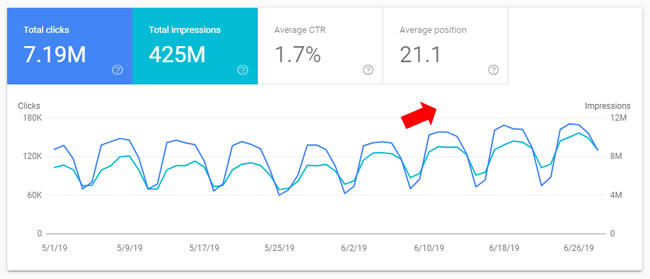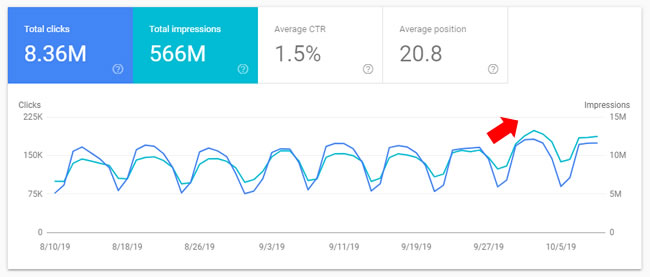 Health and Medical Site – major negative impact during multiple core updates
The next case involves a health and medical site that has gotten hammered by multiple core updates in a row. There were many problems I surfaced during the audit, including content quality issues, aggressive advertising problems, copied content, major performance issues, UX issues, lacking E-A-T, and more. There were a lot of changes that needed to be implemented.

But time was not on their side… The site had barely implemented any changes when the September update rolled out, which is a dangerous situation for a site that Google clearly had issues with during previous core updates.

During the September core update, the site actually dropped more. It was already down heavily since the March 2019 core update, but now it dropped another 37%. So the site is down 82% since before the March core update.


It's a great example that underscores the importance of implementing significant improvements in quality overall to see positive impact during core updates.

I'm eager to see how the site does after implementing more of the changes that were mapped out (including cutting down the ad aggressiveness in a big way). Remember, Google will need to see those changes in place over the long-term, so I hope they can see positive impact during the next core update.

Also, we might be running a user study soon, which would help the site owners get a strong feel for how objective users view the site (through the lens of core updates). I think that would be greatly beneficial.

Summary – Revisiting the "kitchen sink approach" to remediation
I hope this post was helpful for understanding more about core updates, how sites can be impacted, changes that need to be implemented, and the unique impact to the health and medical niche since August 2018. It's been fascinating to analyze the updates over the past year, to say the least.

Regarding improvement, I have covered using a "kitchen sink" approach to remediation heavily in my posts about core updates and I still believe that's the best approach. Don't look for one or two things you can improve… there's never one smoking gun. Instead, there's typically a battery of smoking guns.

Look to significantly improve your site overall. Don't try to match competitors, try to beat them in every category. If you do, then there's a greater chance at Google picking up many different signals about your site that could lead to improvements during major core updates.

In addition, I highly recommend running a user study through the lens of core updates. Learning from objective users via audio, video, and written responses could yield many changes that you might miss via other methods (or just help confirm the changes you have planned).

Final note: Make the right changes for your users and keep those in place for the long-term
After implementing changes based on an audit and/or user study, don't roll back those changes too quickly. Google is on record explaining that content impacted by a core update won't recover until another core update rolls out. That's exactly what I've seen while helping companies with core updates.

So don't roll out changes for two weeks and think it's not working. Implement the right changes for your users and keep them in place for the long-term. That's how you can see positive impact during subsequent core updates.

If you do this, great things can happen. You just need patience… and then another core update to roll out. :) Good luck.

GG