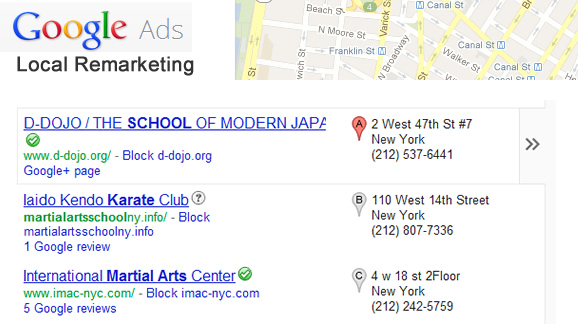 Have you ever visited a website, researched a product or service, and then left only to see that company's ads as you browse the web?  I bet you have.  That's remarketing in action, and it's darn powerful when implemented correctly.  Sure, there can definitely be a creepy factor, since users are being followed around the web, but getting your messaging back in front of people that already visited your site is a very smart move.
Using remarketing in AdWords, you can tag specific visitors to a certain page, or section of pages, and then remarket to them as they browse the Google Display Network (GDN).  The GDN includes any site running Google Ads, and includes Google properties like Gmail, Google Maps, YouTube, etc. It reaches approximately 80% of all web users.  It's also important to note that you can use both image ads and text ads across the Google Display Network.  This gives you more creative options than just text ads like in Search.
Remarketing for Local Businesses
When you think about remarketing campaigns, it makes complete sense to think about ecommerce retailers.  Prospective customers visit category or product pages, and left without converting. Maybe they even added items to their shopping cart, but left without completing a purchase.  It's smart to get targeted messages back in front of those people, like special deals, offers, etc.  So it makes sense for ecommerce retailers, but what about other types of businesses?  Can they also utilize remarketing to increase sales?  You bet they can, and I'm going to tackle remarketing for local businesses in this post.
As consumers research local businesses, they might visit several different websites during their research.  Tagging visitors that hit your own site, and then getting your message back in front of those prospective customers, can be the difference between just another visit and a paying customer.   And when local is heavily influenced by word of mouth, that one new customer can actually turn into 5, or more.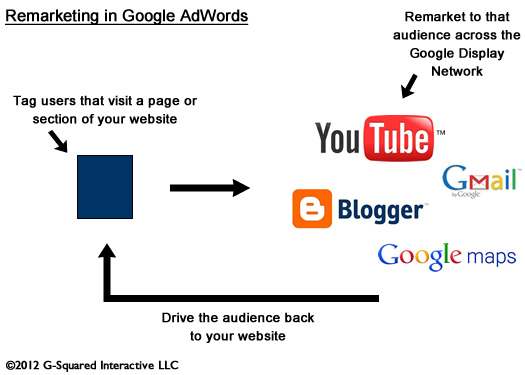 By the way, you should check out my post about how to set up a remarketing campaign if you are interested in launching campaigns like this.  I also published a post about using custom combinations to exclude visitors that already converted.  But don't visit those posts yet.  Read more about how local businesses can utilize remarketing first, and then you can follow those tutorials to get up and running quickly. :)
A Note About Timing and Membership Duration
For certain types of local businesses, consumers will inherently act fast.  For example, if there is an immediate problem someone is having with their home, then you might only have a few days to land that customer.  Then there are other local businesses that aren't as time-sensitive, and you'll have much longer of an opportunity to get back in front of them.
It's Important to Tailor Membership Duration for Local Remarketing:

For example, a plumber or electrician might only have a few days, while a karate school or day care center might have longer.  In order to tackle timing issues, you can adjust the membership duration of your remarketing list to shorter or longer during the setup phase. The membership duration tells AdWords how long someone should remain on your remarketing list after being tagged on your site.  For example, you might set a membership duration of just 10 days for the plumber example I mentioned earlier, but 90 days for a daycare center.
Remarketing Strategies for Local
Now that we've covered timing, let's talk about local remarketing strategies.  Again, we have the ability to tag certain visitors (or all visitors), and then provide targeted ads in front of that audience as they browse the web.  It's important that you analyze the various types of visitors hitting your site, understand the campaigns you are currently running, etc. before implementing a remarketing campaign for local.  Those considerations can absolutely help you tailor your efforts, and drive higher performance.
Below, I've listed several ways that local business can implement remarketing campaigns.  Note, this does not include every possible way to implement remarketing, but can definitely get you moving in the right direction.  Let's begin.
1. Starting Broad – Remarket to All Site Visitors
This is obviously the broadest strategy, but can still work.  This involves tagging every visitor to your local site, and the remarketing to them as they browse the Google Display Network.  It's definitely smart to get back in front of people that were interested in your business, but the messaging won't be as targeted as the other approaches I'll list below (since you didn't isolate pages or sections).
If you are new to remarketing, then this is a good way to start.  With regard to your ad creative, you can punch your current deals, packages, etc.  And just to clarify, your remarketing ads will only be shown to your remarketing list, which includes people that already visited your site.  Definitely make sure to include a strong call to action, which applies to all strategies I'm including in this post.  For example, ask them to act.
Conversion-wise, using the site-wide approach, you won't be excluding visitors that converted already.  This can lead to an awkward experience for customers, as you are still advertising to them even though they converted.  To alleviate this situation, you can use custom combinations to exclude customers that converted already.  That said, you can only use this approach if you have a hard conversion on your site (like someone filling out a contact form, or buying something).  If you don't, then there's not an action you can use to trigger "conversion".  For example, you can't easily exclude someone picking up the phone and calling your business, or someone walking in…
2. Tagging Contact Page Visitors (AKA, Your Local "Shopping Cart")
For many local businesses, the contact page is an extremely important page on their websites.  Since they are local, visitors will often check out the contact page to find the address, phone number, directions, etc.  I've helped some local businesses build remarketing campaigns using this page as the trigger, and it can work well.  By tagging this page, you can provide targeted messaging to visitors that you know visited your contact page.
Remarketing to Visitors of Local Contact Pages: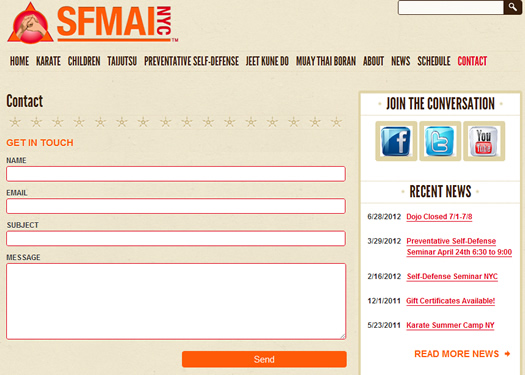 For local businesses, this is the equivalent of someone adding an item to their shopping cart on an ecommerce site.  Theoretically, they are more targeted than the average visitor, so you definitely want to get back in front of them.  You might be more aggressive with your messaging and calls to action.  Maybe you'll provide an incentive in your ads to get members of that audience to convert.  Note, you can test various ads to see which ones perform best.  This can help you better understand the messaging that works best for the audience (people that already visited your contact page).  Also, since you can use image ads across the Google Display Network, you can test visuals, as well as just text ads.
If you have a contact form on your website, make sure you use a custom combination (mentioned earlier) to exclude those visitors from your remarketing list.  Since they already "converted", they shouldn't be on your remarketing list.  That's unless there's some other type of messaging you want to provide to that audience.  For example, you might choose to drive return customers by providing special messaging and incentives to them as they browse the web.  This is why it's important to map out a solid remarketing strategy before pulling the trigger.
3. Tag Deals and Special Offers
Many local businesses provide deals and special offers.  If you provide these deals on specific pages, you can tag those visitors by deal or sale.  Then you can remarket to them with messaging specific to the page they visited.  You know they are interested in your company, and you know they were interested in your deal or offer, and you can use that combination to craft targeted ads to get them back to your website.
Remarketing to Visitors of Special Offers Pages: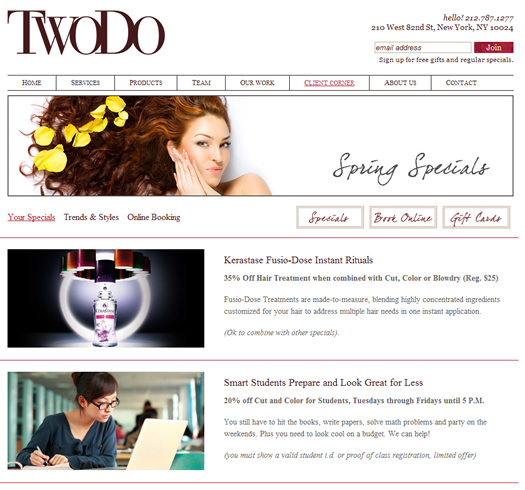 For example, maybe you are providing a package deal where customers can get 30% off your cleaning service if they buy a package of four cleanings.  If you know someone visited that special offer page, you can provide ads punching the offer to that specific audience as they browse the Display Network.  And again, you can use both image and text ads.
Quick Example: I have a client that recently launched a remarketing campaign based on a special offer they were running.  They had several new customers explain to them that the ads they saw around the web drew them back to the site. The only ads this client was running were remarketing ads, so the new sales were assisted by their use of remarketing in AdWords.  There you go, ROI from remarketing. :)
4. Tag Campaign Landing Pages
Similar to what I listed above, you can remarket to people that visited one of your sale pages.  For example, having a Labor Day Sale where you are providing 20% off everything in your store?  If prospective customers have visited that sale page, you can tag them and then remarket to them as they browse the web.
Remarketing to Visitors of Local Sale Pages: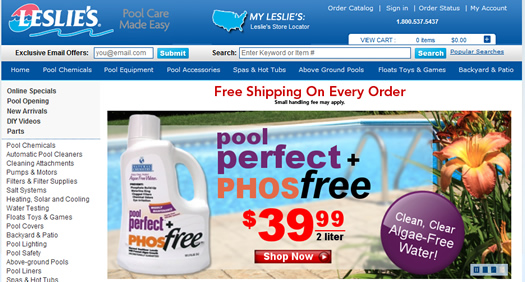 This can be extremely important, since many people will research products before pulling the trigger.  Let's say they left your site, and visited YouTube to view video reviews of the products you sell.  Using remarketing, you can provide ads to this audience as they view videos on YouTube.  Again, this is a smart way to use remarketing, since your ads can punch your 20% off store-wide sale.  Since you are a local businesses, you can mention your location, a strong call to action, and possibly even an additional incentive to get them to the store.  The sky's the limit with what you can do.
5. Tag Your Mobile Site
With mobile booming, many businesses are starting to provide a user experience tailored for mobile visitors.  For example, you can redirect visitors to a mobile version of your site, you can format your content on the fly for mobile devices, etc.  For local businesses, this can be extremely important since prospective customers might be on the go, quickly looking for phone numbers, directions, store hours, etc.  You can also provide mobile-formatted campaign landing pages for specific sales.
Remarketing to Mobile Visitors: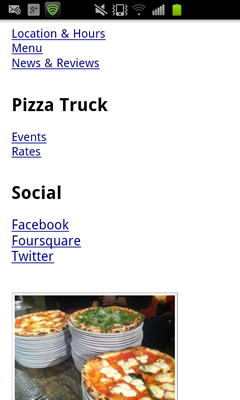 You can absolutely tag mobile visitors just like desktop visitors.   Since they visited your mobile pages, you have some additional intelligence about them.  You know there's a good chance they were on the go, that they probably didn't view all of your product pages, that they might not have been able to research all of the specifics of each product, and they might not have viewed your videos.  Again, you know what your mobile pages provide, so you know what this audience could have missed.
Using remarketing, you can make sure you get your ads back in front of these people (on their desktop systems).  Targeted ads can include copy and visuals that punch the desktop functionality and content.  You might include messaging about your product videos, high resolution photos of products, customer reviews, etc.  Make sure they know they can find all of that rich content by revisiting your site.   And since everything is trackable, you can understand the impact of reaching this audience via remarketing.
6. Bonus: Tag Prospective Customers That Call You
Many local businesses would love to get their ads in front of people that call them directly, but that's hard to achieve.  Here's a workaround.  As they call, make sure you get their email address.  You can then send a follow up email thanking them for calling, and providing a special offer that they can access via a specific URL.  You can then tag those visitors as they view the special offer page.  Note, this page should be isolated from your other pages, since you want to make sure only prospective customers that call will be on the remarketing list.  If you do, then you can tailor specific ads for people that called, with the goal of turning them into paying customers.
Summary – Remarketing for Local
As I explained earlier, remarketing is not just for ecommerce retailers.  Local businesses can absolutely utilize remarketing campaigns as well.  I recommend mapping out a strong remarketing strategy, based on your specific business.  Understand your sales and offers, and get back in front of visitors that show interest.  If you are new to remarketing, start by tagging all visits to your site.  Then as you get more comfortable with how remarketing works, you can expand to more specific campaigns (like sale pages, contact pages, offers, etc.)
In closing, there's a reason why remarketing has taken off.  It works.  Now it's your time to leverage remarketing to drive more local customers.  Go ahead, set up your first campaign now.
GG