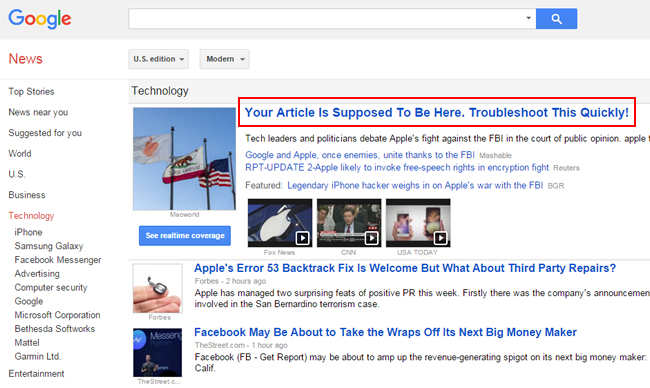 For news publishers, being included in Google News is a big deal. You can drive a lot of traffic by being listed in Google News, which means you can drive a lot of incremental ad revenue. So, it's tough when certain urls are not accepted in Google News and publishers lose out on traffic, revenue, and prospective subscribers.
There are a number of potential Google News errors that can be causing problems for publishers. And based on helping several large-scale publishers, I find many people involved don't know the various types of errors or how to track them down for a given site. Until last week, publishers would typically only find these errors via Google Search Console (GSC) under the Crawl Errors reporting. There is a tab for News errors that lists each error by category. See below.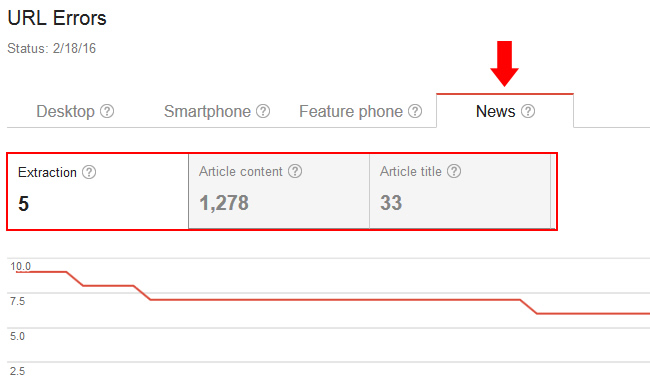 That's great, but the problem with only using that approach is that it's reactive versus proactive. In other words, if you simply check the News tab in the Crawl Errors reporting, you are dealing with errors after the fact. That's instead of testing your urls early on to ensure they will be accepted in Google News.
If only Google News provided some type of testing tool… Oh wait, it does! And it was released last week. It's called the Google News Troubleshooting Tool and I'm going to cover what it is and how news publishers can use it in this post.
Introducing the Google News Troubleshooting Tool
If you are included in Google news, chances are you already know about the Google News Publisher Center. It's a tool that enables you to provide Google more information about your website, including which sections to include in Google News, and which labels to associate with your content. The sites added in the publisher center are tied to verified properties in Google Search Console (GSC), so that's obviously a prerequisite.
When you log into the publisher center, you will see all of the sites you have access to, including whether or not they are included in Google News.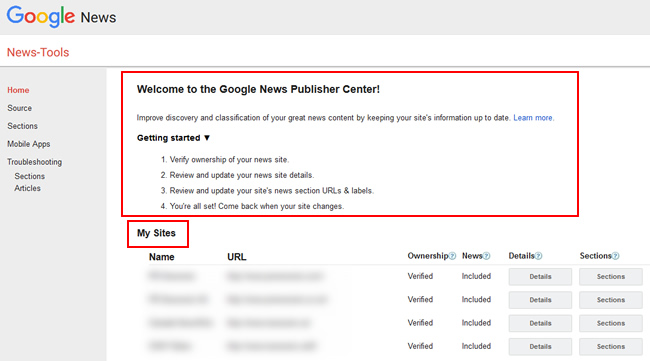 The Troubleshooting Tool, A Valuable Debugging Tool In Your Newsroom Arsenal
Once in the Google News Publisher Center, you'll see a new section labeled "Troubleshooting". Under that heading, you will see two links, one for "Sections" and the other for "Articles".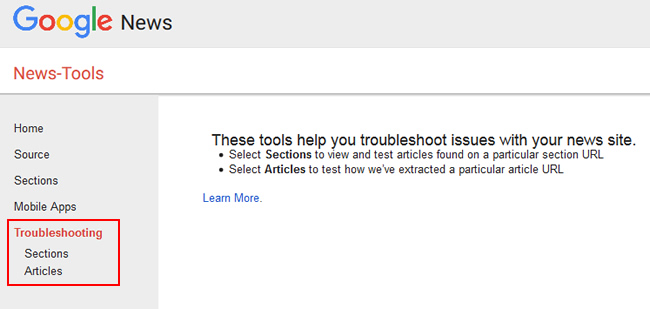 A section is an area of your site where you consistently publish news content. For example, maybe you publish news content in the /news/ directory of your site. That would be a section. Note, you can add multiple sections in the publisher center. I'll explain how to use the "Sections" link for troubleshooting soon.
Under the "Sections" link in the troubleshooting tool, you'll see "Articles". An article is what you think it is… a specific piece of news content on your site (the url). You would use the "Articles" link to test a specific url for Google News extraction problems.
Now let's troubleshoot some Google News errors. :)
How To Use The Google News Troubleshooting Tool To Test Sections and Articles:
OK, let's say you just published some important news content and you want to make sure it ends up being included in Google News. In addition, you are using a Google News sitemap and you have added sections to the Google News Publisher Center.
The first thing you would want to do is to click the "Sections" link in the Troubleshooting tool. Since we want to test multiple articles, the most efficient way to tackle this is to enter the Google News sitemap url or add the section to the form. The tool will retrieve the first 100 articles based on the section or sitemap you entered.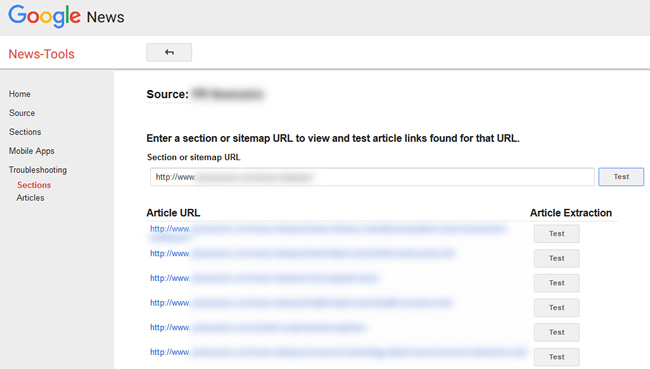 Next, you can click the "Test" button under the "Article Extraction" column. This will enable you to test specific urls from your sitemap or section. Again, this is a proactive approach that can help you identify and fix problems before you realize you aren't getting any Google News traffic (for a url or a set of urls).
Once you click the test button, you will see the status, title, and body that was extracted from the article (if successful). If the extraction failed, the status will list the failure along with the reason. And the reason will link you to the Google News errors page to learn more about what caused the extraction problem. For example, Title not found, Article too long, Article fragmented, etc.
Example of a failure due to "Title not found":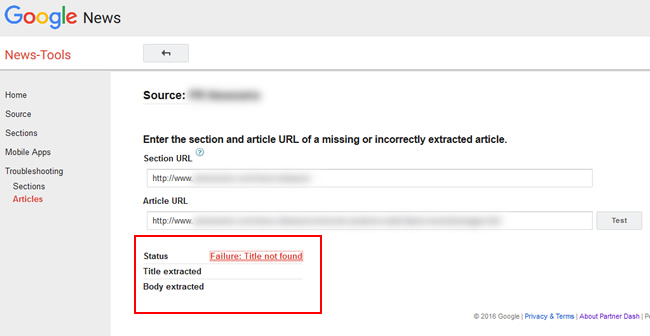 Failure and Success: Identifying Google News Crawl Errors
If a url fails for some reason, click through to the support document that lists all Google News errors and determine the root cause of the problem at hand. For example, there could be a coding glitch that's impacting the extraction process. You might see "empty article", "title not found" or "article too short", and wonder what's going on… But when digging into the url in question, you might find a technical problem acting as the Google News gremlin. Also, analyzing problematic urls can sometimes yield huge wins that can help with many more urls than just the one you are troubleshooting.
Example of a failure due to "No sentences found":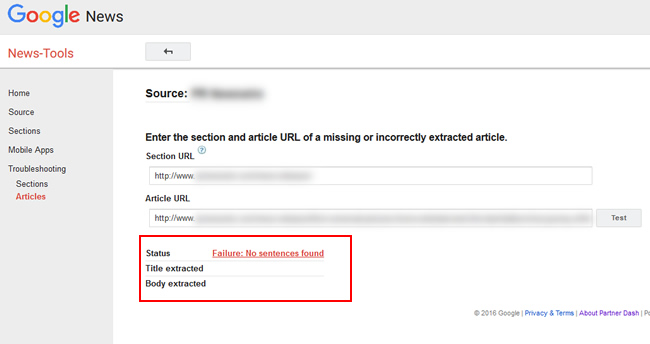 And here's an example of success: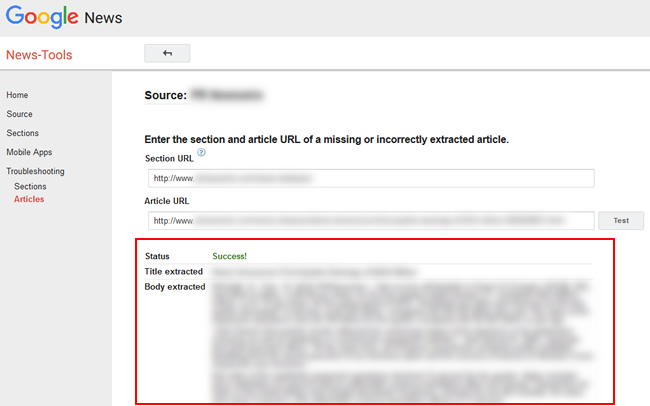 Important: Work Fast, Win Traffic
Google News is time-sensitive, so it's extremely important to fix problems quickly. The troubleshooting documentation in the publisher center explains that after two days, Google News will crawl the content less often. So they recommend fixing extraction problems within two days to increase the likelihood they will recrawl it again (and hopefully extract the content successfully this time).

Bonus: Three Errors Specific To The Troubleshooting Tool
Google explains that most errors will pertain to the crawl errors for Google News, but there are three errors specific to the testing tool that you should know about. You can read about those three errors here, and they relate to access and permission.
For example, if the article returns a 404 or if it's blocked by robots.txt, you will see a "Failure: Could not crawl article URL" error. This also applies to a section url (the subdirectory you enter as a section in the publisher center). If it 404s or if it's blocked by robots.txt, you will see a "Failure: Could not crawl section URL".
And last, there's a "Failure: Permission denied" error that will flag several situations. For example, not having permission to view the news source in the publisher center, the article is not on the same domain as your source url, the section or sitemap isn't located on the same domain, or other setup problems.
Again, you have less then two days to fix any problem you encounter. So move quickly.
Summary – A Great Addition For News Publishers
If you are included in Google News, then you should definitely use the new troubleshooting tool in the publisher center. It enables you to be proactive versus reactive and can help you hunt down Google News errors before they cause big problems (like keeping content out of Google News). By following the steps I provided in this post, you can hopefully nip news-related errors in the bud, while possibly surfacing more widespread problems with your site. And that's always a good thing. Personally, I'm digging the new tool. I think you will too.
GG