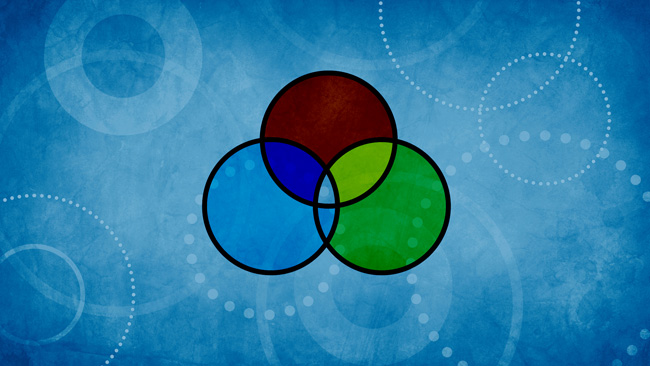 While helping companies that have been heavily impacted by Google's broad core updates, the topic of "authority" comes up often. And that's especially the case for companies that focus on "Your Money or Your Life" (YMYL) topics. For example, sites that focus on health, medical, financial, etc. all fall under YMYL.

If you've read my posts about broad core updates, then you know that Google is taking many factors into account when evaluating sites (and over a long period of time). It's one of the reasons I recommend taking the "kitchen sink" approach to remediation where you surface all potential issues impacting a site quality-wise, and work to fix them all (or at least as many as you can). For example, improving content quality, user experience, technical SEO problems causing quality problems, the site's advertising setup, affiliate setup, and more.

And for sites that cover YMYL topics, it's important to understand that they are held to a higher standard. Google wants to surface the most authoritative sites for sensitive queries (for topics that can impact the health, happiness, financial status, etc. of a user). And that's one area where authority comes into play.

"Authority" can be a nebulous topic, so I'll just focus on one aspect for this post – which are links. Danny Sullivan (pre-Google) actually wrote a good post about the subject where he interviewed Paul Haahr, distinguished engineer at Google. In that post, Danny explained how a mixture of factors are used to measure "authority", with PageRank being the "original authority metric" (links from across the web). So links are not the only factor contributing to authority, but they are important. Instead, there's a bucket of signals Google is using. By the way, Paul is one of the smartest guys at Google from a ranking perspective. I've always said that when Paul talks, SEOs should listen. :)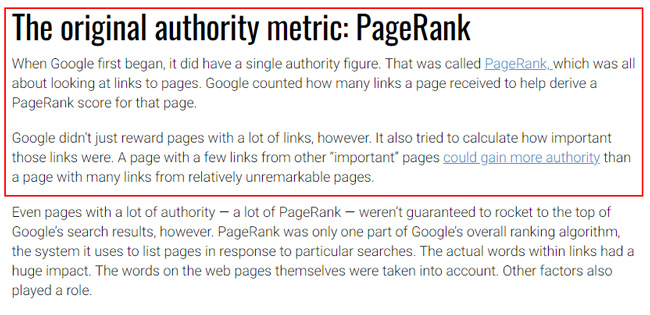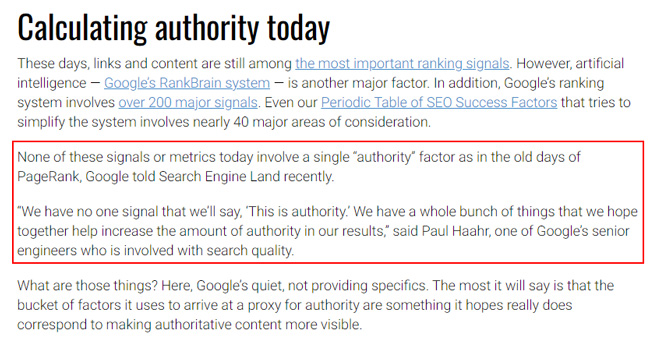 In addition, Google has explained that PageRank, or links from across the web, is one of the most well-known factors when evaluating authority. That's from a whitepaper Google published about fighting disinformation across the web.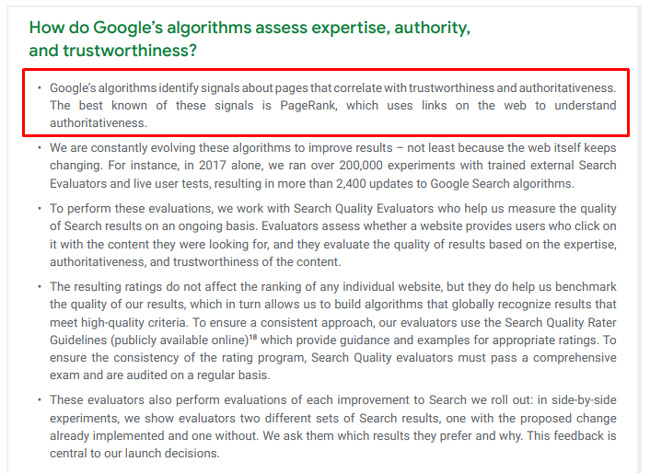 Google also explained in the whitepaper that when it detects a YMYL query, then it gives more weight in its ranking system to factors like authoritativeness, expertise, and trust. So those links and mentions are even more important for YMYL queries/topics.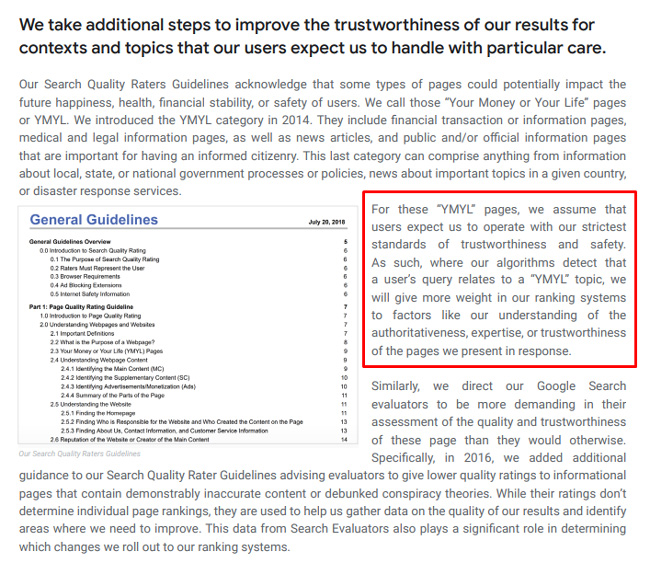 Going even further, Google's Gary Illyes explained at Pubcon in 2017 that E-A-T is largely based on links and mentions from authoritative sites. Here is a tweet from Marie Haynes after Gary explained this at Pubcon:
But there's more…. In 2020 Bill Slawski covered a super-interesting patent that discusses expertise and how Google might be categorizing sites to determine which set of sites should even be considered for ranking (for certain types of queries). By the way, that sure sounded a lot like what happened with the Medic Update in August of 2018 (when many health and medical sites saw extreme volatility). As part of that patent, E-A-T was mentioned with a focus on "authority" (which we know includes links and mentions from authoritative sites).

As you can see, links are important and can provide a strong signal to Google about the authoritativeness of a page and website. And as Gary Illyes once explained, that includes mentions on well-known sites (and not just links).
A Link Authority Gap Analysis: Comparing The Most Powerful Links Between Sites
Based on what I explained above, it can be important to understand where powerful links and mentions are coming from (both to your site and to your competitors). And that's especially the case if you focus on YMYL topics. Therefore, I find it's always interesting to compare link profiles, understand the differences in links from authoritative sites, and identify gaps in your own link profile in order to have a solid understanding of your current state.

The tough part for site owners is understanding that there's no quick fix to a situation where your competitors have a clearly stronger link profile from an authority standpoint. You can't just go out the next day and gain links from CNN, the CDC, The New York Times, and other authoritative sites. Note, as I explained earlier, rankings (and "authority) are not just about links, so this isn't a binary rank-or-not-rank situation. But again, the right links can be a strong signal to Google about the authoritativeness of a piece of content, or a site overall.

For example, it's not easy to earn links from the following domains…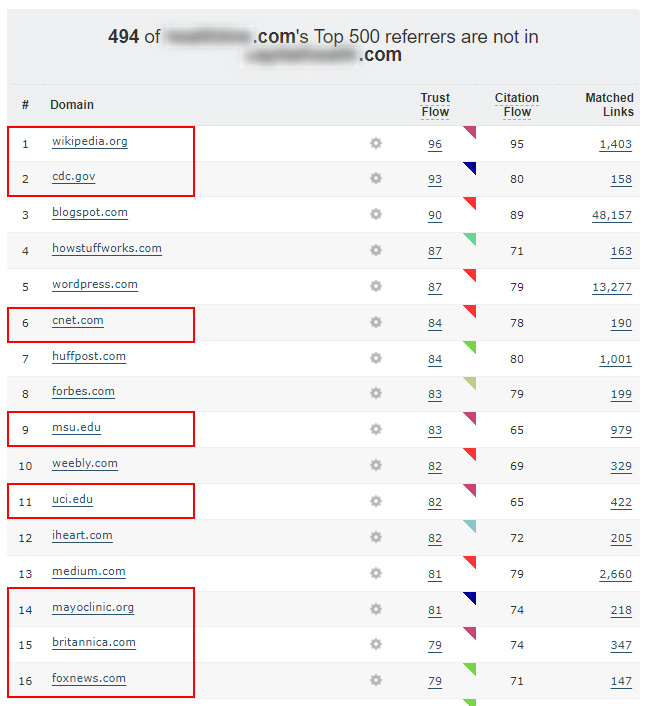 Also, from a link earning perspective, you typically need to build a strong content strategy, social strategy, and possibly digital PR strategy to help earn links naturally over time. And that takes time… it's not something you can do quickly (if done naturally). And if you find a large gap from a link authority standpoint, it's definitely not a reason to spam every news publisher in the world to try and gain links. That typically won't work well and could backfire big-time.

Peeling back a link profile to reveal "link authority gaps":
In this post, I'm going to explain how to quickly surface the most authoritative links pointing to a competitor when those same sites don't link to your own site. In other words, finding the authority gap between sites. The post isn't about doing a deep dive into a link profile, which can also be beneficial. Instead, it's focused on quickly identifying important gaps from an authority standpoint.

Again, this is a nuanced topic and just because one site has links from X domain doesn't mean that's why it is ranking above you. But, the link authority gap can give you a pretty good view of why a site may be seen as more authoritative than another. In addition, you can learn a lot about the type of content earning those links and possibly identify content gaps on your own site.

Below, I'll cover how to run a quick link comparison using three tools:
Solo Links in Majestic:
I love Solo Links and it has definitely flown under the radar for a really long time. It compares the top 500 referring domains for two different websites (ordered by Majestic's Trust Flow metric). I have found it to be a strong way to surface the most powerful domains linking to one site, and not another. And no, Google doesn't use Trust Flow or any third-party metrics from the various tools. It's just Majestic's internal metric for estimating quality based on being closely linked to "trusted seed sites".

Just enter the two domains you want to compare and click the magnifying glass. You'll see a Venn digarm representing the overlap, and the gaps, between both sites. Below the Venn diagram, you'll the referring domains listed, the number of links, and you have the ability to quickly view the links. For example, if you click the link count, you will see the actual links along with supporting information (like anchor text, if it's nofollow, when it was first seen, etc.) It's not perfect (no tool is), but it can sure get you moving in the right direction when trying to determine the link authority gap.

For example, here's a gap analysis for a powerful site in the health niche compared to a smaller, less authoritative site. You can clearly see the differences in the Venn diagram and then in the referring domains list.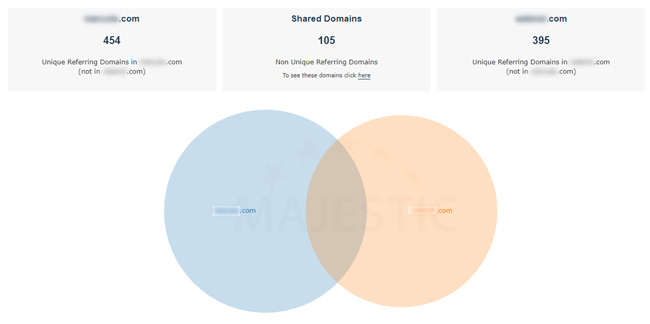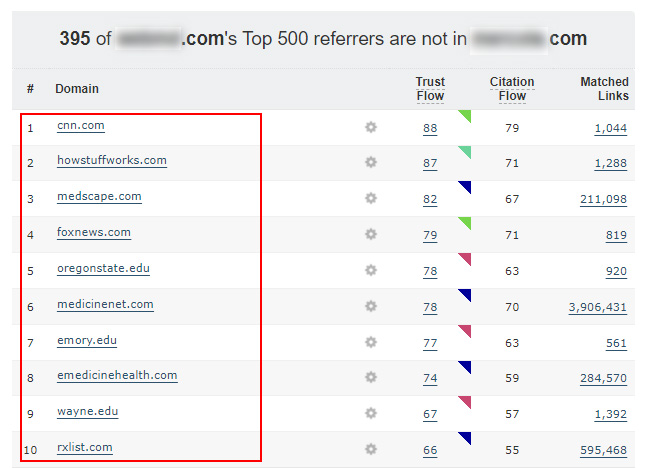 A quick note to Majestic:
Please add the ability to export all of the links in bulk and not just the domains. It would be great to simply click "export" and get all of that data in one shot. It's a bit cumbersome now to get that data out of Solo Links since you can only export links for each domain and not all of the domains listed at one time…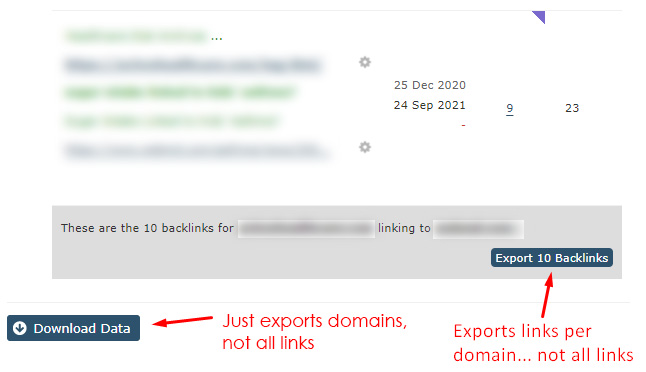 Backlink Gap in Semrush:
Similar to Solo Links, Semrush's Backlink Gap tool enables you to enter up to five domains to start comparing link profiles. It doesn't just focus on the top links, but the data is presented based on Semrush's Authority Rank metric (AR). And just to reiterate, Google does NOT use AR or any other third-party metric when determining rankings… It's just an Semrush-specific metric.

After entering at least two domains, you have options for viewing the links pointing to the competition, but not your site, or vice versa. Again, it's not perfect, but can help you start to understand powerful links leading to your competitors that you don't have.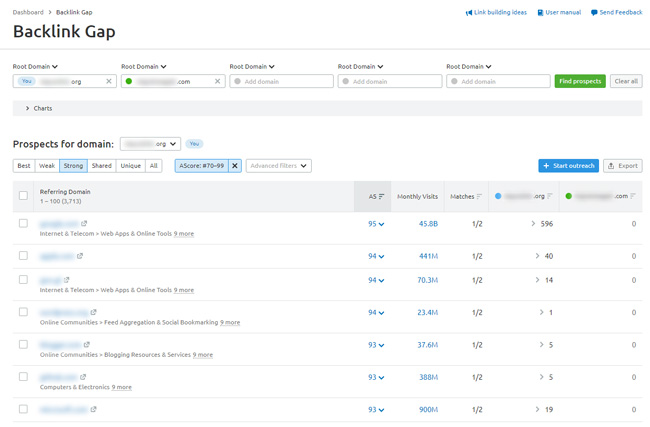 Note, the default view is to list the referring domains (without showing the links). To view the actual links leading to your competitor's site, you can click the arrow to the right of the referring domain in the chart. It's not the most intuitive way to find the links, but they are there. :)


Link Intersect in ahrefs:
Another tool that has flown somewhat under the radar is ahrefs Link Intersect Tool. It enables you to enter up to four competitor domains and view gaps in your own link profile (ordered by Domain Rank, a metric created by ahrefs). And once again, Google does not use any third-party metrics like Domain Rank, Authority Rank, Domain Authority, etc.)
Like the other tools I mentioned, the link intersect tool can shed some light on authoritative links pointing to the competition that you don't have. For example, what are those sites linking to content-wise, do you have content like that on your own site, what can you build that's even better than that, etc.?

To use the tool, simply enter a competitor's domain (or several) and then your domain in the "but doesn't link to" field. The tool will find links leading to the competition, but not to your site. The list of referring domains will be ordered by ahrefs Domain Rank. In order to view the actual links per referring domain, just click the number in the column for each competitor. You can see information about that link, including the anchor text, the url that's linking to the site, whether the link is nofollow, if the link was found in the content, etc.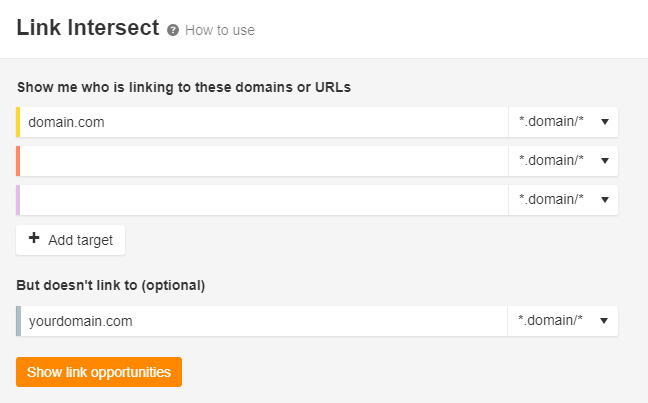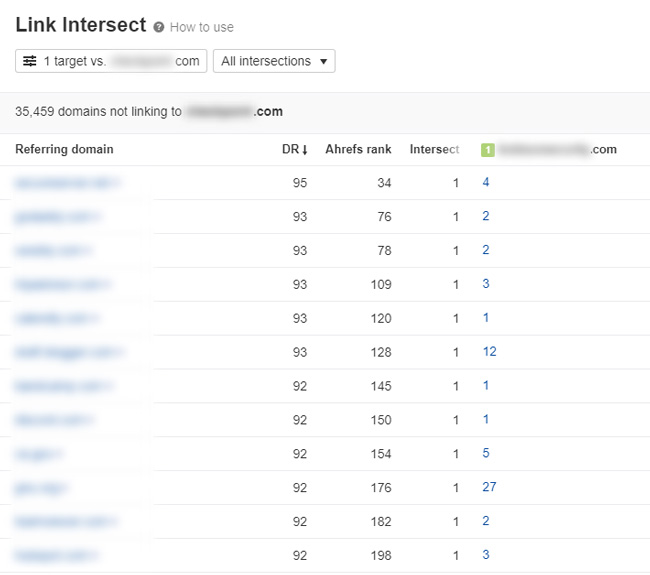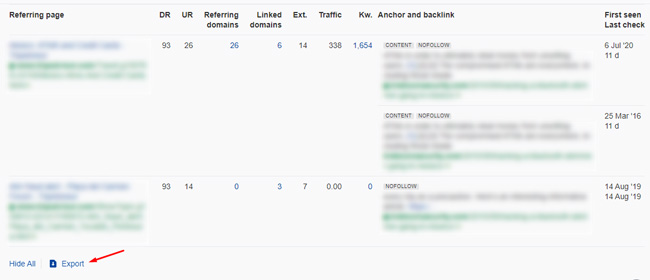 You can also export the list, but just like Majestic, you can't export all links in one shot. You can just export the referring domains in one shot… So you'll have to export links per referring domain, which can be tedious. So just like my note to Majestic, I have the same for Ahrefs! Please add the ability to export all links from the Link Intersect tool in one shot! That would be a great addition.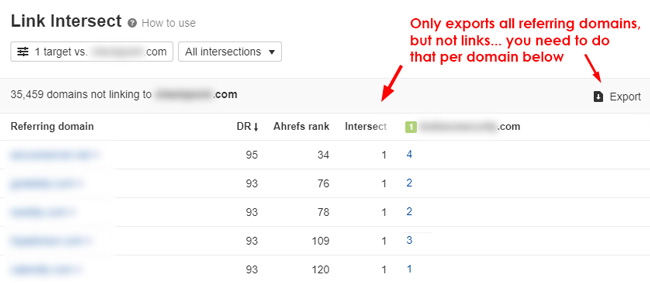 Tips and recommendations when evaluating the link authority gap:
"Authority" is Not binary: Links (PageRank) is just one factor. Sure, it's an important factor, but just one. Google has explained it uses a bucket of signals to determine authority. While you are analyzing the link authority gap, just understand that the links alone might not be the reason a competitor is outranking you. It's great to see the gap, and can be important for forming a long-term strategy to improve authority-wise, but it's not a rank-or-not-rank situation.
Understand the Search competition versus just the competition: Make sure you are comparing to your actual competitors in Search (who you are competing within the search results) and not just which sites you think are the top competition (outside of Search). Your goal here is to understand the link authority gap between your site and sites outranking your for target queries.
Mine the gaps, create a plan: Identify gaps in your link profile from authoritative sites, understand the content that gained those links, determine if you have content covering those topics, and figure out ways to produce killer content that can earn links like that (or even better). Don't just try to match what your competitors are doing. Try to outdo them.
Have patience… building authority is a long-term process: Understand that earning powerful links from authoritative sites is a long-term process. You cannot change the situation overnight… That might be frustrating, but it's true. Understand what the competition is doing to earn those links, figure out gaps on your site, and build a killer content strategy to earn amazing links over the long-term. Once you start earning those links, you'll appreciate that it takes time, since it can build a natural layer of protection for you (until others start going through the same process, put the work in, etc.)
Summary – Understanding the link authority gap can be enlightening, but you must execute.
By using the process I documented in this post, you can quickly start to understand the most authoritative sites linking to your competition that don't link to your site. And that "link authority gap" can be important. But don't stop once you uncover the gap. You need to execute based on your analysis in order to make an impact. So… what are you waiting for?? The data awaits.

GG