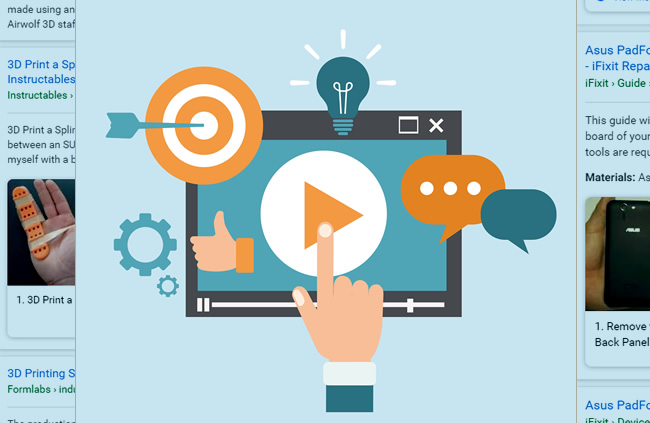 Google is always working to enhance features in the search results (SERPs). Over the years, we have seen the SERPs change from ten blue links to a mix of images, videos, featured snippets, one-box results, immersive mobile results, and more. There are many features beyond ten blue links now, which was covered by John Mueller at Google I/O last week.  

Some of those new features are minor additions, while others rock the SERP. Well, there's one new feature that was just released at Google I/O, and it's a multifaceted feature that gives us a glimpse into the future of Google. It's called How-to snippets and I'll cover more about this new feature below.

How-To Snippets: Part of the answer carousel trifecta
Last year at the Google Dance in Singapore, Google announced three new formats for what they call "best answer carousels". The three features were Q&A, How-to, and FAQ. They are powered by structured data and help users receive rich answers to their questions.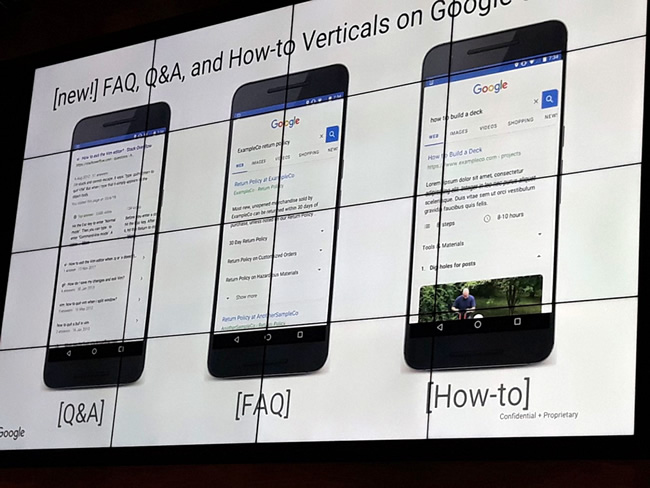 Q&A rolled out already, while How-to has been in testing for several months. Both How-to and FAQ were released last week at I/O, but my focus for this post is on How-to snippets. I believe they are an extremely important feature that impact the search results, and beyond. More about that soon.

There are several sites I work with that have implemented How-to markup (including thousands of How-tos in total) and I've been digging deeper to learn more about the new search feature, how it's being implemented, what it looks like in the SERPs and on Google Assistant smart displays, and how it will impact publishers. Again, it's live in the SERPs today, so you will definitely see more of How-to snippets as time goes on.

How-to snippets – Providing step-by-step instructions directly in the SERPs and on Google Assistant Smart Displays
First, if you're on the "featured snippets are taking traffic away from publishers" side of the SEO debate, then you might want to brace yourself. How-to snippets can take up a lot of real-estate and provide a number of steps along the way (directly in the SERPs and on smart displays). As of today, you can see How-tos in the search results, but they have not been rolled out to smart displays yet. That's coming later this month.

In the SERPs, Google isn't providing all of the steps from the How-to, but the SERP feature does take up significant real-estate (with visuals when they are provided).

That's fine for now, but on Google Assistant smart displays, you can walk through all of the steps in the How-to without visiting the site in question. And if you're monetizing via eyeballs on your own site, then your revenue-warning antenna should have just gone up… :)

Remember, Assistant is extremely important to Google, including its booming smart displays like Google Home Hub, which was just renamed to Google Nest Hub.

Also, Google could expand the number of steps in the SERPs at any point for How-to snippets. So instead of just providing some of the steps like it does now, it could potentially include more (or all) of them. And if that happens, it could throw a major wrench into monetization, email signups, or any other conversion or micro-conversion that would occur on a site.
SERP Treatment: Show me the snippets!
From a SERP treatment standpoint, there are two core treatments as of today. You can see a list version that uses an accordion to reveal information for each step. And below the steps in the list version, you will see one link to visit the site for all of the steps.

Note, these are not all clients of mine… these are just How-to snippets I have seen in the wild from sites that have implemented How-to markup.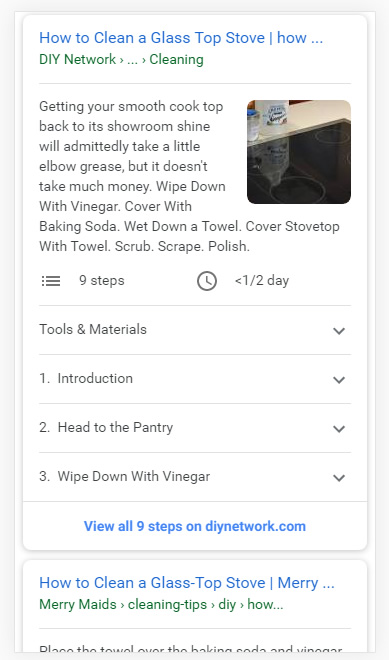 And the other treatment is when you have photos for each step. When you do, Google can provide a carousel of steps with visuals. Users can tap each element in the carousel to be taken to that step on the publisher's website. This is accomplished via the How-to markup added to your pages.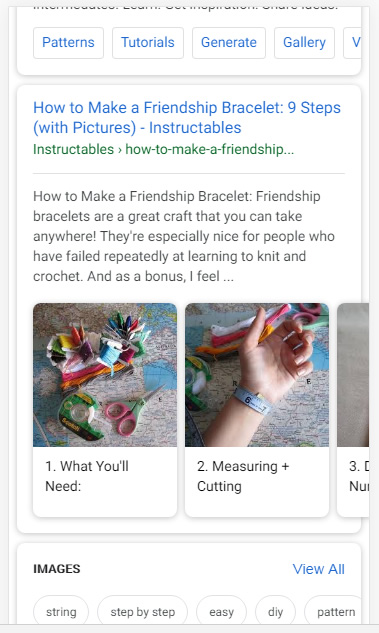 Here are some additional examples of what How-to snippets look like in the wild (via sites that have implemented How-to markup):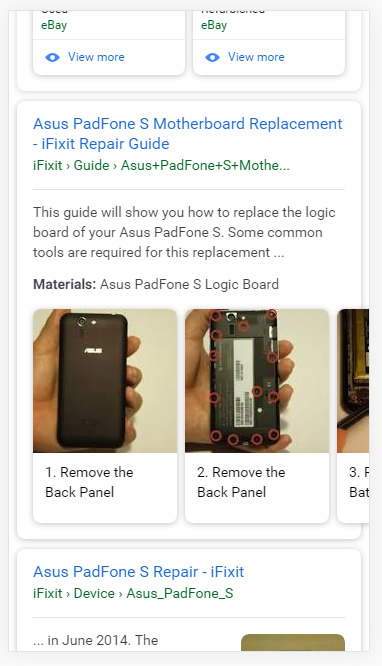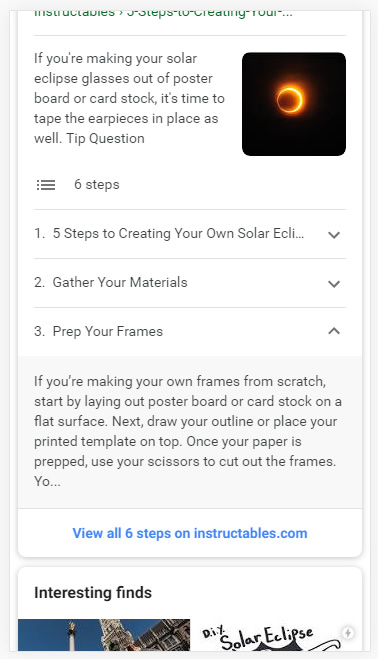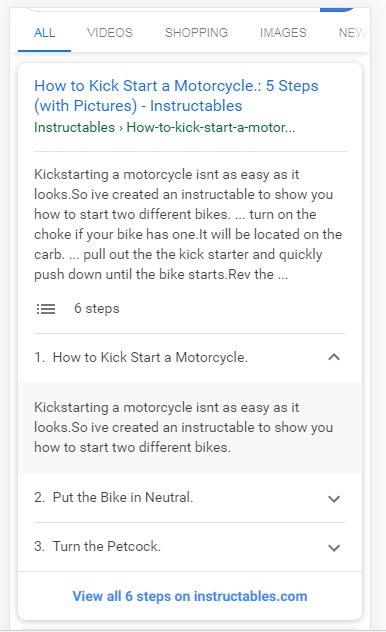 As you can see, How-to snippets have eye-catching SERP treatment, provide a number of steps involved to complete a task, and could yield visit-less users for sites with the snippets.

For example, imagine there are just a few steps involved with the How-to. Then all of the steps could be listed right in the SERP. Time will tell how much site owners approve of this new feature… and I'm sure their monetization teams will be watching very closely.

Note, site owners could always just remove the markup if they feel they are losing traffic, but then that leaves important SERP real estate for other sites (like competitors). It's probably going to be a tough decision for many site owners, especially when Google Assistant smart displays begin showing the full How-to.

On that note, here is what How-tos will look like once they arrive on smart displays. The full How-to will be available and users will be able to view the necessary tools, equipment, products, etc., along with each step in the How-to.

Here's the video from Google I/O (at 7:40 in the video):
How-to Schema and The Rich Results Test
If you have How-to content on your site and you would like How-to snippets, then your first stop should be the Google Search Developers documentation for adding How-to markup. Google provides a wealth of data and code examples for setting up the necessary code.

For testing your markup, you can use the Rich Results Test, which enables you to either test a url or test a code snippet. Once you do, you can preview the How-to in the search results directly from the tool. It's a great way to see your markup in action: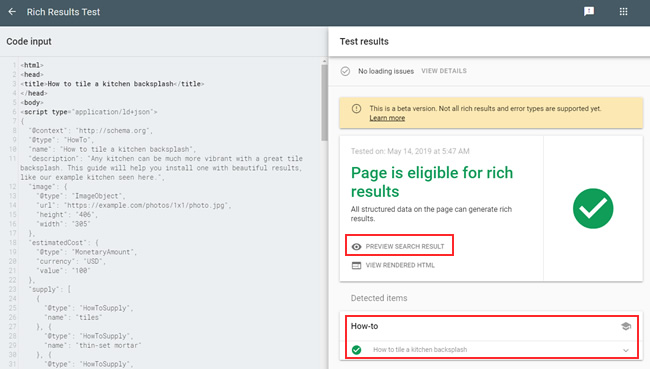 You can also view a preview of both types of How-to snippets, including thumbnail view (the carousel) and list view: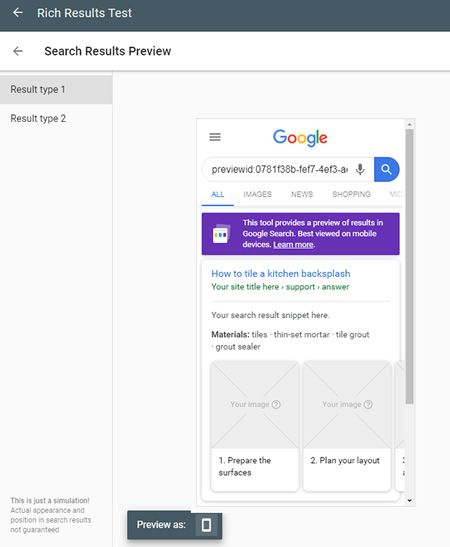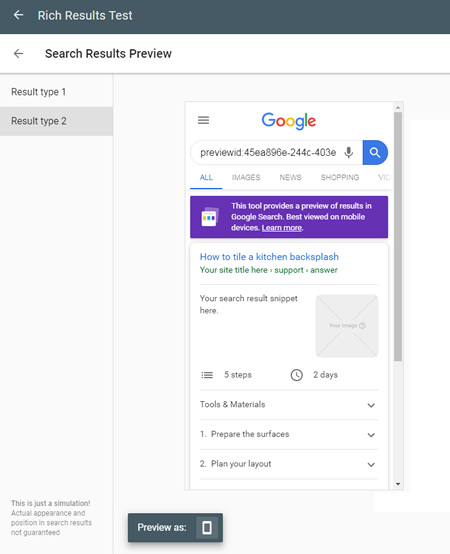 No Site? No Problem! Introducing How-To Video Templates – Repurposing Your How-to YouTube Videos For Search and Smart Displays
Some people have joked that in the future, Google might just pull information from publishers and provide that in the SERPs or on smart displays (no website needed). Well, Google sort of announced that at I/O.

If you have How-to YouTube videos and don't have a site, then you can use video templates provided by Google to add your How-to information in a structured way. Once uploaded, Google can transform your YouTube video into a How-to that can be displayed in the SERPs or on Google Assistant smart displays. You can find more information about this in the developer document that was published when I/O started.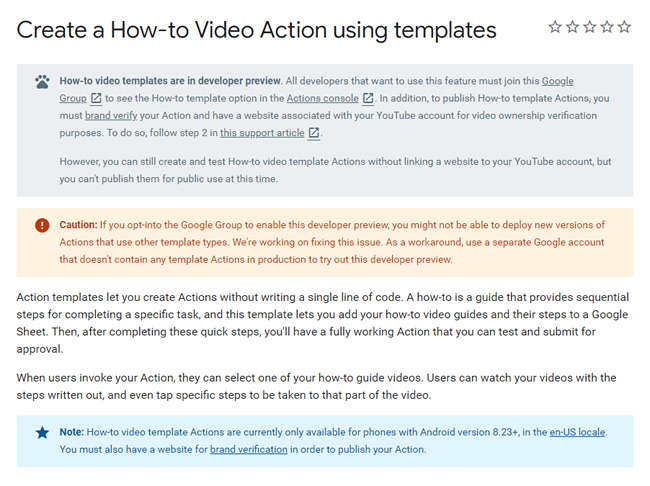 Future Monetization Opportunities:
As mentioned earlier, the full How-to will be available on smart displays, and it's not hard to believe that there will be an opportunity for monetization via ads, or links to purchase the necessary materials, products, ingredients, etc. Or maybe even sponsored How-tos in the SERPs as a separate ad unit? Anything is possible…

That's just my opinion, since Google hasn't announced any monetization opportunities yet. But let's face it, Google is an ad-driven company and providing advertising in How-tos makes a lot of sense.

Here are two mockups of how Google could provide ads in How-tos (in the SERPS). Smart displays would be clearly different, and could yield ads in between steps, the opportunity to buy materials, and more: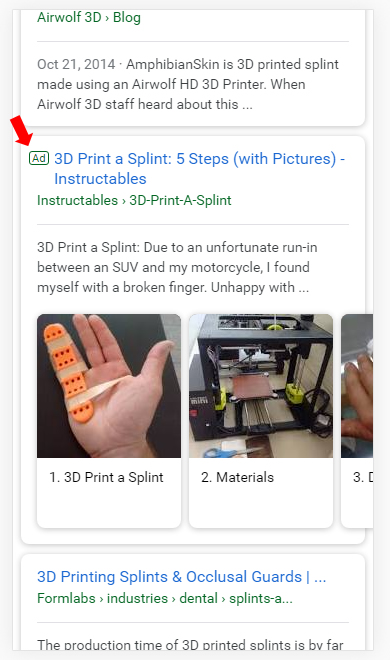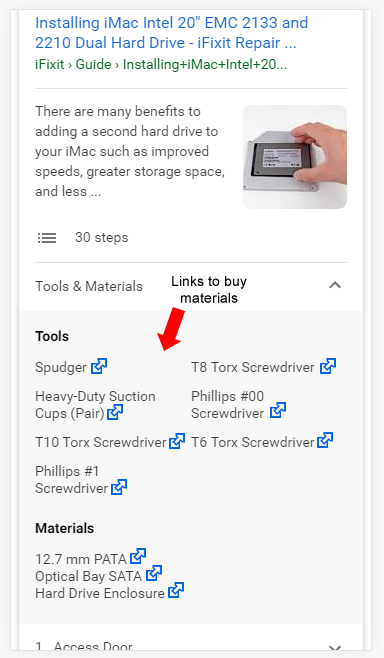 Side Note: How-To + Featured Snippets = MASSIVE SERP Coverage
If you're wondering about how featured snippets impact How-tos, yes, you can land both featured snippets and How-to snippets in the same SERP. That's at least for now… And when you do, you can take over massive SERP coverage. You'll have the initial featured snippet in position 0 and then a How-to snippet that can rank in the top 10. Just an important side note.

Early How-to Data: GSC Performance Reporting
With the launch of How-to snippets, Google has added a new enhancements report for How-to markup and a search appearance filter in the performance reporting for How-to as well. Using both, you can troubleshoot How-to markup on your own pages, while also seeing traffic data like impressions, clicks, CTR, and position for your How-to snippets.

For example, here is a sample enhancements report listing errors, warnings, and valid How-to markup on a site. This image was from Google's blog post about How-to snippets: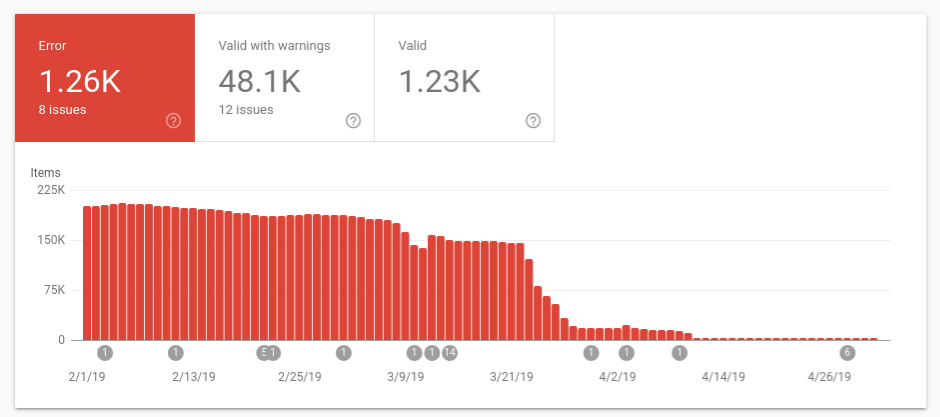 And here is the performance report with How-to listed as a search appearance filter: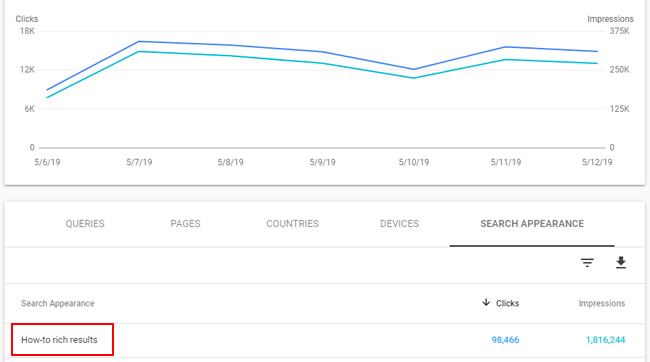 I'm only seeing a few days of data so far, but as you can see, there are plenty of clicks to the site from How-to snippets. The click-through rates are pretty strong across some queries, but also pretty average for others. It really depends on the specific SERP, where the How-to snippet ranks, and which other features are displayed alongside the How-to.

For example, you might be competing with featured snippets, video carousels, interesting finds, and other features that can overshadow How-tos. I've even seen local one-boxes or local packs overshadow some How-tos.

Also, urls that rank in both featured snippets and How-tos in the same SERP could have skewed metrics. I believe you will see data for both combined in GSC (which can yield higher CTRs and clicks than if the data was just presented for the How-to snippet). I have to analyze more results to see if that's the case, but I think I'm seeing that already.

So you'll definitely want to analyze your own SERPs heavily to determine how much impact those How-tos are having (at least in the SERPs). Smart displays are another story. Here are some stats for two different How-to queries. The first ranks higher than the second, which is impacting CTR. They also have different SERP features competing with them.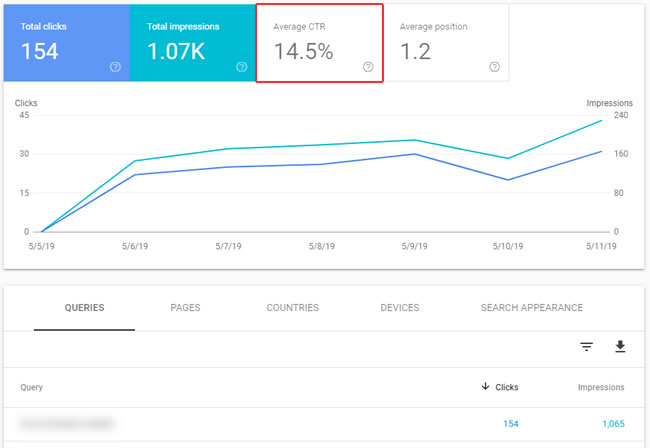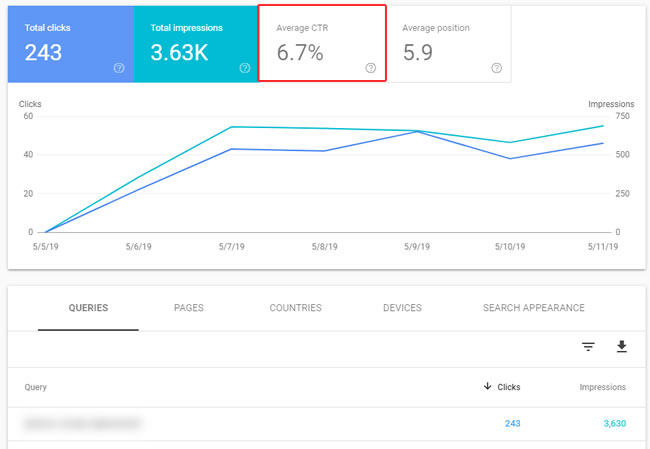 And here's an interesting example with an INSANE click through rate of 73%. This is what can happen when you mix breaking news with a How-to (if that ever fits with your site). It's still early obviously, but that's a crazy-high CTR!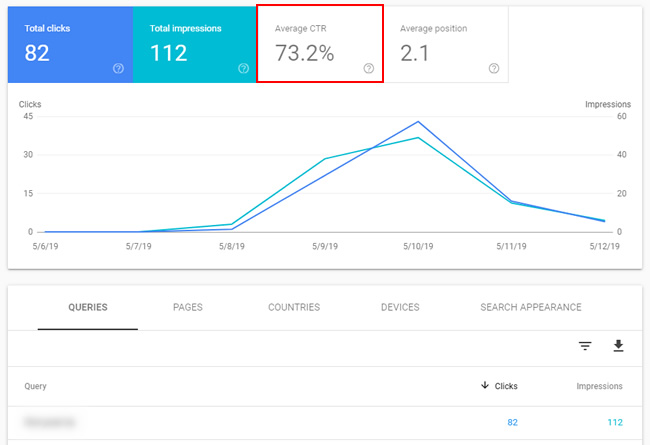 Again, How-to has not rolled out to Smart Displays yet, and I'm not even sure how that will be reported in GSC (if at all). There should be additional reporting in my opinion, since it's a different user experience. Most users will just go through the How-to on the smart display and never reach the site, so there may not be traffic data to report. I asked Google's John Mueller about this in the last webmaster hangout video and he said he wasn't sure how that will be reported in GSC. It's still very new and didn't know how that will be reported yet.
Here is the video (at 28:22 in the video):
I'm sure publishers would like to know how many times a How-to was triggered via Assistant, how far a person made it through the How-to, and if they did end up visiting the site via the link in the Google Home app (which gets added when a How-to is presented). I'll update this post after How-tos roll out to smart displays.

That's a good segue to an important topic – feeding Assistant.
The Big Picture – Feeding Google Assistant
Let's expand our view of what's going on and explore why would Google want to provide a list of steps like this directly in the search results. We know Google has already heard from many people that featured snippets could be stealing traffic. So why push the limits here with How-to snippets?

Well, Google Assistant is booming and it's an important part of Google's future. The family of Google Home devices has been a big success so far, and many people have at least one in their homes. Actually, many have multiple devices between Home, Home-mini, and Home Hub. And Google hasn't figured out monetization… yet. They absolutely have to and I'm sure there are many people working on that right now.

Even though assistants like Home and Echo have soared, research shows that most people use them for very basic things. For example, to check the weather, get the news, check a sports score, get a quick answer, etc. There are over 80K skills available now for Alexa and over 4K for Google Assistant, but most people don't even know those skills exist, how to trigger them, etc. So, all of these devices are still used for rudimentary tasks. Again, for now.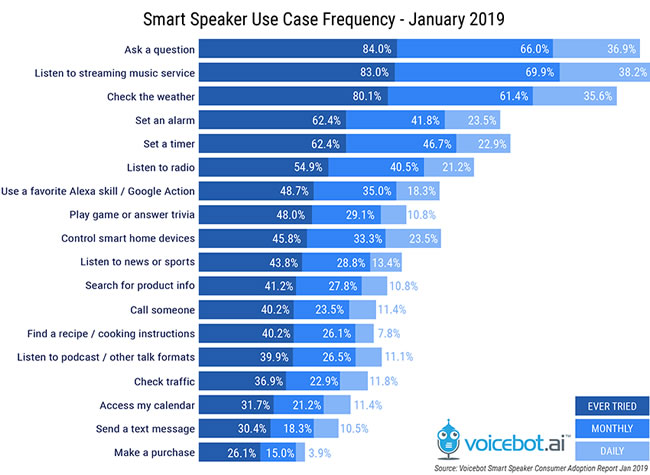 Well, one great way to enhance usage, and possibly open up monetization opportunities, is to provide richer answers in a step-by-step guide. For example, if you are looking for help with fixing your mobile phone, you can view and hear a breakdown of the steps involved, view products and materials that could help you fix the phone (with links to buy them), maybe see some ads along the way, etc. And as mentioned earlier, there are many YouTube How-to videos that could be repurposed into How-tos for smart displays. That's why Google created the How-To Video Templates for video publishers (mentioned earlier).
Therefore, How-to snippets could feed Google Assistant with a ton of step-by-step guides. And by the way, when Google provides special SERP treatment like featured snippets, review snippets, authorship markup of the past, AMP, How-to snippets, and more, publishers typically clear their schedules to implement the necessary technical changes to receive those features. And I'm sure that's exactly what's going to happen here with How-to markup. That means Google Assistant could soon be fed millions of How-tos in a structured format (including videos if publishers use the new How-To Video Templates I covered earlier).

It should be very, very interesting to watch how this goes for publishers implementing How-to markup. Will they be ok with feeding the Google beast without much to gain, or will they rip the markup out in order to gain more traffic to their own sites? I'll be watching closely, that's for sure.
Summary – Keep an eye on How-to snippets. You can't miss them in the SERPs (and soon on smart displays)
How-to snippets in the SERPs could be a big deal for Google, publishers, and users. One thing is for sure, it should be interesting to see how this plays out. For those sites that provide How-to content, you should absolutely have this on your radar and watch the rollout very closely. Your traffic could be on the line. And you should test How-to markup on your own site (including videos).

I recommend digging into How-to schema and getting familiar with how it works, how it should be structured, etc. Remember, this is a bigger and badder sibling to featured snippets, with a smart display spin. It will be hard to miss them in the SERPs and via Assistant. I'll update this post with more information as the rollout continues and I have more data.

GG