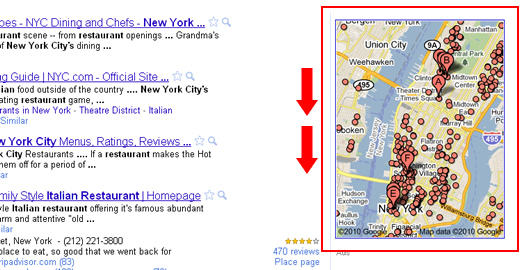 In October of 2010, Google launched a major change to its local search listings.. As part of the implementation, there was a potentially big change for paid search advertisers. When Google displayed local listings (based on a query it deemed local in nature), it would show a map in the upper right-hand corner of the search results. That's fine, but that's not all the map did… As you scrolled down the page, the map scrolled with you. If paid search listings were present on the right-hand side of the page, then the map covered the paid search listings as it scrolled. As you can imagine, this could have a big impact on the performance of your AdWords campaigns.
Why Aren't You Scrolling?
As I was testing various local searches this morning, I noticed some strange behavior with the map I mentioned above. I noticed that it wasn't scrolling for some searches, while it was scrolling for others. After analyzing those searches, it became apparent that the scrolling map functionality wasn't working when there were paid search ads on the right side of the page (underneath the map). Then I tested searches that yielded no paid search ads on the right side of the page, and the map did scroll down the page. I noticed this behavior on my netbook using both Firefox and Chrome.
Maybe others have seen this before, but I haven't yet. I ran to my other systems to test this out and I did not notice the same results (the map was scrolling for all local searches, no matter if there were paid search ads on the right side or not). So, Google might be testing the impact of using a stationary map versus a scrolling map (for usability, paid search impact, etc.) This is important, because it could have a big impact on how your paid search campaigns perform. If Google chooses to not scroll the map, then your paid search ads will not be covered (which should improve your click-through rate, visits, sales, etc.) If it chooses to keep the scrolling map, then your ads will be covered part of the time (which could decrease your exposure, click-through, sales, etc.)
Anyway, I took some screen captures of this happening and have provided the short videos below. I apologize for the poor resolution, but I had to take screen captures from my netbook. Regardless, you can still see what's going on with the map. The first video shows a search for Italian restaurants in new york city (where there were paid search ads on the right side). The second is for a search for pizza in dallas, tx (where there weren't any paid search ads on the right side).
Needless to say, I'm going to keep a close eye on this. Local businesses should too. :)
GG
Video Showing a Stationary Map When Paid Search Ads Are Present on the Right Side of the Page

Video Showing a Scrolling Map When Paid Search Ads Are Not Present on the Right Side of the Page