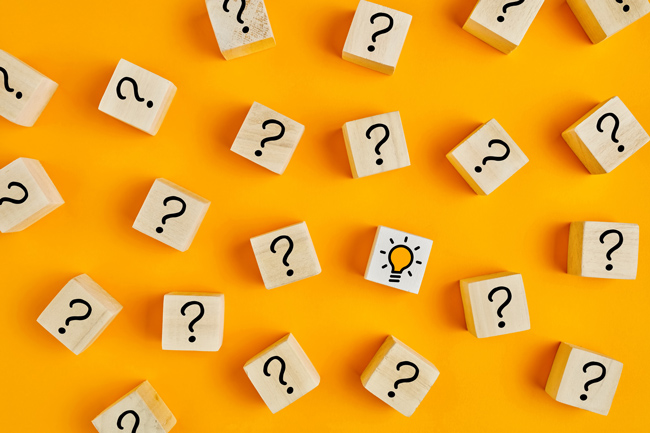 When performing a competitive analysis, it's smart to run a keyword gap analysis to determine the queries that competitors rank for that your site doesn't rank for. It can often yield low-hanging fruit that your content team can execute on. As part of that process, it's also smart to analyze Google's People Also Ask (PAA) SERP feature for queries your site already ranks for, or doesn't rank for (to determine what those additional queries are and which sites are ranking for them). I find this step is skipped often for some reason and it can also yield powerful findings that you can start to execute on quickly.

In this post, I'm going to walk you through the process of identifying ranking gaps in People Also Ask (PAA) using Semrush, which provides outstanding functionality for mining PAA data.
What we're going to accomplish:
For this tutorial, I'm going to filter queries leading to a site by top ten rankings and then layer a secondary filter for surfacing queries where a People Also Ask module also ranks (but the site doesn't rank in the default PAA listings). In other words, you rank in the top ten, but you don't have content ranking in PAA for those queries for some reason. I've found that can yield very interesting findings that sites can execute on pretty quickly.

For example, in the screenshot below, a site ranks in the top ten for 3,359 queries when it also does not rank in the default People Also Ask (PAA) module: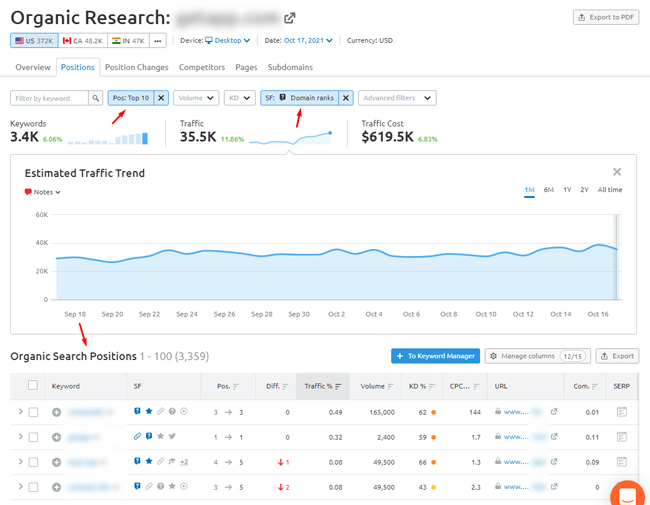 Step-by-step instructions for identifying PAA gaps via Semrush:
1. First, fire up Semrush and enter the domain name you want to analyze.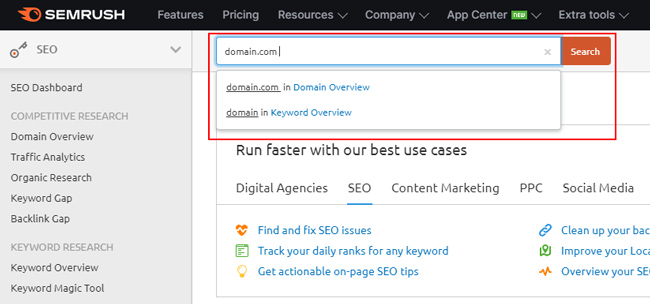 2. Access the Organic Research reporting.
Click Organic Research in the left-side navigation, which will bring us to a powerful set of features for analyzing the search performance of the domain, subdomain, directory, or url you enter.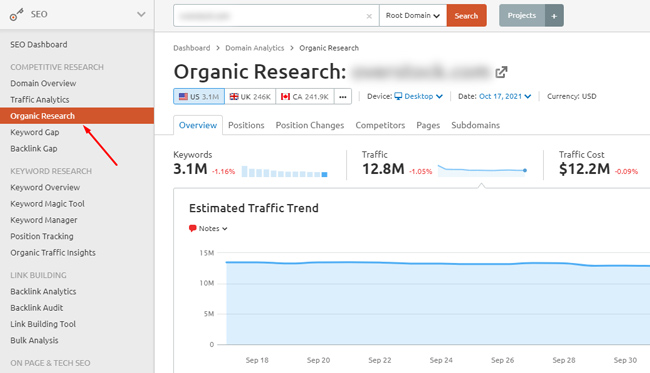 3. View all rankings for the domain via the Positions tab.
Click the Positions tab, which will yield all queries that a site ranks for in the top 100 listings (based on Semrush data).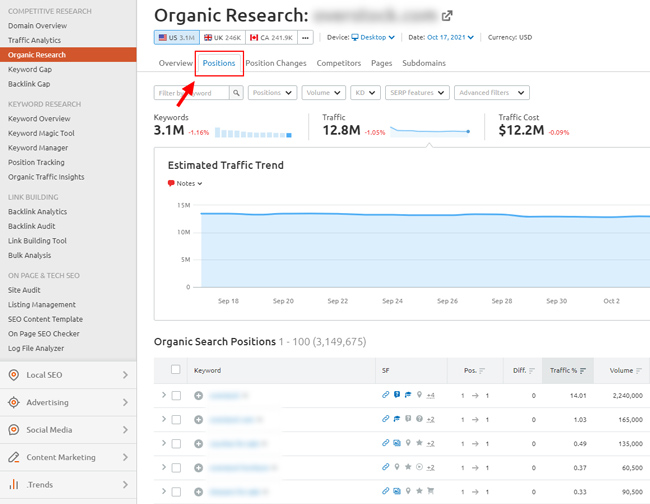 4. Filter by top ten results:
Next, we are going to filter the results by queries where the site ranks in the top ten (so these are queries where the site ranks very well already, but might not have content that ranks in People Also Ask). I'll cover the second part of this step next, but start by filtering by queries ranking in the top ten by clicking the Positions tab and then selecting Top 10.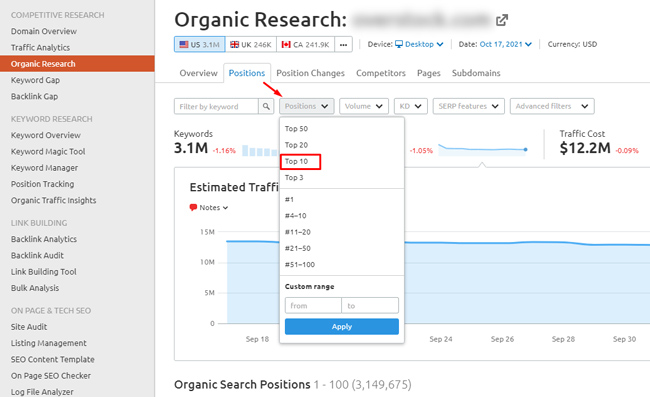 5. Layer a secondary filter for PAA:
To complete this step, we want queries ranking in the top ten, but where the site doesn't rank in People Also Ask (PAA), which can provide a great opportunity to fill gaps content-wise. To view these queries, click "SERP features", then "Domain doesn't rank in" and then select "People Also Ask".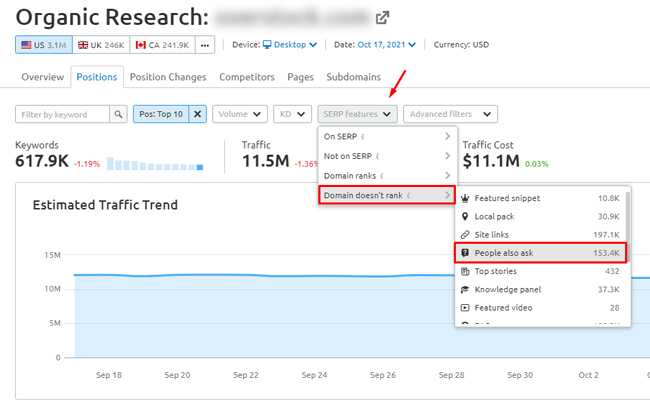 6. Analyze the data:
Now that you have two filters selected, you will be presented with all of the queries where the site ranks in the top ten but doesn't rank in the default PAA module. When you scan the list, definitely spot-check the live search results to see which questions are listed in People Also Ask, which sites are ranking there, the content ranking for those queries, etc. Again, you can identify content gaps, format gaps (like video), and more. It's a quick way to help your content team identify opportunities (and some gaps you find might lead you to face-palm). :)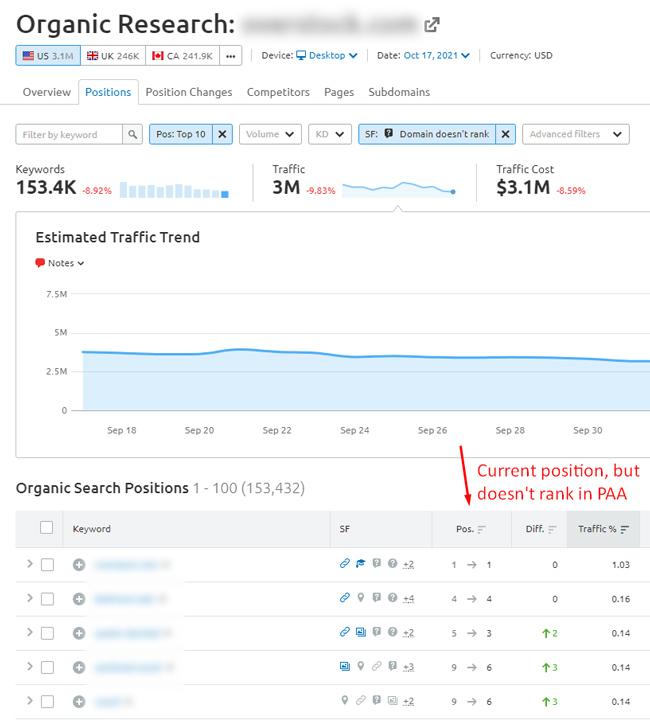 7. Export the data:
You can always export the results if you want to use that data in other programs like Excel. You can export the data in Excel or CSV format.

And there you have it. A quick and easy way to identify ranking gaps in PAA via Semrush. It only takes a few minutes to run, and you'll have a boatload of PAA data to go through (where your site ranks, but not in PAA). By the way, if you're looking for other posts I've written about Semrush tools, then check out The Link Authority Gap which shows you how to compare the most authoritative links between websites.

PAA Gaps – Final tips and recommendations:
Before I end the tutorial, here are some final notes and recommendations based on helping clients go through this process over time. Semrush is like a Swiss Army Knife for SEO research, so make sure you are getting the most of out the tool.
Live graphs – Remember that the graphs in Semrush are live graphs, so they change based on the filters you select. Therefore, you can see trending over time for ranking (or not ranking) in PAA when you already rank well in the organic search results. It's a cool way to visually see your progress.
Advanced filtering – Use advanced filtering in Semrush to fine-tune your analysis. For example, combine filters like search volume, keywords, directory, subdomain, urls, etc. You can filter the data multiple ways in Semrush (and combine those filters for advanced reporting). Play around there… you might find some great combinations that surface important data.
PAA by country – Run this analysis by country! Just change the country you are analyzing in the reporting, and voila, you have a fresh set of queries where your site doesn't rank in PAA.
By device – Be sure to check both mobile and desktop data. Similar to country, just select desktop versus mobile in the filters to see each resulting dataset. You might find some differences there.
Spot check the results – Make sure you are spot-checking the actual SERPs. PAA can obviously change (and Semrush isn't always perfect), so make sure you really aren't ranking in PAA for those queries. Then form a plan of attack once you identify the gaps.
PAA formats – Keep an eye on the format of content ranking in People Also Ask. As I mentioned earlier, video could be ranking there as well. Understand the types of content Google is ranking based on query and choose the right formats for the job.
View historical rankings – You can easily change the dates via Semrush! For example, you can look back in history and run this analysis for previous months. Have you improved, declined, or remained stable? How has Google changed with regard to PAA for those queries?
Summary: Identifying PAA Gaps Via Semrush can be powerful.
It's hard to overlook People Also Ask when an analyzing the SERPs and the feature often contains important questions that people are searching for based on the original query. By using the process I detailed in this tutorial, you can surface and export queries where your site already ranks in the top ten search results, but doesn't rank in PAA. In my opinion, it's a great way to identify low-hanging fruit that your content team can dig into quickly. You never know, you might find some quick wins… or many of them. Have fun.

GG