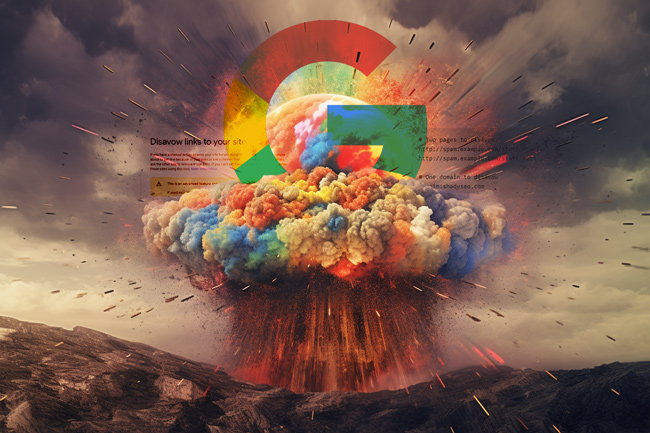 There aren't many topics in SEO as controversial as disavowing links. Ever since Google introduced the ability to disavow links, there has been a ton of confusion about how to use the disavow tool, what types of links should be disavowed, when to ignore the disavow tool altogether, and more. Then add third-party tools that evaluate links for site owners and flag some as "toxic", and you have a dangerous recipe of confusion and fear. And that fear makes it easy for some site owners to spend a lot of time continually disavowing links, spinning their wheels, and without any way to know if it was actually helping them.

I cannot tell you how many companies have contacted me over the years explaining they take time every week or month to review their latest links via third-party tools and determine what to disavow. They are deathly afraid of some type of negative algorithmic action Google will take based on random, spammy links showing up in their link profiles. The fact of the matter is that every site builds random, junky, spammy links over time. It's not unusual to see those random links show up in a link profile. Google has explained this as well.

Here is just one of John Mueller's tweets where he explains this. I'll cover more about Googler comments about the disavow tool soon.
It's also important to note that many of those companies reaching out to me have never bought links, participated in any link schemes, etc. After I explain more about the disavow tool to those site owners, why it was created, when Google actually recommends to use it (hint, not often), my calls with those site owners often go eerily silent.

Note, I am NOT referring to sites that have set up unnatural links in the past, had manual actions for unnatural links, participated in link schemes, etc. If you have, then you should take care of that situation, which could involve using the disavow tool. For example, you should have those links removed, nofollowed, and if you can't do that, then you can use the disavow tool. But the reason you would be doing this is to avoid a manual action based on setting up unnatural links and not because of some boogeyman algorithm that's going to downgrade your site.

I have also been extremely vocal that I believe Google could remove the disavow tool from Search Console altogether, and maybe even this year. With SpamBrain now neutralizing unnatural links (as of the December 2022 Link Spam Update), I can't imagine Google will need to provide a disavow tool for long (at least one that's available to use any time you want). That's just my opinion, but it does make a lot of sense. Here's a video I recorded with Barry Schwartz where we cover the disavow tool and how it could eventually go away (at 11:46 in the video):
Nuking A (Large) Disavow File: A Case Study
I am writing this post because I have a great case study to share. And this case follows a number of other companies I have helped that have decided to nuke their disavow files after understanding how the tool is supposed to be used. Those companies haven't seen any negative impact from nuking their disavow files. And for the case study I'm going to share today, you'll see how a site completely removed a large disavow file with 15K+ domains in it and actually surged back from the dead after being down based on a terrible migration.

And I'm not saying the site surged back due to removing the disavow file. I'm simply saying the file didn't matter at all. They surged back AFTER removing that giant disavow file filled with random, junky, spammy domains.

Note, this is a blinded case study, since everyone and their mother would over-analyze the situation if I revealed the site. But it's too good of an example to sit in the G-Squared Interactive archives, locked away for only me to see. Everyone in the SEO community should read the case, speak with their clients about disavowing, and determine the best way forward. And for most sites (99.99%), that's probably removing their disavow file and stopping the continual disavowing of links that don't need to be disavowed. Again, that's unless the site actively built unnatural links, participated in link schemes, had a manual action in the past, or think they could get one based on their own unnatural link building.
The Disavow Tool Is Buried In GSC:
I have been saying for a long time that most site owners never need to touch the disavow tool. From Google's move to devalue unnatural links with Penguin 4 to SpamBrain now neutralizing unnatural links, Google is not penalizing random, junky, spammy links. Instead, it's just ignoring them. Manual actions for unnatural links have dropped off a cliff over the past several years, which makes complete sense based on Google neutralizing random spammy links like I just mentioned.

Unless you actively set up unnatural links to try and game Google's algorithms, then you should never, ever have to touch the disavow tool. That is one reason it's literally buried in the GSC user interface. Seriously, try and go find it. It will probably take you a few minutes since you can't access the disavow tool from any of the menus in GSC.

And think about it, if Google really wanted you to use the disavow tool all the time, why in the world would they bury it in Search Console? You can't even search the help documentation from GSC anymore to quickly find it. You have to go the help docs, search for the disavow tool, and then scroll way down the page to find the text link to the tool. Again, it's buried.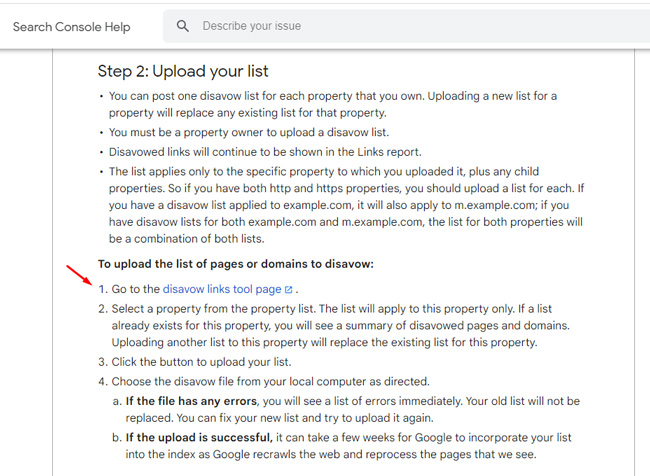 Googler Comments About The Disavow Tool:
In addition, there have been some great quotes from Googlers about the disavow tool over the years. From Gary Illyes explaining many sites end up hurting their efforts by using the disavow tool to John Mueller's continuous communications that most site owners should never use the tool, it's a surprise that some site owners still disavow links on a regular basis.

Here are some of Gary's comments about the disavow tool (@methode is Gary's Twitter handle). These are people quoting Gary based on Pubcon presentations, Q&A sessions Gary has done, etc.
And here is a great quote that always stood out to me. Gary even said that if it was up to him, he would remove the tool. Yes, a Googler saying he would remove the disavow tool…
And here is a quote from Gary about not being afraid of sites you don't know and how he trusts the Google filters: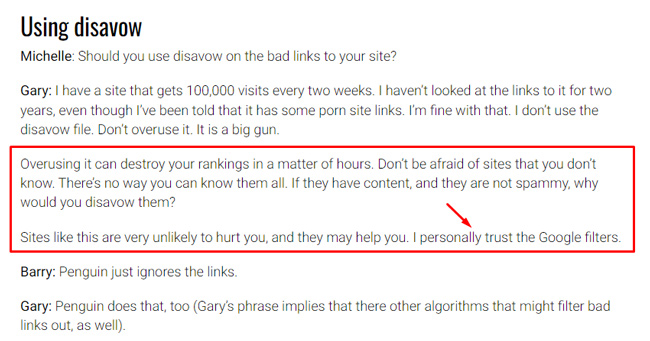 Moving on, here are several tweets from Google's John Mueller (there are more, but I can't provide all of them here):
Even the disavow tool itself explains you should not use the tool unless you have a manual action, or you think you could get one. Google's messaging there is pretty aggressive and scary. Let's face it, they don't want site owners using the tool for random, spammy links that show up in a link profile.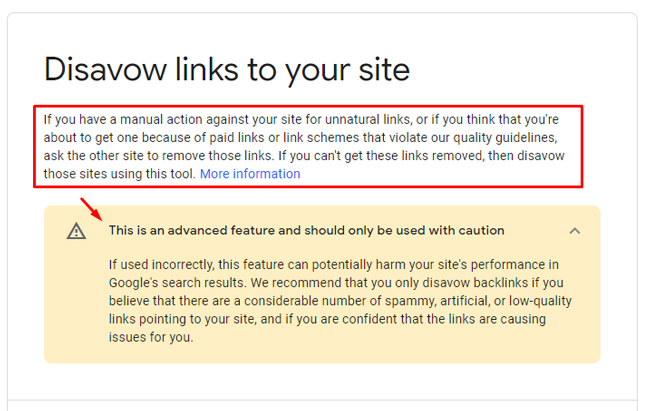 But not everybody thinks that messaging is clear, including the site owner I helped. So, I asked the site owner if he wanted to provide a quote about the confusion he initially had about disavowing based on Google's messaging in the tool and in the documentation. Like many site owners, he would like to see clearer messaging from Google about when to use the tool and when it's necessary.

So here we go, in the site owner's own words:
"Google documents about how, and when, to use the disavow tool are too open to interpretation, especially in situations after an (algorithm) update or when your rankings rapidly decline out of the blue. I hope others that read this case study will not interpret Google's messaging like I did, and instead look for all other possible outlets before deciding to use the disavow tool. I very much hope this tool gets nuked!"
With that out of the way, I'll cover the case study.
The Case: Down And Out, And Disavowing In Circles:
In the fall of 2022 I received a dire email from a site owner. The site changed domain names and it went very, very wrong. It really wasn't their fault in my opinion… they were an edge case (which can happen with any migration). I've seen this a number of times over the years unfortunately, which is why I tell most site owners to NEVER change domain names unless it's absolutely necessary. They were down about 70-80% and not coming back.

Here is trending when blending GSC click data from both domains via Looker Studio: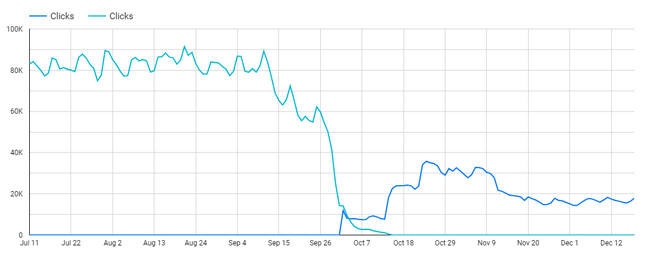 After digging in a bit, I noticed they were disavowing links. Many of them. So I asked if they ever set up unnatural links, if they ever had a manual action in the past, if they participated in any link schemes, etc. The site owner emphatically explained they NEVER set up any unnatural links. They just noticed many random, junky links in their link profile and they were scared those links would negatively impact rankings.

So, I explained that most sites end up with random and junky links like that and there was really nothing to worry about on that front. But the site owner had read many posts explaining how dangerous those links were, how it could drag your site down over time, and that actively disavowing links was the way to go. When they contacted me, they had over 15K+ domains in their disavow file.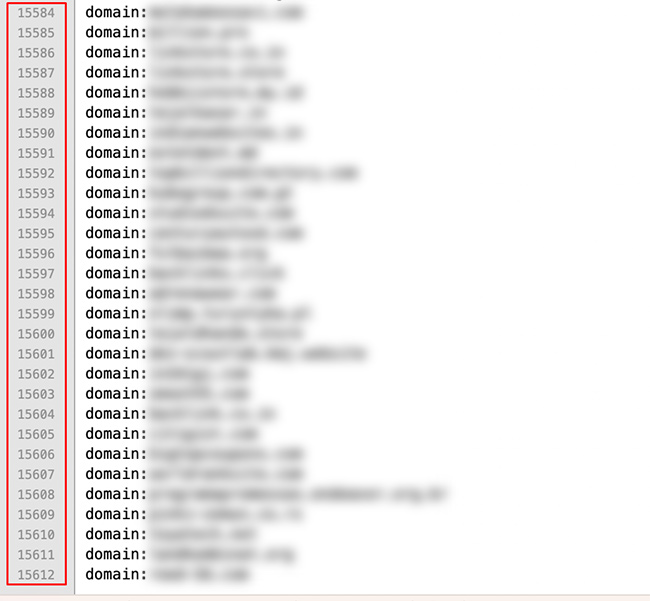 After sending the site owner quote after quote from Googlers about the disavow file, they started to come around. They believed me, but were deathly afraid to nuke their disavow file. So they removed it for a bit. Nothing changed at all, but again, they were down about 70-80% from the domain name change that went sideways. So when nothing changed, they added the disavow back out of fear it would keep them down.

See how that works? The fear of some "boogeyman" algorithmic action led them to continually include a disavow file filled with random, junky domains. And they continued to spend time analyzing their link profile on a regular basis, and adding more and more domains to the disavow file over time. It was a maddening spiral of disavowing links. And I was determined to get the site owner out of the death spiral.

By the way, checking a number of the domains and links revealed some weren't even indexed. And if the pages aren't indexed, the links can't hurt you anyway. I sent this information to the site owner as well.

Business-wise, the site owner had to lay off most of his employees based on the domain name situation. It was sad to see… especially since if they would have contacted me before the domain name change, I would have told them to NOT change domain names unless absolutely needed. For their situation, it wasn't absolutely needed. It was a nice-to-have thing they wanted to do. Bad move and they were paying a heavy price.

After analyzing the situation, and having seen edge case migrations like this before, I truly believed they needed a major algorithm update to roll out, which could bring a site quality re-evaluation. For example, a broad core update or reviews update could possibly help them surge back from the dead.

The December 2022 helpful content update (HCU) and product reviews update (PRU) rolled out and the site didn't surge back, but I still had hope. I told them to sit tight and let's see if another update could help them out… Then the March 2023 broad core update rolled out, and they still didn't recover… But again, as of that time, the disavow file with 15K+ domains was still being used…
Pulling The Band-Aid Off. FINALLY Nuking The Disavow File:
The site owner was strong throughout this entire situation. He listened to my guidance, continued to improve the site the best he could with reduced staff, and had faith things could come back at some point. And as a last-ditch effort, they decided to completely remove the disavow file in late March. I was thrilled they made this decision. It was a long time coming…

So the disavow file was removed that contained 15K+ domains. Poof, it was gone. Now the site owner needed to continue to drive forward with the site, forget about disavowing, and just focus on improving the site as much as possible quality-wise.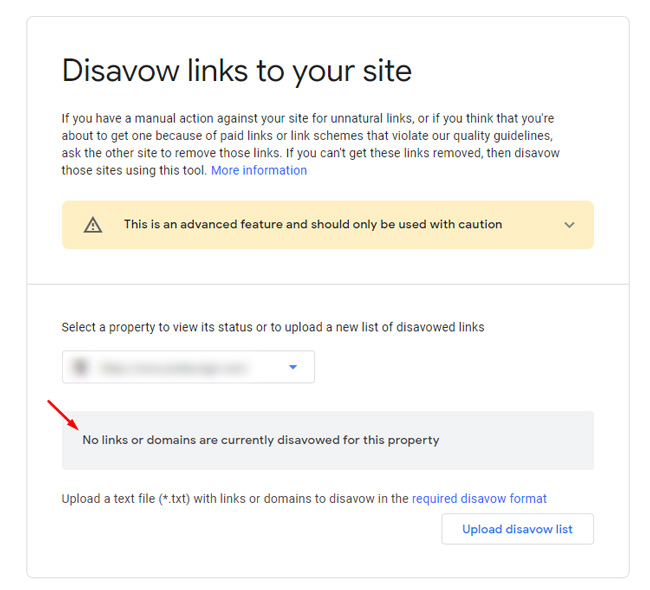 And Along Came The April 2023 Reviews Update (With A BIG Tremor):
On April 12, 2023 Google rolled out the reviews update (RU), a major algorithm update that could impact any site with reviews or recommendations content. Google's product reviews update (PRU) evolved to just the reviews update and it now evaluated more than just product reviews. It made the earth shake for many sites… and it came packed with a powerful tremor on 4/19. With that tremor, it looked to me like Google refreshed a site-level quality algorithm (or several).

Well, a funny thing happened with the site I'm covering in this case study. It began to surge with that tremor. And I mean REALLY surge. Rankings started coming back big-time for the site. And it was their most powerful queries returning from the dead. The site jumped 5, 10, and 20+ rankings for key terms. It was amazing to see.

The site is now up 140% based on the April reviews update, and that's without a single disavowed link. And that's down from 15K+ disavowed domains in the past. It's a great example of why I believe a disavow file is NOT necessary for 99.99% of sites. They clearly didn't need to be disavowing those links…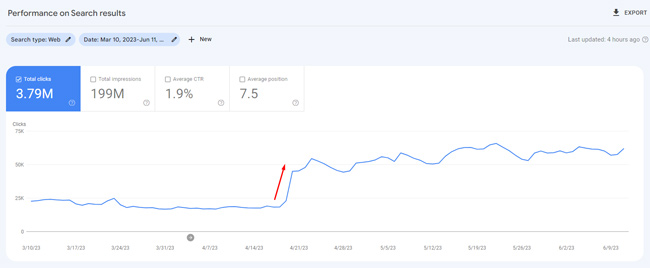 Here is search visibility surging for the site based on that tremor (Sistrix data):

And here is a snapshot of the site's rankings surging with the April reviews update tremor. Over 31K keywords increased in position that now rank in the top 10. Some of those keywords weren't even ranking in the top 100 before the April reviews update tremor: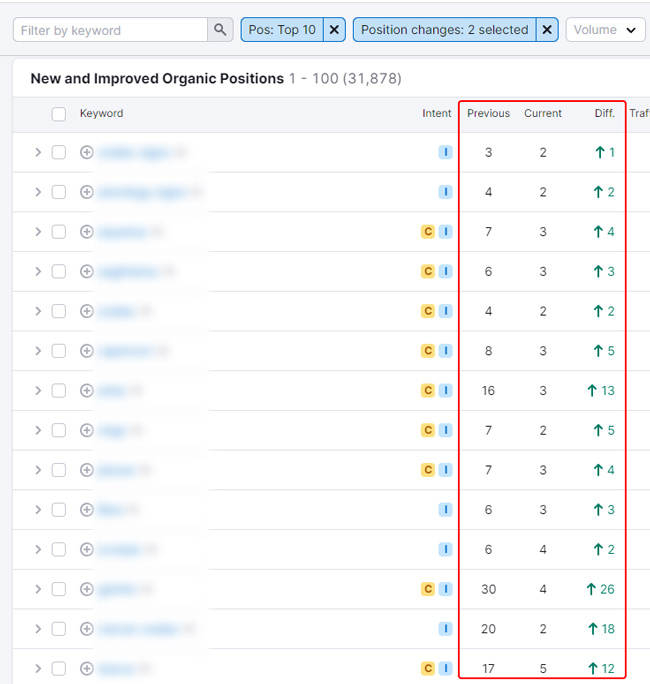 And again, I'm not saying they surged back due to removing the disavow file. I'm just making the point that the disavow file wasn't doing anything (in my opinion). They surged back from the dead without the file in place.

The site owner has been through so much with the drop based on the domain name change debacle, weird volatility over time that never turned out well in the long-term, etc., that they are still fearful this won't last. We are now almost two full months out from the surge, and they still don't feel comfortable. And I get it. When you're an edge case, the battle scars remain. That said, it's great to see the site back doing so well. Let's hope things continue that way.
Key Points About Disavowing Links For Site Owners:
I'll end this post with some key points for site owners that are actively disavowing links or thinking about disavowing. This is based on my experience helping many companies over time:
In my opinion most sites, and I mean 99.99%, don't ever need to use the disavow tool.
The disavow tool is buried in the GSC UI for a reason. As Google would explain, that's by design.
Several Googlers have explained that most site owners never need to use the disavow file. And that it should only be used if you have a manual action, or think you could get one based on buying links, participating in link schemes, etc. It's not for random, spammy links that show up in your link profile.
Do not just start disavowing random, junky, spammy links that show up. Most sites have those types of links and Google is very good at ignoring them.
Do not simply look at third-party tools that flag links as "toxic" and think you need to move quickly to disavow those links. Google has addressed that as well, and said it's a terrible idea to disavow links purely based on what some third-party tool claims is "toxic". Sure, you can go analyze those links, but if you haven't set up unnatural links in the past, then there's no reason to worry about that.
When to use the disavow file: Now, if you did buy links, or participate in some type of link scheme, then you should look to remove those links or nofollow them. And if you can't for some reason, then it's fine to disavow them. Again, do not just start disavowing random, junky, spammy links you see showing up in a link profile. If you truly weren't involved in setting those up, just ignore them and move on.
Summary – For this site owner, nuking a giant disavow file and stopping the disavow madness was the way forward.
I hope this case study helped you learn more about the disavow tool, Google's advice about using it, and why most site owners never need to use it. Google has gotten very, very good at simply ignoring random, spammy links on the web and there's no reason to start disavowing those links. So, if you haven't set up unnatural links, paid for links, or participated in some type of link scheme, then you should step away from the disavow tool. Just continue to improve your site the best you can and avoid over-analyzing links. For the site owner I covered in this case study, that was the path forward.

GG