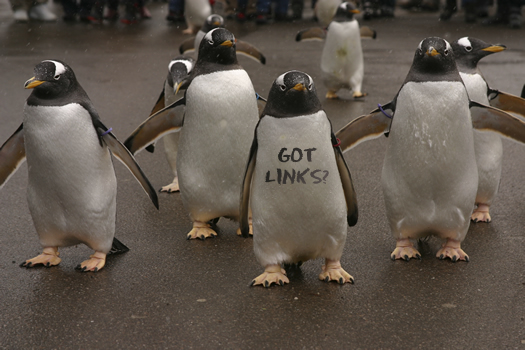 Oct 17, 2014 was an important date for many SEOs, webmasters, and business owners. Penguin, which we've been waiting over an entire year for, started to roll out. Google's Gary Illyes explained at SMX East that Penguin 3.0 was imminent, that it would be a "delight" for webmasters, that it would be a new algorithm, and more. So we all eagerly awaited the arrival of Penguin 3.0.
There were still many questions about the next version of Penguin. For example, why has it taken so long to update Penguin, would there be collateral damage, would it actually have new signals, would it roll out more frequently, and more?  So when we saw the first signs of Penguin rolling out, many of us dug in and began to analyze both recoveries and fresh hits. I had just gotten back from SES Denver, where I was presenting about Panda and Penguin, so the timing was interesting to say the least. :)
Since the algorithm is rolling out slowly, I needed enough time and data to analyze the initial update, and then subsequent tremors. And I'm glad I waited ten days to write a post, since there have been several interesting updates already. Now that we're ten days into the rollout, and several tremors have occurred, I believe I have enough data to write my first post about Penguin 3.0. And it's probably the first of several as Penguin continues to roll out globally.
"Mountain View, We Have a Problem"
Based on the long delay of Penguin, it was clear that Google was having issues with the algo. Nobody knows exactly what the problems were, but you can guess that the results during testing were less than optimal. The signature of previous Penguin algorithms has been extremely acute up to now. It targeted spammy inbound links on low quality websites. Compare that to an extremely complex algorithm like Panda, and you can see clear differences…
But Panda is about on-site content, which makes it less susceptible to tampering. Penguin, on the other hand, is about external links. And those links can be manipulated. The more Penguin updates that rolled out, the more data you could gain about its signature. And that can lead to very nasty things happening. For example, launching negative SEO campaigns, adding any website to a host of low quality sites that have been previously impacted by Penguin, etc. All of that can muddy the algorithm waters, which can lead to a lot of collateral damage. I won't harp on negative SEO in this post, but I wanted to bring it up. I do believe that had a big impact on why Penguin took so long to roll out.
My Goal With This Post
I'm going to quickly provide bullets listing what we know so far about Penguin 3.0 and then jump to my findings based on the first ten days of the rollout. I want to explain what I've seen in the Penguin trenches, including recoveries, fresh hits, and other interesting tidbits I've seen across my travels. In addition, I want to explain the danger of crossing algorithms, which is going on right now. I'll explain more about Penguin, Panda, and Pirate all roaming the web at the same time, and the confusion that can cause. Let's dig in.
Here's what we know so far about Penguin 3.0:
Penguin 3.0 started rolling out on 10/17 and was officially announced on 10/21.
It's a global rollout.
It's a refresh and not an update. New signals have not been added. You can read more about the differences between a refresh and update from Marie Haynes.
It will be a slow and steady rollout that can take weeks to complete. More about Penguin tremors soon.
There was more international impact initially. Then I saw an uptick in U.S. impact during subsequent Penguin tremors.
Google has been very quiet about the update. That's a little strange given the magnitude of Penguin 3.0, how long we have waited, etc. I cover more about the future of Penguin later in this post.
10 Days In – Several Penguin Tremors Already
We are now ten days into the Penguin 3.0 rollout. Based on the nature of this update, I didn't want to write a post too quickly. I wanted more data, the ability to track many sites during the rollout in order to gauge the impact, fresh hits, and recoveries. And that's exactly what I've done since early Saturday, October 18. Penguin began rolling out the night before and there's been a lot of movement since then.
When Penguin first rolled out, it was clear to me that it would be a slow and steady rollout. I said that from the beginning. I knew there was potential for disaster (from Google's standpoint), so there was no way they would roll out it globally all at one time. Instead, I believed they would start rolling out Penguin, heavily analyze the SERPs, adjust the algo where needed, and then push more updates and expand.  If you've been following my writing over the past few years, then you know I call this phenomenon "tremors". I have seen this often with Panda, and especially since Panda 4.0. Those tremors were even confirmed by Google's John Mueller.
Specifically with Penguin, I have seen several tremors since the initial rollout on 10/17. There was significant movement on 10/22, and then I saw even more movement on 10/24. Some sites seeing early recovery saw more impact during the subsequent tremors, while other sites saw their first impact from Penguin during those later tremors.
For example, one client I helped with both Panda and Penguin jumped early on Friday 10/24. You can see their trending below. They are up 48% since Friday: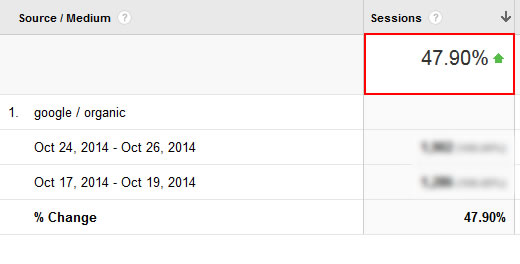 That's awesome, and was amazing to see (especially for the business owner). They have worked very hard over the past year to clean up the site on several fronts, including content, links, mobile, etc. It's great to see that hard work pay off via multiple algorithm updates (they recovered from Panda in May during Panda 4.0 and now during Penguin 3.0.) It's been a good year for them for sure. :)
Moving forward, I fully expect to see more tremors as the global rollout continues. That can mean sites seeing fresh impact, while others see more movement beyond the first date that Penguin 3.0 impacted their sites. For example, a site may recover or get hit on 10/17, but see movement up or down during subsequent tremors. We've already seen this happen and it will continue throughout the rollout.
More Recoveries During Penguin 3.0
For those battling Penguin for a long time (some since Penguin 2.0 on May 22, 2013), this was a much-anticipated update. Some companies I've been helping have worked hard over the past 12-18 months to clean up their link profiles. That means nuking unnatural links and using the disavow tool heavily to rid their site of spammy links.
For those of you unfamiliar with link cleanup, the process is tedious, painful, and time consuming. And of course, you can have the nasty replicating links problem, which I have seen many times with spammy directories. That's when unnatural links replicate across other low quality directories. Websites I've been helping with this situation must continually analyze and clean their link profiles. You simply can't get rid of the problem quickly or easily. It's a nasty reminder to never go down the spammy linkbuilding path again.
For example, here's a site that had hundreds of spammy links pop up in the fall of 2014. They had no idea this was going on…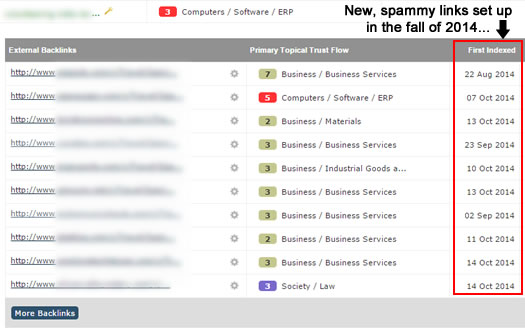 When sites that have been working hard to rectify their link problems experience a Penguin recovery, it's an amazing feeling. Some of the sites I've been helping have seen a nice bounce-back via Penguin 3.0. I'll quickly cover two of those recoveries below.
The first is an ecommerce retailer that unfortunately took a dangerous path a few years ago. They hired several SEO companies over a number of years and each ended up building thousands of spammy links. It's a similar story that's been seen many times since Penguin first arrived. You know, an SMB trying to compete in a tough space, ends up following the wrong strategy, does well in the short-term, and then gets pummeled by Penguin.
The site was not in good shape when they first contacted me. So we tackled the unnatural link profile head on. I heavily analyzed their link profile, flagged many spammy links, they had a small team working on link removals, and whatever couldn't be removed was disavowed. We updated the disavow file several times over a four to five month period.
But, and this is a point too many Penguin victims will be familiar with, we were done with link cleanup work in the spring of 2014! Yes, we had done everything we could, but simply needed a Penguin refresh or update. Surely that would happen soon, right?… No way. We had to wait until October 17, 2014 for that to happen. The good news is that this site saw positive impact immediately. You can see the increase in impressions and clicks below starting on 10/17. And Google organic traffic is up 52% since Penguin rolled out.

The next recovery I'll quickly explain started on 10/17 and saw subsequent increases during the various Penguin tremors I mentioned earlier. They saw distinct movement on 10/17, 10/22, and then 10/25. The site saw a pretty big hit from Penguin 2.0 and then another significant hit from Penguin 2.1 (where Google turned up the dial). The website's link profile was riddled with exact match anchor text from low quality sites.
The site owner actually removed or nofollowed a good percentage of unnatural links. You can see the impact below. Notice the uptick in trending during the various tremors I mentioned.

A Reality Check – Some Websites Left Hanging But Rollout Is Not Complete
I must admit, though, I know of several companies that are still waiting for Penguin recovery that should recover during Penguin (to some level). They worked hard just like the companies I listed above. They cleaned up their link profiles, heavily used the disavow tool, worked tirelessly to fix their Penguin problem, but have not seen any impact yet from Penguin 3.0. And many other companies have been complaining about the same thing. But again, Google said the full rollout could take weeks to complete… so it's entirely possible that they will recover, but at some point over the next few weeks.
A Note About Disavow Errors
It's worth noting that one client of mine battling Penguin made a huge mistake leading up to Penguin 3.0. They decided to update their disavow file in late September (without my help), and the file contained serious errors. They didn't catch that upon submission. I ended up noticing something strange in the email from Google Webmaster Tools regarding the number of domains being disavowed. The total number of domains being recorded by GWT was a few hundred less than what was listed in the disavow file prior to the latest submission. And those extra few hundred domains encompass thousands of spammy links. I contacted my client immediately and they rectified the disavow file errors quickly and re-uploaded it.
The website has not recovered yet (although it absolutely should to some level). I have no idea if that disavow glitch threw off Penguin, or if this site is simply waiting for a Penguin tremor to recover. But it's worth noting.
Fresh Penguin Hits
Now let's move to the negative side of Penguin 3.0. There have been many fresh hits since 10/17 and I've been heavily analyzing those drops. It didn't take long to see that the same old link tactics were being targeted (similar to previous versions of Penguin). And my research supports that Penguin 3.0 was a refresh and not a new algorithm.
For example, exact match anchor text links from spammy directories, article marketing, comment spam, forum spam, etc. Every fresh hit I analyzed yielded a horrible link profile using these tactics. These were clear Penguin hits… I could tell just by looking at the anchor text distribution that they were in serious Penguin danger.
For example, here's the anchor text distribution for a site hit by Penguin 3.0. Notice all of the exact match anchor text?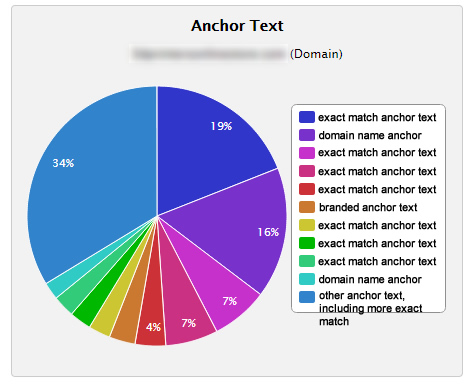 For those of you new to SEO, this is not what a natural link profile looks like. Typically, there is little exact match anchor text, brand terms show up heavily, urls are used to link to pages, generic phrases, etc. If your top twenty anchor text terms are filled with exact match or rich anchor text, then you are sending "fresh fish" signals to Google. And Google will respond by sending a crew of Penguins your way. The end result will not be pretty.

Crazy Gets Crazier
I must admit that some fresh hits stood out, and not in a good way. For example, I found one site that started its spammy linkbuilding just two days after Penguin 2.1 rolled out in October of 2013! Holy cow… the business owner didn't waste any time, right? Either they didn't know about Penguin or they were willing to take a huge risk. Regardless, that site got destroyed by Penguin 3.0.
I could keep showing you fresh hit information, but unfortunately, you would get bored. They all look similar… spammy links from low quality sites using exact match anchor text. Many of the hits I analyzed were Grade-A Penguin food. It's like the sites lobbed a softball at Penguin, and Google knocked it out of the park.
Next Update & Frequency?
At SMX East, Gary Illyes explained that the new Penguin algorithm was structured in a way where Google could update Penguin more frequently (similar to Panda). All signs point to a refresh with Penguin 3.0, so I'm not sure we'll see Penguin updating regularly (beyond the rollout). That's unfortunate, since we waited over one year to see this refresh…
Also, John Mueller was asked during a webmaster hangout if Penguin would update more frequently. He responded that the "holiday season is approaching and they wouldn't want to make such as fuss". If that's the case, then we are looking at January as the earliest date for the next Penguin refresh or update. So, we have a minimum of three to four months before we see a Penguin refresh or update. And it could very well take longer, given Google's track record with the Penguin algorithm. It wouldn't shock me to see the next update in the Spring of 2015.
Check John's comments at 46:45:


Important – The Crossing of Algorithm Updates (Penguin, Panda, and Pirate)
In the past, I have explained the confusion that can occur when Google rolls out multiple algorithm updates around the same time. The algorithm sandwich from April of 2012 is a great example, Google rolled out Panda, Penguin, and then another Panda refresh all within 10 days. It caused massive confusion and some sites were even hit by both algos. I called that "Pandeguin" and wrote about it here.
Well, we are seeing that again right now. Penguin 3.0 rolled out on 10/17, the latest version of Pirate rolled out late last week, and I'm confident we saw a Panda tremor starting late in the day on Friday 10/24. I had several clients dealing with Panda problems see impact late on 10/24 (starting around 5PM ET).
A bad Panda hit starting late on 10/24:


A big Panda recovery starting at the same time: 

I can see the Panda impact based on the large amount of Panda data I have access to (across sites, categories, and countries). But the average business owner does not have access to that data. And Google will typically not confirm Panda tremors. So, if webmasters saw impact on Friday (and I'm sure many have), then serious confusion will ensue. Were they hit by Penguin, Panda, or for some sites dealing with previous DMCA issues, was it actually Pirate?
Update: I now have even more data backing a Panda tremor late on 10/24. I had Paul Macnamara and  Michael Vittori explain they are seeing the same thing. They also provided screenshots of trending for both sites. You can see with Michael's that the site got hit during the 9/5 Panda update, but recovered on Friday. Paul's screenshot shows a clear uptick on 10/25 on a site impacted by Panda (no Penguin or Pirate impact at all).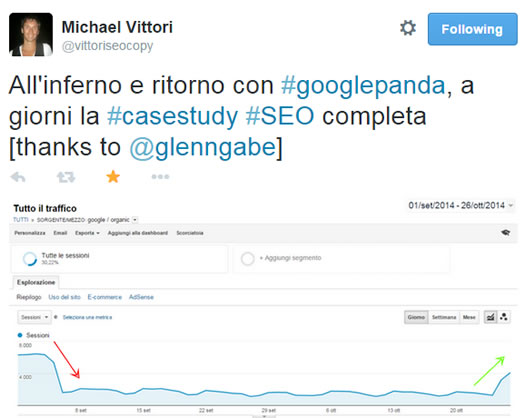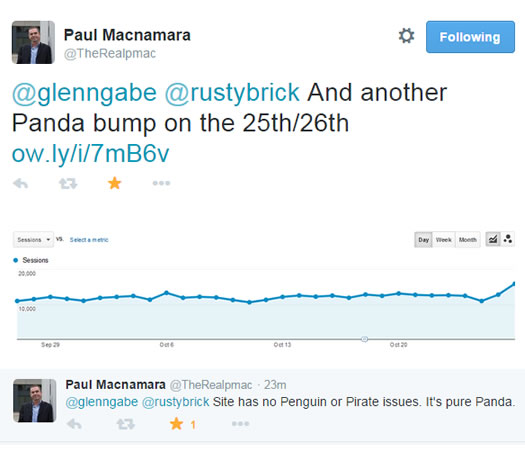 And this underscores a serious problem for the average webmaster. If you work on fixing your site based on the wrong algorithm, they you will undoubtedly spin your SEO wheels. I've seen this many times over the years, and spinning wheels do nothing but waste money, time, and resources.
If you saw impact this past week, you need to make sure you know which algorithm update impacted your site. It's not easy, when three external algos are roaming the web all at one time. But it's important to analyze your situation, your search history, and determine what you need to do in order to recover.
A Note About Negative SEO
I couldn't write a post about Penguin 3.0 without mentioning negative SEO. The fear with this latest update was that negative SEO would rear its ugly head. Many thought that the heavy uptick in companies building spammy links to their competitors would cause serious collateral damage.
Theoretically, that can definitely happen (and there are a number of claims of negative SEO since 10/17). Let's face it, Penguin's signature is not complicated to break down. So if someone built spammy links to their competitors on sites targeted by Penguin, then those sites could possibly get hit by subsequent Penguin refreshes. Many in the industry (including myself) believe this is one of the reasons it has taken so long for Google to roll out Penguin 3.0. I'm sure internal testing revealed serious collateral damage.
But here's the problem with negative SEO… it's very hard to prove that NSEO is the culprit (for most sites). I've received many calls since Penguin first rolled out in 2012 with business owners claiming they never set up spammy links that got them hit. But when you dig into the situation, you can often trace the spammy link trail back to someone tied to the company.
That might be a marketing person, agency, SEO company, PR agency, intern, etc.  You can check out my Search Engine Watch column titled Racing Penguin to read a case study of a company that thought negative SEO was at work, when in fact, it was their own PR agency setting up the links. So, although we've heard complaints of negative SEO with Penguin 3.0, it's hard to say if those are accurate claims.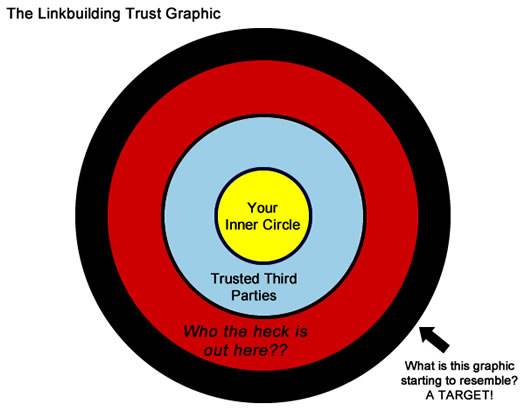 Penguin 3.0 Impact – What Should You Do Next?
If you have been negatively impacted by Penguin 3.0, my advice remains consistent with previous Penguin hits. You need to download all of your inbound links from a number of sources, analyze those links, flag unnatural links, and then remove/disavow them. Then you need to wait for a Penguin refresh or update. That can be months from now, but I would start soon. You never know when the next Penguin update will be…
On the flip side, if you have just recovered from a Penguin hit, then you should create a process for checking your links on a monthly basis. Make sure new spammy links are not being built. I have seen spammy links replicate in the past… so it's important to fully understand your latest links. I wrote a blog post covering how to do this on Search Engine Watch (linked to above). I recommend reading that post and implementing the monthly process.
And if you are unsure of which algorithm update impacted your site, then speak with as many people familiar with algo updates as possible. You need to make sure you are targeting the right one with your remediation plan. But as I mentioned earlier, there are three external algos in the wild now (with Penguin, Panda, and Pirate). This inherently brings a level of confusion for webmasters seeing impact.
Summary – Penguin 3.0 and Beyond
That's what I have for now. Again, I plan to write more posts soon about the impact of Penguin 3.0, the slow and steady rollout, interesting cases that surface, and more. In the meantime, I highly recommend analyzing your reporting heavily over the next few weeks. And that's especially the case since multiple algos are running at the same time. It's a crazy situation, and underscores the complexity of today's SEO environment. So strap on your SEO helmets, grab a bottle of Tylenol, and fire up Google Webmaster Tools. It's going to be an interesting ride.
GG