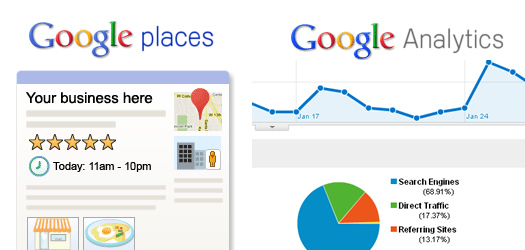 When speaking with local businesses about digital marketing, there are two topics that consistently come up (and for good reason). First, with the importance of SEO for generating new local business, companies want to know how to rank highly in local search (and across engines). Strong local rankings can often lead to increased exposure, more targeted traffic, and more revenue. Second, both small and large businesses want to know how to analyze the impact of their online marketing efforts, which can be a daunting experience if you don't understand the foundational aspects of tracking and analytics.
So, based on the importance of these two topics, I'm happy to announce that I've partnered with Jay Ehret of The Marketing Spot to offer a premium webinar covering Local SEO and Google Analytics for Search. Jay is a small business marketing expert and has been helping companies expand their businesses for the past 15 years. He's a really smart guy, a savvy small business marketer, and I'm excited to be working with him on this webinar. The 90 minute webinar is on February 24th at 1PM ET and you can register now via EventBrite (by using the link listed above).
Google Analytics for Search
My section of the webinar will cover Google Analytics, the powerful (yet free) web analytics package from Google. If you've read my blog before, then you know how important I believe tracking your digital marketing efforts is. Without a robust tracking solution in place, you will have no way of understanding the true ROI of your efforts. And if you can't optimize your campaigns based on performance, you will essentially be flying blind. Please don't fly blind… there's no reason to, and it's why I write extensively about web analytics on my blog, my Search Engine Journal column, and my contributions on other industry blogs.
During the webinar, I will cover a number of important topics, including:
An introduction to Google Analytics and the importance of tracking your digital marketing efforts.
How to analyze and understand your current SEO performance.
How to access important Search-related reports in Google Analytics in order to better analyze search engines, keywords, landing pages from organic search, etc.
How to filter both paid and organic search to better analyze your Search efforts.
How to easily track your Google AdWords campaigns in Google Analytics.
An introduction to the (new) Google AdWords reporting in Google Analytics.
How to use Campaign Tracking to identify campaign performance within Google Analytics.
An introduction to Conversion Goals and Events, along with how to set them up for your own business.
As I mentioned above, Jay Ehret from The Marketing Spot will be covering Local SEO with a focus on Google Place Pages. His section of the webinar will cover:
Website optimization for Local Search.
An introduction to Google Place Pages and why they are critically important for local search.
How to optimize your Place Page.
Local reviews and how they can help your business.
Understanding outside influences to local search, and what you need to do in order to benefit from them (including data sources, inbound links, etc.)
Pricing, Downloads, and Bonuses – What You'll Get With The Webinar
Jay and I want to make sure that webinar attendees are in good hands both during the webinar and after. We know that there will be a lot of information shared, along with several tactical lessons included during the 90 minute session. With that in mind, we've decided to include the following items with registration:
A downloadable video of the 90 minute webinar.
A comprehensive workbook with step-by-step instructions based on the lessons provided in the webinar.
Bonus 1: A free copy of my online marketing ebook "Taking Control of Your Online Marketing", a $50 value.
Bonus 2: One month free membership to Jay Ehret's new membership site: The Entrepreneur's Edge, an archive of marketing resources and tutorials for small business owners, a $69 value.
Webinar Pricing:
The webinar is $79 and you can register now by visiting our registration page on EventBrite.
Early Registration Discount Code: As part of the kickoff, we are offering a special discount code for early registrations. If you register by Sunday, February 13th, you will receive a 30% discount. This means you'll get access to the premium 90 minute webinar and all of the extras listed above for only $55.30. Yes, that's a strange total price, but still an incredible value. :)
Webinar Registration:
So don't hesitate, register for the webinar today:
Use the following discount code to receive 30% off: GSQi_13
Register for the webinar: Local SEO and Google Analytics Webinar
I look forward to seeing you on the 24th!
GG