Change occurs at a frantic pace in digital marketing, and I love that about the industry. It definitely keeps you on your toes. There are times that small changes occur, and you can barely notice the changes. And then there are times that major shifts occur. Shifts that drastically change how companies need to think about marketing. This month, one of those major shifts occurred in Search, and as you can guess, Google drove the change.
On January 10th, Google announced Search, Plus Your World, which in certain cases, drastically impacts the search results for users. Search, Plus Your World is Google's big push to tie Search with Social (using Google+ as its foundation). Google+ is growing rapidly, and based on the impact that Search, Plus Your World can have, it's only going to keep on growing.
What is Search, Plus Your World?
With Search, Plus Your World, the search results are being tailored by your social connections (and weighted heavily by Google+). Personalized results can contain user profiles, posts, shares, images, related people and pages, etc. from your social connections, along with standard search results (the results you have been seeing for some time).
Google now presents a toggle so users can switch between personalized results and search listings without personalized results. In addition, there is an option at the top of the screen showing you how many personalized results are possible (based on your connections in Google+). Clicking this link is a "pure" personalized experience, showing you a full listing of personalized results. And last but not least, autocomplete can now contain user profiles (when you search for people). Talk about having an impact on online reputation management. Thumbnail images showing up in autocomplete is darn powerful. Note, personalized results contain a small blue icon next to the them (shaped like a person).
For example, here are the personalized search results for "android smartphones" when I'm logged in:
Click the image to view a larger version.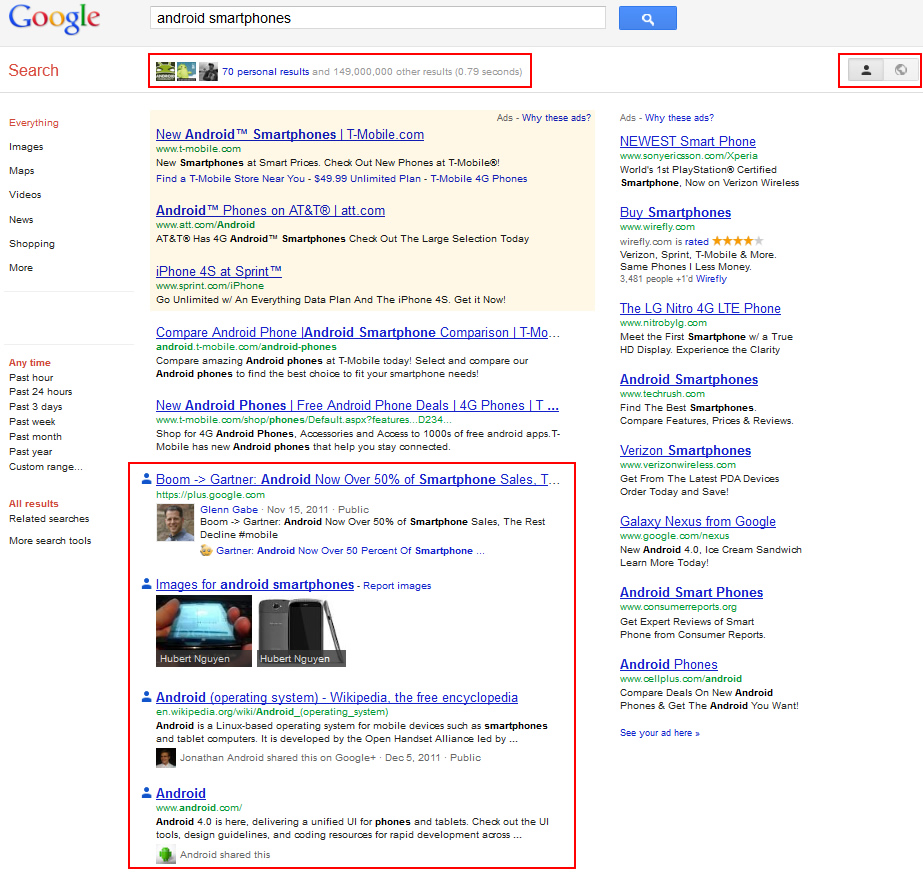 And here are the un-personalized results:
Click the image to view a larger version.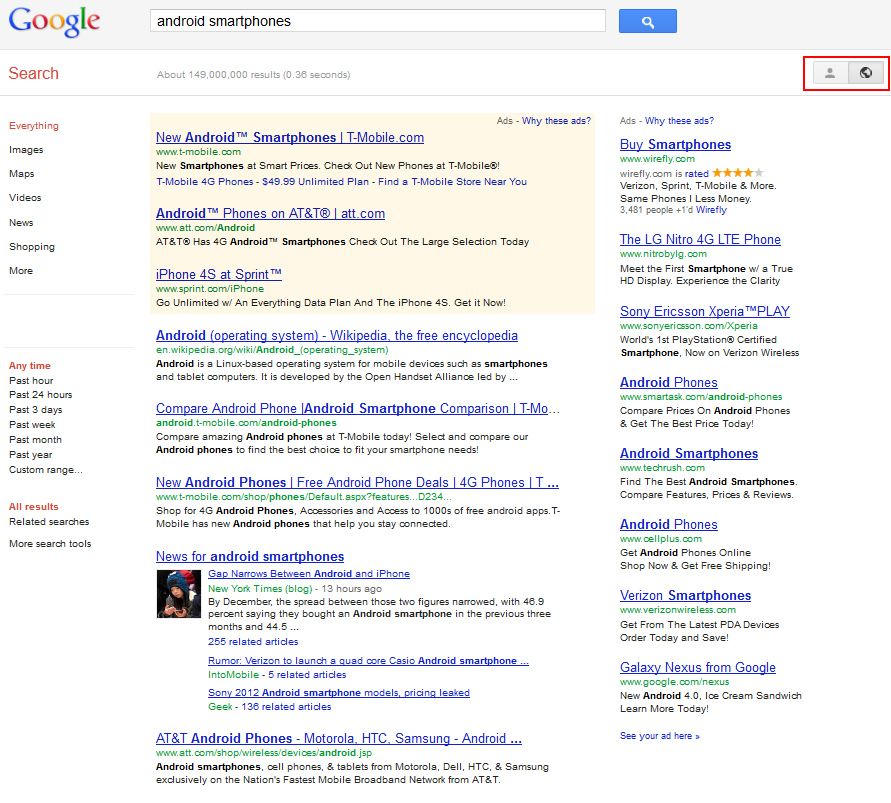 And here are the "pure" personalized results (by clicking the link at the top of the search results):
Click the image to view a larger version.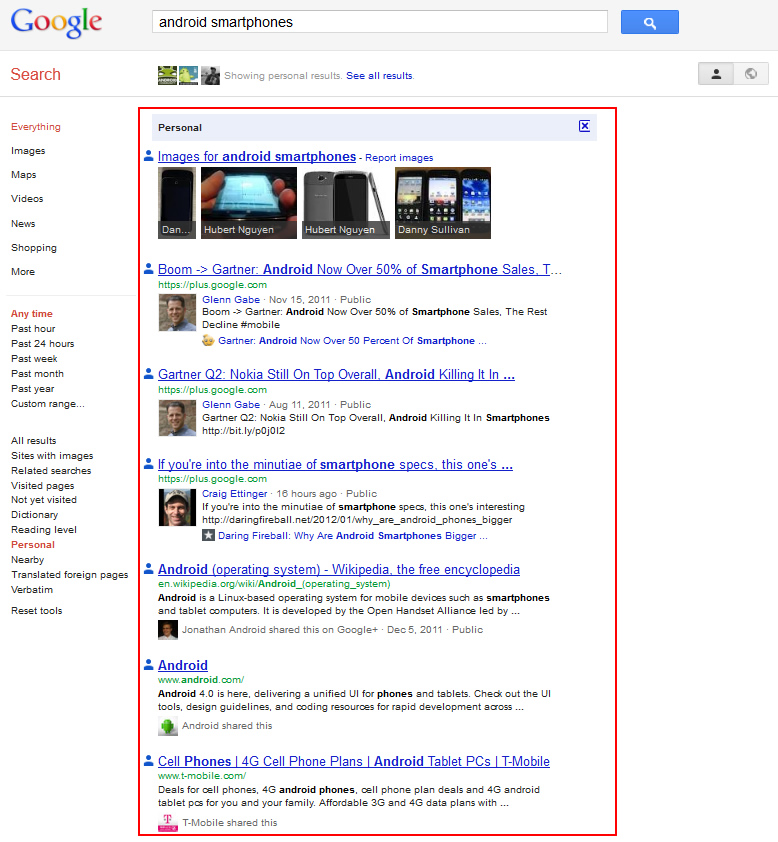 Yes, there's a big difference between the three screenshots, especially the pure personalized results. Note, the default view is personalized (the first screenshot). Then you can toggle between un-personalized and personalized by clicking the icons in the upper right-hand corner. The pure personalized results can be accessed by clicking the link above the search results (which shows thumbnails of your connections next to the link). See below:
The Search Plus Your World Toggle Buttons:


Your Google+ Perspective Means Everything
As I've been reading numerous blog posts about Search, Plus Your World, I think one point is getting lost. What you see in the search results is your own view, based on your own social connections. That view completely depends on the number of people you have in your circles, and what they are sharing. If someone has 1000 people in their circles, they are more apt to see personalized results for a number of topics than someone that has 50 people in their circles. That said, if you are in someone's circles that doesn't have a lot of connections already, then you have a strong chance of showing up for searches focused on your niche, location, etc. I cover this in more detail below.
Although Google+ is growing rapidly, it still hasn't reached the number of users that some other popular social networks have. The fact of the matter is that there are still a lot of people not using Google+, or not using it regularly. Connecting with these outliers when they join Google+ presents a strong opportunity for current users of Google+ to influence their search rankings. For example, if you are brand, business owner, etc., you have a chance of directly influencing their search results if you become one of their connections. And when I say "influence" their search results, I'm not kidding. Read on.
The Power of The Google+ Outlier
After Search, Plus Your World launched, I received a very interesting email from someone that had added me to their circles. She was new to Google+ and didn't have many people in her circles. And from what I can gather, I was the most active out of them all. This once Google+ outlier couldn't help but view a boatload of information from me when she searched Google. Search results-wise, it wasn't "Search, Plus Your World", it was more like "Search, Plus Glenn's World". And that presents a huge opportunity for businesses looking to get noticed in Search.
When searching for anything related to technology, marketing, advertising, mobile, social, etc., I was there. The standard personalized results had several listings from my activity on Google+. That's great, but it got even deeper when she clicked on the "pure" personalized results. When clicking the link to view all the personalized results, I was in almost every single listing. That's incredibly powerful, and could very well be happening to a lot of people new to Google+. You can see a few examples below.
Outlier Example 1: Example of personalized results for "Google Analytics":
Click the image to view a larger version.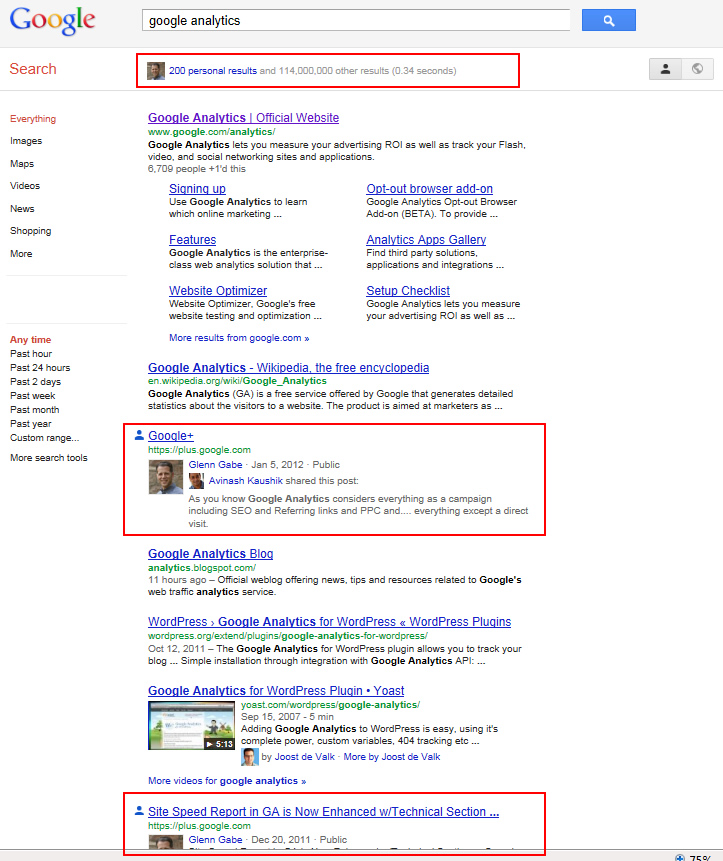 Outlier Example 1a: Example of pure personalized results for "Google Analytics":
Click the image to view a larger version.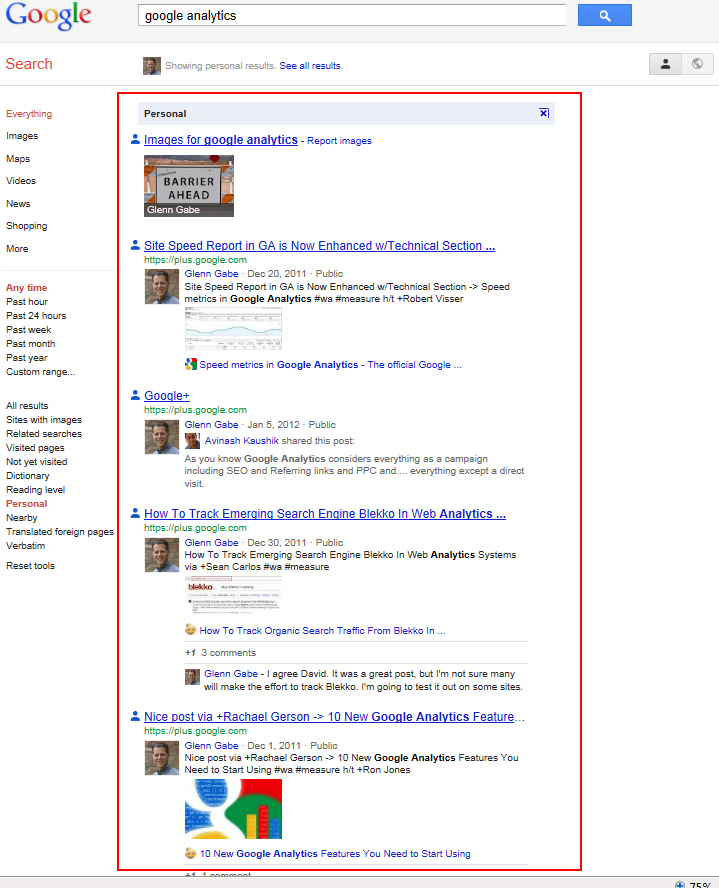 Let's try a search for a location:
Outlier Example 2: Example of personalized results for "Princeton, NJ":
Click the image to view a larger version.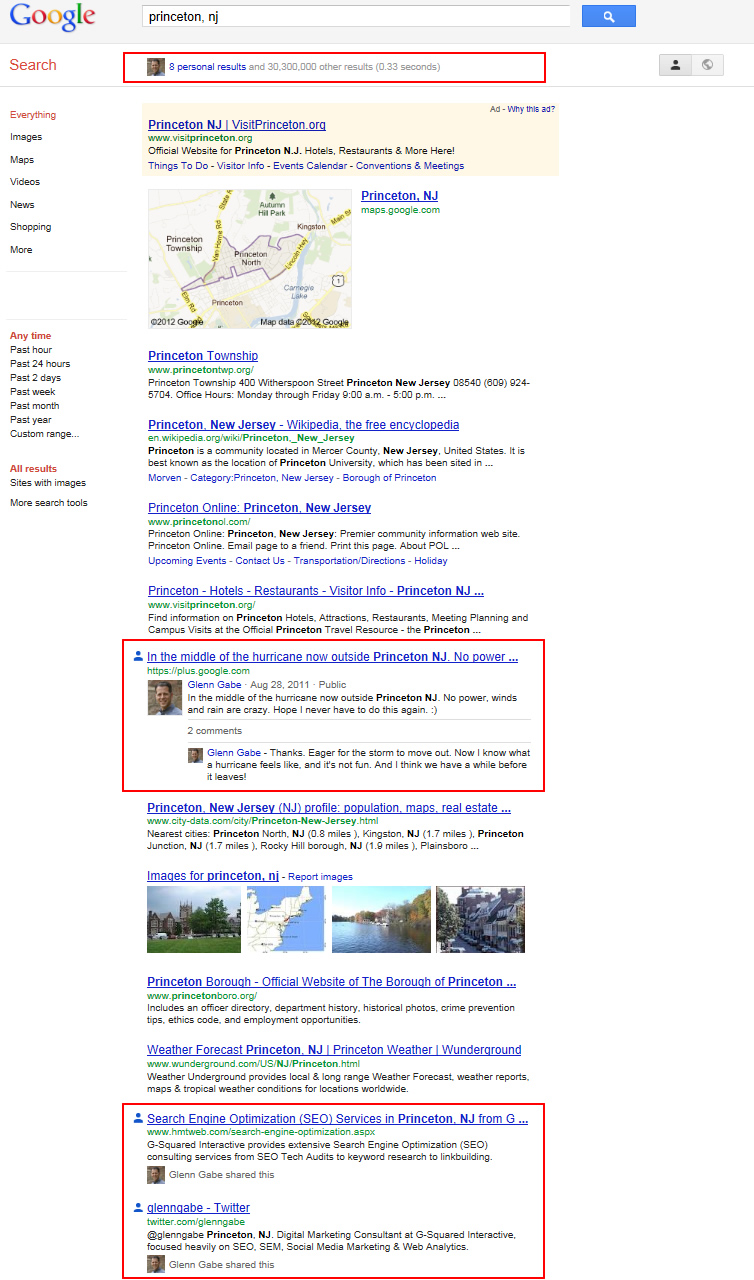 Outlier Example 2a: Example of pure personalized results for "Princeton, NJ":
Click the image to view a larger version.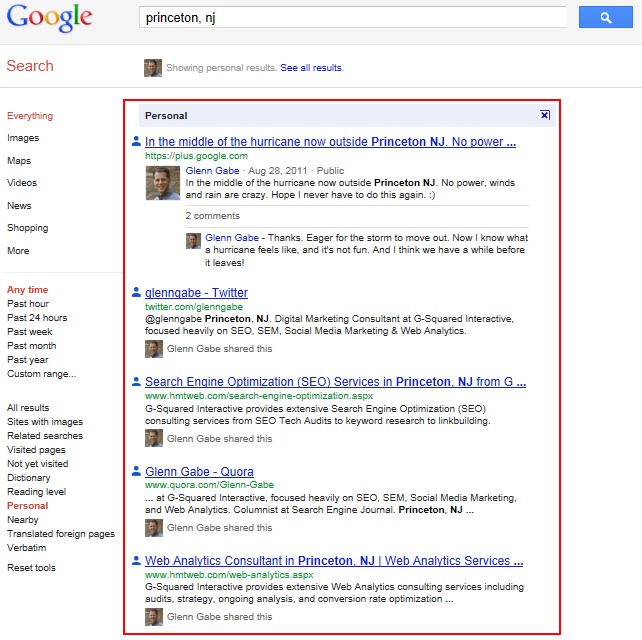 After reviewing the screenshots above, you can see that I was listed several times in the personalized results, but also dominated the pure personalized results. Google may adjust the level of personalization in the future (as they test this out), but for now it's heavily weighted by your Google+ connections.
Key Points To Consider:
There are many Google+ outliers now. You should think about the best ways to get in their circles (especially when they first make the move to G+.)
Keep sharing high quality content about your given industry, niche, etc. The more you share on Google+, the more opportunity you have for showing up in someone's personalized listings. And for outliers that make the move, you might be able to dominate the results.
The sharing effect with outliers won't be strong (at least on Google+). That said, they might be heavily using Facebook, Twitter, LinkedIn, etc. Additional shares might come, but those shares might come via Facebook, Twitter, etc. You can always use Google Ripples to analyze content you are sharing on Google+.
Don't overlook people that are new to Google+. Who cares if they only have a few connections. You can be one of them, and then show up when they search (a lot).
Summary – Entering "Their World"
If you have been sitting on the sidelines with Google+ (as an outlier), now is the time to jump in. It's going to be incredibly important for you, your business, your influence, and your rankings. In addition, if you are already on Google+, don't overlook the outliers that will soon join Google+. Search, Plus Your World provides an unprecedented opportunity to rank for extremely targeted queries. The opportunity cost of sitting on the sidelines is enormous. So start today.
And oh yeah, don't forget to add me to your circles. :)
GG