I rarely take the time to post updates on my blog about company news, as I try to keep The Internet Marketing Driver focused on providing helpful digital marketing posts! That said, I'm really excited about some recent G-Squared Interactive news and decided to post an update today.
Direct Marketing News
First, in July I wrote a post on Search Engine Journal about Google+ Advertising Opportunities, based on the recent launch of Google's social platform. That blog post was quickly noticed by Direct Marketing News, and a quote from my post was featured in the August issue. You can see a screenshot from the magazine below, and you can view the entire article as a PDF. If you end up reading the entire post on Search Engine Journal, you'll understand the incredible opportunity Google has for connecting Search and Social, which is something that no other company has done in the past. Google could potentially add billions of dollars in advertising revenue via Google+, and my post explains some possible ways it can be implemented. You should check it out if you haven't already.
Glenn Gabe in Direct Marketing News – Click the image below to view the full article (PDF):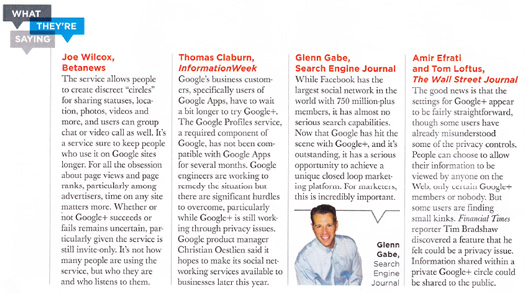 Google Analytics Featured Articles
In addition, I have exciting news about some of my analytics-focused blog posts. In June, Google reached out to me regarding my post about using Advanced Segments in Google Analytics to Identify SEO Problems. It ends up Google decided to feature that post in the Google Analytics Help Center! The featured article went live last month. Needless to say, I was thrilled to see Google feature one of my posts. I love writing in-depth tutorials about using Google Analytics to analyze digital marketing campaigns, Search traffic, etc., so I was honored to have Google feature one of those articles. In addition, I found out that several more of my posts will be listed in Google Analytics Help Center in the coming months. I will post updates here on my blog when that happens.
Glenn Gabe's post about using Advanced Segments Featured in the Google Analytics Help Center: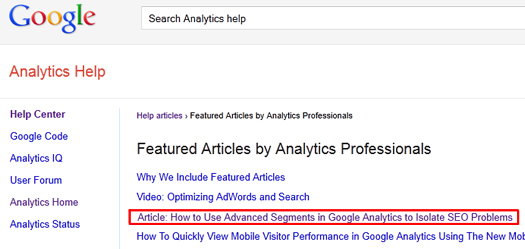 Subscribe to My Blog, Follow Me On Twitter, and Connect on Google+
Although I write extensively here on The Internet Marketing Driver, I'm also a columnist at Search Engine Journal and a contributor at the Microsoft adCenter blog. You should definitely subscribe to my blog to keep up with my latest posts about digital marketing. In addition, you should follow me on Twitter. My Twitter stream contains a constant flow of the latest news and information on technology, search engine marketing, web analytics, social media strategy, etc. You should also connect with me on Google+, which as you can probably guess, I'm a big fan of. :)
I look forward to sharing more exciting news from G-Squared.
GG