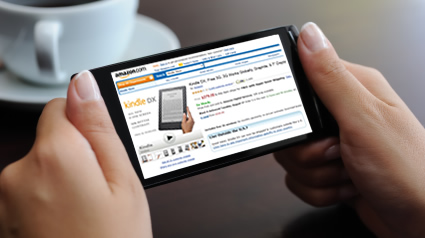 As smartphone sales boom, and mobile traffic is on the increase, I'm finding many marketers are unclear about mobile visitor performance. I say this because whenever mobile comes up during conversations, I ask how well that traffic is converting, and I typically hear crickets (unfortunately). On a similar note, there are some marketers that are making decisions about creating mobile apps, mobile websites, transforming content, etc. without analyzing their mobile traffic. They hear that Android phones, iPhones, and iPads are selling like crazy, so their knee-jerk reaction is to make serious changes to their websites. That's dangerous, since they are basing changes on opinion and not data. And if you've read previous posts of mine, you know I'm a firm believer in basing changes on hard data. It's one of the reasons that analytics is a core service of mine.
So, if you are wondering how your mobile traffic compares to your desktop/laptop traffic, then this post is for you. I'm going to show you a quick and easy way to use the new Google Analytics to understand top-level mobile performance. Note, you'll probably want to dig much deeper than what I'm going to show you, but this process will give you real data about mobile performance. I want you to be comfortable the next time your CMO brings up mobile traffic at your weekly meeting. As everyone else in the room is nervously quiet, you can be the one that starts presenting real numbers, based on Google Analytics reporting. Let's dig in.
Gaining a Mobile Baseline
In order to make smart and informed decisions about mobile strategy, you need to at least have a basic understanding of how your current mobile traffic is performing. In addition, it's a wise move to have data points handy when asked how your current site handles mobile visitors. For example, if your CEO or CMO suddenly want to know the percentage of revenue or conversion coming from mobile visitors. As explained earlier, instead of awkward silence, you can be the one speaking up and giving hard numbers.
Using the methods listed below, you can fire up Google Analytics, access just a handful of reports, and view performance data for mobile visitors. In addition, you can view mobile performance by operating system (iPhone, Android, iPad, Blackberry, etc.), since we know that's the next logical question your CMO will ask. :) Before we hop in, you'll be happy to know that the latest version of Google Analytics provides mobile reports that contain this information. Using this data, you can quickly understand if mobile visitors are having problems when visiting your site, if they are bouncing, not converting, etc. After you run this top-level reporting, you can choose to dig deeper, identify changes to make, and form a stronger mobile strategy.
Two Quick Methods for Viewing Top-Level Mobile Performance
I'm going to explain two quick methods for accessing mobile reporting in Google Analytics. Both reports are contained in the Mobile reporting tab within the Visitors section of Google Analytics. The first will enable us to see a top-level report for desktop and mobile visitors, while the second report will enable us to view mobile visitors by operating system.
Accessing Mobile Reporting in Google Analytics:
In the new Google Analytics, you can access mobile reporting in the Audience section of the UI. Click Audience, and then Mobile to reveal two reports (Overview and Devices). Note, Google Analytics has updated the interface, and the tab used to be named Visitors.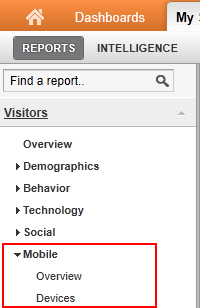 The first report we are going to access is the "Overview" report. This report simply shows mobile visitors versus non-mobile visitors. Although this looks like a simple report, it can show you the overall performance difference between the two segments of traffic (mobile and desktop visitors). Once you access the report, you'll see two rows of data, one labeled "Yes" for mobile visitors, and the other "No" for non-mobile visitors. View the screenshot below.
Click the image below to view a larger version:


At this point, all of your mobile traffic is lumped into the "Yes" row. You can quickly view top-level metrics like Bounce Rate, Pages Per Visit, Average Time on Site, etc. After taking a quick look at the report, how does the Bounce Rate look for mobile visitors? If you see a much higher bounce rate with your mobile traffic, it could obviously mean they are not having a great experience on your site. You might start asking some questions at this point… Does your current site render ok for mobile visitors? Is your navigation missing or broken on mobile devices? Can users convert, complete a transaction, etc? When helping clients review this data, I've seen some reports show a bounce rate for mobile visitors twice that of desktop visitors. There's probably an issue if you see this…
Checking Conversion for Mobile Visitors
If you have set up multiple conversion goals, then click the Goal Set tabs.

Now you can see the difference between desktop and mobile visitors with regard to conversion. If you run an e-commerce site, you can view revenue numbers for each segment, as well. Again, we are just looking at a top-level view right now. Based on what you find, you will probably want to dig much deeper into traffic sources, campaigns, keywords, content, etc., but that's for another post. :)
By the way, notice the process you are going through to analyze mobile traffic in Google Analytics is quick and easy, but also very powerful. Many companies I speak with aren't armed with even the most basic data regarding mobile performance. By quickly going through this process, you will have a top-level view of mobile performance based on data. This will enable you to make informed decisions about how to best move forward with your site content, how to drive conversion via mobile visitors, etc. Basically, you'll have data backing your case.
Viewing Mobile Traffic by Operating System
Let's say that mobile traffic has a high bounce rate and low conversion (obviously). Your next question might be, "which mobile operating systems perform best or worst on my site?" For example, Android vs. iPhone vs. Blackberry vs. iPad. The good news is that you can quickly see the breakdown via the "Devices" report in the Mobile reporting in Google Analytics. Once you click the "Devices" report, you can dimension the report by mobile operating system by clicking the "Operating System" link (which is located horizontally at the top of the report.) See screenshot below.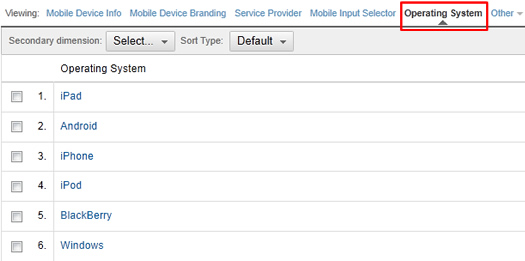 Once you click the operating system dimension, you will see all of your mobile visits broken down by mobile operating system. Then you can go through the same process we used above to view bounce rate, conversion, revenue, etc. You might find that certain OS's have more problems than others. For example, maybe iPad traffic has a 92% bounce rate and very low conversion rates, where Android phones have a 42% bounce rate and decent conversion rates. You won't know until you run the reporting. And again, you will probably want to dig deeper once you get a top-level view by OS. But again, that's for another post.
Fast and Easy Can Still Be Powerful
The next time you're in a meeting and someone asks how mobile visitors perform on your website, you can now be armed with data. As I've mentioned before, don't base decisions on opinion when you can analyze hard data via Google Analytics reporting. In just minutes, you can gain a top-level view of mobile visitor performance, and then dig deeper to view performance by mobile operating system.
Are you ready to analyze your own site now? Don't hesitate, go and access the reports I just covered in this post. You never know what you're going to find.
GG