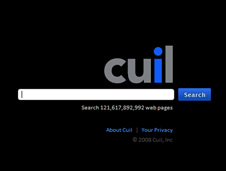 With all of the hype about the "Google Killer" Cuil over the past few weeks, I definitely wanted to give it a little time before officially commenting. When I heard a rival to Google was launching, I was absolutely intrigued, to say the least. I love Google, but I'm not sure any company should have 70% market share in any industry! :) That said, I never thought Cuil could hit the scene and pose a serious threat to Google, but my hope was that it could be a solid alternative to the search giant. The problem for Cuil, or any Google competitor for that matter, is that gaining users doesn't entirely have to do with the quality of search results (although that is an important factor). Google is so ingrained in our society that it's going to be hard for any search engine to stroll in and make a dent in big G. I'm neck deep in search engine marketing, including both SEO and SEM, so you bet I'll try it out. But ask my mother if she knows of another engine… I'll save you the time, she doesn't. And let's face it, Google does an incredible job with Search. It's not like they provide horrible results with no variety. People wouldn't use it if it did! More on that later.
Data Typically Doesn't Lie
So what do I think of Cuil? I'm actually going to let the data do the talking. I tested out both Google and Cuil using the same search terms with the goal of viewing the relevance, quality, and variety of search results. Of course, I'll add my own commentary to help give you a better picture of what I saw along the way. This is by no means a final test, but I think it gives us a good feel for how Cuil compares to Google right now. Let's hop in.
DVD's and e-Commerce
Let's hit the web to buy one of my all time favorite movies… Jerry Maguire. A search on both Cuil and Google for Jerry Maguire DVD Prices yielded:
Google: Great listings leading me to Amazon.com and other e-commerce websites. Google also provided shopping one box results for the DVD, linking to various ecommerce websites. In addition, you can always click the shopping tab in Google to see a listing of Jerry Maguire DVD's with their associated pricing. Google had me at hello. Sorry, I couldn't resist. ;-)
Cuil: This was easy, Cuil returned NO RESULTS. Are you kidding me Cuil? We're talking about Jerry Maguire here!
Learning something new and defining terms:
How about a search to define a term? Mobile technology is ridiculously hot now, so let's define Bluetooth. I entered Define Bluetooth and found:
Both Google and Cuil returned good results, although I would argue that Google did a better job of providing more variety (giving you the ability to search news, blogs, etc.) I won't knock Cuil too badly for this one. Let's call it a slight advantage to Google.
Local Search
I recently looked for a plumber in our area, so let's try both Google and Cuil for plumbers in Princeton, NJ:
Google: Outstanding results. Google's local results provided 10 local plumbers with the ability to read reviews, print coupons, watch videos, etc. In addition, Paid Search provided some interesting results too. I like the variety and the local search results. Nice.
Cuil: Unfortunately, Cuil returned misc. plumber sites, no reviews, a few weird, off-topic results like Foreign Affairs Author Page (what??). Winner, Google by a mile!
Maps and Directions
I recently played Lederach Golf Club in Pennsylvania, so let's search by address in both engines. I entered 900 Clubhouse Drive Harleysville, PA and found:
Google: Displayed a Google Maps one box listing at the top, with a link to the full Google Maps listing. There I had the ability to get directions and find the best route. Excellent.
Cuil: Decent results, but if I'm entering an address, you can probably guess I'm looking for directions and a map. There were also some results for places to visit and stay in the general area (nice, but not really what I was looking for). Winner: Google hit a 300 yard drive and Cuil ended up in the fairway bunker. Both have a shot for par, but Google has the easier path. :)
Shopping and Coupon Codes
comScore recently reported that coupon sites have seen a surge in visitors. This makes sense, given the economy, so let's start searching. I entered Coupon Codes Lands End and found:
Google: Solid results. Great coupon code websites, with retailmenot.com at the top of the list (one of my favorites). Paid Search also provided some good coupon code websites.
Cuil: Not so good. Although there were a few coupon code websites listed, there was one listed over and over again (allinonecoupons.com). I wasn't thrilled with Cuil's results and found myself wanting to see Google's results again.
Winner: Enter "Google Wins" during checkout to receive a 20% discount! ;-)
Images and Photos
Let's search for some photos. I searched for Statue of Liberty Images and found:
Google: Image one box results with a link to Google Image Search. Needless to say, I found exactly what I was looking for in mere seconds in Google. There were also stock photography sites listed.
Cuil: Random weirdness with almost no images listed. Come on Cuil…it's the Statue of Liberty! I know images aren't what you do well, but if you are going to rival Google, images have to be part of the equation.
Obama versus Mccain
No need to explain why I'm searching for this one given our election in a few months! A search for Obama versus Mccain yielded:
Google: Google News one box results listed at the top of the page with one click to the latest news about Obama and Mccain. In addition, major news websites were listed like businessweek.com, The Washington post, newsweek.com, etc. This is hard to beat…
Cuil: I found some 404's, random blogs, and overall average information. I wasn't impressed.
The State of the Union? Google wins the election in a landslide.
Cuil as a Google Killer? Not yet…
So there's my test and the subsequent results. You tell me, which search engine seems better to you? Would you stop using Google and use Cuil instead? I wouldn't…at least not yet. I do hope Cuil improves and gains in popularity, but it's not going to be easy. Cuil has a long way to go before the masses move to a new engine.
Google simply offers higher quality results that are more relevant, along with a wider variety of content. And, you can further target your results by selecting one of the major tabs Google provides (like news, blogs, finance, images, video, etc.) That's hard to beat.
If I were the founders of Cuil, I would work hard to at least return high quality and relevant search results and then move on from there. If they can't at least match Google's search results, then they are dead in the water. Actually, I believe that any new search engine trying to beat Google will have to bring a unique model to the table…much different than just showing search results. It's hard enough to change people's behavior, and that's especially true if you show no results for Jerry Maguire! Rod Tidwell would not be happy. :)
GG