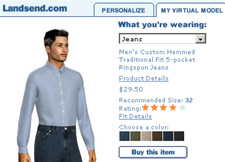 This is Part II of my series about e-commerce imaging functionality at LandsEnd.com. In my first post, I explained how the pan, zoom, and view funtionality is some of the best I have seen on the web. This post is about something much more important, at least in the long-term. When you browse LandsEnd.com and view a product detail page, you will find a link labeled "Try it on". After clicking that link, you will be taken to a virtual dressing room where you can utilize an application called Dressing Room by My Virtual Model. My Virtual Model is a virtual identity company located in Quebec, Canada. Lands' End has actually been using this functionality for a while, but I wanted to explain more about it since I believe it gives us a glimpse into the future.
So what does this application actually do? In a nutshell, Lands' End is enabling you (via a third party application) to create your own virtual self, customize your virtual model to match your dimensions, customize the look of your model, and then try on clothes as if you were in the store (without the stress of thousands of holiday shoppers around you!) ;-)
The Future of Online Shopping:
Ever since I developed Heighten (in 2003), I've been explaining what the future of online shopping could look like. Heighten is the video-based internet marketing platform I developed (in case you were wondering…) Also, when I refer to the "future", I'm not talking about the year 2500, I mean in the "not so distant" future… I would explain something like this to prospective clients:
"You'll be watching your favorite show (probably not on a major network, but on your favorite online channel), and you'll notice that one of the actors is wearing a shirt that you like. You'll click that shirt, the show will pause, and options for learning more about that shirt will pop up. You'll be able to drill into that item to see a hologram of the shirt so you can truly get a better look at the product (right in front of you and in 3 dimensions). You'll choose your size, color, etc. and click buy. The show will resume, and your shirt will be delivered the next day (and not in 5-10 days!)" Am I crazy to think that? No, that's where we are heading. Sounds very Minority Report, doesn't it?
Back to My Virtual Model:
I've played around with this functionality extensively over the past week and have provided a breakdown below. It was definitely helpful and very cool, so let's take a closer look….
Personalize Your Virtual Model:
Clicking "Try This On" while you are on a product detail page brings up a new window with your virtual dressing room. I set up an account so I could customize my model and have Lands' End save my settings. You can see a screenshot of the interface below. Now let's set up our virtual Glenn…. OK, that definitely sounds weird. ;-)
Dressing Room Interface from My Virtual Model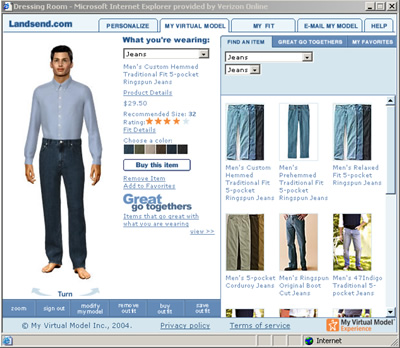 My Model and My Fit:
Clicking the "Personalize" tab brings you to a screen where you can customize your model and your specific fit. Let's start with your model. Here, you can give your model a name, a body shape, a build, height, weight, face, eyes, nose, lips, hair style, hair color, and facial hair. Wow, pretty cool, right? Or scary, I can't tell yet…
Clicking the "My Fit" button enables you to customize your height, waistband, inseam, chest size, neck size, sleeve length, seat, thigh, and age. Click "Save" and your settings will be retained by My Virtual Model. Side Note: For those of you looking to lose weight, this could be an eye-opening experience… Be prepared to see a virtual you, down to the poundage!
Getting a Good Look at the Clothes That Your Virtual You is Wearing…Or You are Wearing…Oh Heck, You Know What I'm Talking About!
Now that your model is set up, click the "My Virtual Model" tab. Now you can start trying on clothes. There are dropdowns for category, subcategory, and then products within that subcategory. For example, I selected Jeans and then clicked the first pair of jeans that showed up. The virtual model is now wearing the jeans I selected. Then I could select the color of the jeans, which showed up in real-time (real-time processing is an option in your account). Then I selected Dress Shirts and clicked the Hyde Park button down.
Getting a Closer Look : Changing Views:
So far, so good. But what if you want to get a better look at the outfit? No problem, just click the "turn" arrow buttons at the bottom of the screen. You can turn your model either clockwise or counterclockwise to view the outfit at different angles. Very cool. Want a closer look? Click the "Zoom" button on the bottom toolbar and you'll see a much larger model in a new window. You can turn your model here, as well.
Getting a Better View of Your Model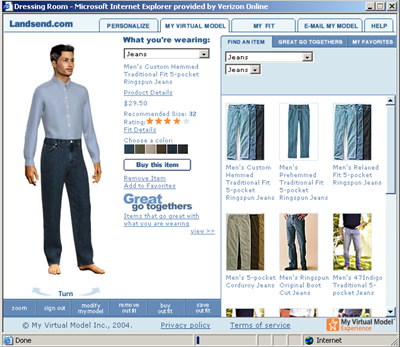 Saving Your Selections:
You can click "add to favorites" to save the product you are looking at on the virtual model, or you can click "save outfit" to save the entire outfit in your favorites. In addition, you can click "Buy this Item" to return to LandsEnd.com to select your size, color, and number of items. And, you can click "Buy this Outfit" on the bottom toolbar to buy the entire outfit you selected. More on this later… When you click "Buy this Item", it would be great if it would reflect the color you were looking at in your virtual dressing room, but it doesn't. Also, it should default to your size, based on what you entered while setting up your virtual model. I'm assuming they will build this in down the line… For me, saving specific items in my favorites worked well, but saving outfits didn't… Whenever I tried to view my saved outfits, the application would send me to a screen to register (which I had done already). Again, I'm assuming Lands' End knows about this and will rectify the issue. Other than that, it worked pretty well. :)
Excellent Opportunity for Cross Selling (and they take advantage of it…)
There are times where you need some help figuring out what matches the selections you've made. My Virtual Model enables retailers to provide this functionality in what they call "Great Go Togethers". If you choose a category and then click "Great Go Togethers" on the right side of the screen, you will find product listings and then other items that match. So, if you don't have much time and want recommendations for an entire outfit, this is the place for you. For example, I chose a dress shirt, selected the pants, and shoes that LandsEnd.com recommended and I had an outfit built in 10 seconds.
Yes, There Are Some Issues…
1. The clothes look better in photographs and in real life!
When you look at an outfit on your virtual model, the clothes don't look so hot. I know this is a virtual dressing room, but my fear as a marketer is that the application could backfire for retailers. For example, maybe the shirt looks better on me than it does on Virtual Glenn and maybe I decide not to buy it… That's just my opinion, though…
2. Saving outfits to your favorites or buying entire outfits didn't work for me:
Clicking "Buy this Outfit" while in my virtual dressing room took me to a screen where you can select your options for each product in the outfit, but the "add to shopping bag" button wouldn't work. I tried this a dozen times on multiple systems and it simply wouldn't work for me. The "Buy this Item" button worked, but if you want to buy the entire outfit, it wouldn't work…This could be a serious "conversion killer" so if I was in marketing at Lands' End, I would take a serious look at this.
3. That's Me?
Hey, that really doesn't really look like me… Thank you Captain Obvious. ;-) I know it can't look just like me, but I'll bet this can be a hangup for some people. I guess the easy way to alleviate the issue is to simply provide more options for customizing your virutal you.
Retailers, Keep Driving Forward…
In closing, I applaud Lands' End for using My Virtual Model and its Dressing Room application. It's not easy to utilize innovative functionality on a large site with that much traffic and exposure. After playing with the functionality extensively, I think they are off to a great start, but obviously not there yet. As a marketer, I can deal with some of the growing pains associated with innovation, but one thing I cannot deal with (or won't deal with) is inhibiting customers from buying. That simply cannot happen…
If you are interested learning more about how this works, then you should try it out on LandsEnd.com. The functionality is definitely a step in the right direction for online shopping, but it needs to work perfectly for it to become mainstream. I know the industry will get there…but it's just going to take some time.
GG
Related Posts:
E-commerce Imaging Functionality with Lands End – Getting a Killer Look at Products While Shopping Online
e-Commerce Shipping – Online Customers Demand a New Standard