OK, I've been waiting for this functionality to hit the latest version of Google Analytics for some time, and I'm excited that it's finally here! From what I gather, this is rolling out gradually (in beta), so not everyone is seeing what I'm seeing. About 10 minutes ago, my Google Analytics session froze. Upon refreshing, I noticed an "Email" button on the action bar with a beta label, along with a new option in the "Export" dropdown. You can now email reports as an attachment (in csv, tsv, tsv for excel, and now PDF!) That's right, you can email pdf's, as well as export them separately. You can also schedule emails by frequency (daily, weekly, monthly, or quarterly), so you can automatically send reports.
Below are screenshots of the buttons in action:
Email Button in Google Analytics: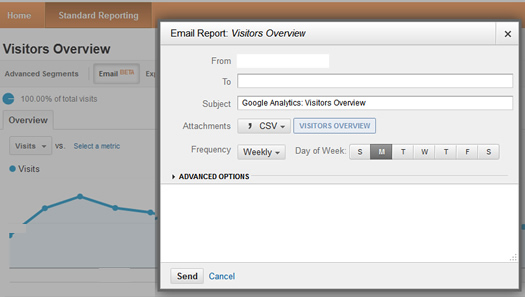 Export to PDF in Google Analytics v5: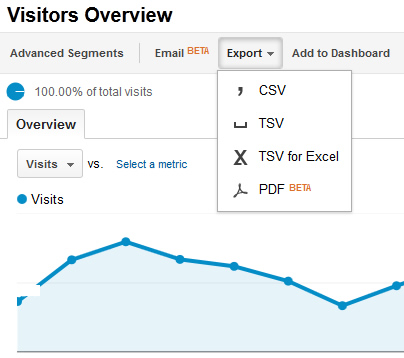 As of now, Google Analytics hasn't officially stated this is rolling out, but I'm seeing it.
Let me know if you have any questions. I'd be happy to provide more information until you receive the update!
[Update] Now that I've had some time to play with the new functionality, I wanted to explain more about export to pdf and the advanced email functionality in Google Analytics.
1. Export to PDF
From any report, you can easily click the "Export" dropdown in the action bar to export that report as a pdf. There aren't options for tailoring the report, and it will be exported immediately. As with other reports, you can increase the number of rows exported by altering the table.rowCount parameter in the URL. For example, changing it to "50" will export 50 rows versus the default 10. The report in pdf format includes the trending graph, aggregate metrics for the report you are viewing, and the rows of data with associated metrics (based on the view you are currently in). For example, Site Usage, Goal Set 1, eCommerce, etc.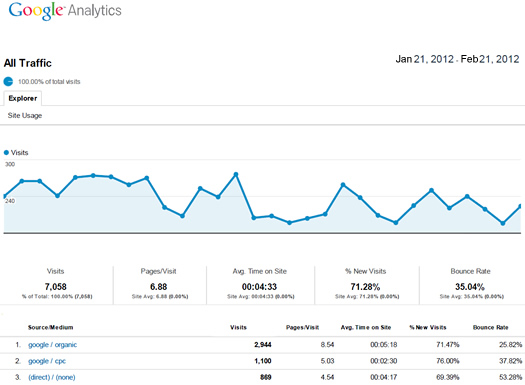 2. Email Reports (With Scheduling)
The second piece of functionality I'll cover is the new Email Report functionality. As I explained above, you can also find the "Email" button via the action bar. When you click the button, you are presented with a set of options, including choosing the format of the report. You will notice that "PDF" is now an option. You can also set the frequency for the scheduled report, including once, daily, weekly, monthly, and quarterly. If you choose weekly, you can then choose the day of the week that the report will be emailed. If you choose monthly, you can choose the day of the month. Last, there is an arrow labeled "Advanced Options", which enables you to choose how long the scheduled report should be active for. The dropdown list includes 1-12 months.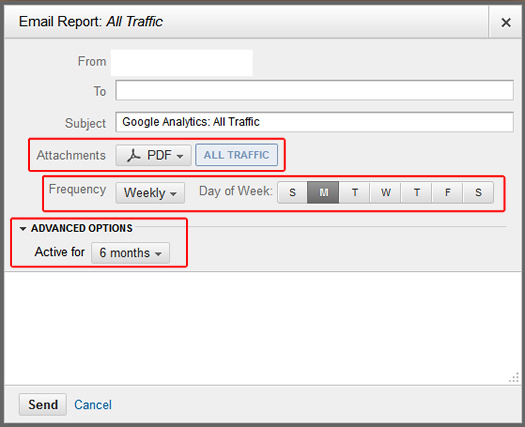 Wrapping Up – The Power of the PDF
Once your account receives the update, you should test the new functionality for exporting pdf's. I think you'll like it. This is something that's been much needed for some time. Now let me go schedule some more reports. :)
GG