As if we didn't know Mobile was booming already, Google and others in the industry released some numbers that overwhelmingly confirmed that point. For example, this past week Gartner released a study that found over 428 million mobile devices were sold in the first quarter of 2011. Yes, that's 428 million, just in just one quarter.
Also, at Google I/O this year, Google revealed that 400K Android handsets are being activated daily. Yes, per day. Both statistics are incredibly powerful, and they do make sense when you break it down. Mobile, and more specifically smartphones, provide incredible functionality and ease of use, enabling people to take mini-computers with them wherever they go.
Smartphone adoption and growth has led to the mobile app boom we have seen over the past few years. As users flock to smartphones, developers also flock to build apps for them. As the iPhone took off, developers started building thousands of iPhone apps. Now, as Android booms (surpassing the iPhone in market share), developers are building more and more apps for devices running Google's mobile OS. Again, this makes complete sense, business-wise. Go where the users are.
The Flood of Current Apps
There are currently hundreds of thousands of apps available across iPhone and Android. But, just because you can build an app, doesn't mean you should. There are obviously many apps that are useless. Some don't work well, others provide very little functionality, etc. With the incredible low cost of entry, and low risk, you could build an app just for the heck of it. Then there are also loads of games, which fill an entertainment void that was present on most feature phones (AKA dumbphones). Based on what I'm explaining, you are left with thousands and thousands of apps, some of which are valuable, while others are just taking up (digital) space.
For me personally, apps need to provide value. I'm really busy, running my own business, I have young kids, etc. Time is extremely valuable to me, which is why you won't find many apps on my Android phone that don't provide value in some way. I view my phone as an extension of my office, so apps need to provide some type of value if I'm going to use them on a regular basis. For example, some of the most valuable apps to me include:
* Twicca (an incredible Twitter app)
* Swype (I couldn't imagine actually typing on my phone, since I can swype 60+ words per minute)
* The Weather Channel app
* Google Maps (with Navigation)
* Shazam (An incredible app for music discovery, which saves me a lot of time)
* Yelp (which just helped me find an amazing restaurant on my trip to Hilton Head)
* Flixster (the ultimate app for movie-goers, and the focus of this post)
…and several other apps that help me on a regular basis
Meet Flixster
I mentioned Flixster above, and I wanted to dig deeper with the app so you can understand why I think it's the ultimate mobile application. If you're not familiar with Flixster, it's an app that provides everything you need to know about movies, including movie reviews via Rotten Tomatoes, movie trailers (video), movie information, theatre information, box office information, and ticketing (through MovieTickets.com). When you break it down, the app makes it incredibly easy to review movie information, watch trailers, find the closest theatre, and buy tickets, all within minutes (or seconds if you are familiar with the app). And it works flawlessly. On that note, I was out to dinner with my wife this past Saturday, scanned the latest movies, and purchased tickets in about 60 seconds, just in time for our appetizer to arrive. :)
The Box Office Screen in Flixster: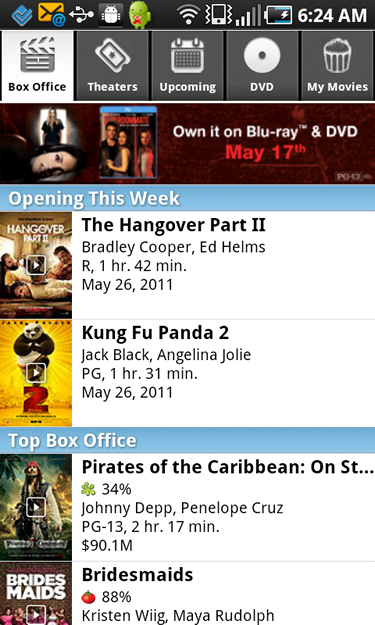 A Deep Database of Movies
Not only will Flixster give you new releases, but you can search for any movie that's contained in the database (pretty much any movie). So, the app covers any user. The reviews are provided via Rotten Tomatoes, which aggregates reviews from across many sources. With Rotten Tomatoes, you can quickly view the "tomatometer", which scores each movie based on the reviews (0-100 score). I've found this typically gives me a great feel for how the movie is. You can see screenshots below from the app.
I rarely find myself going elsewhere for movie information…
Why It's the Ultimate App
Now that I've covered what the apps does, let me break down the core reasons that I believe it's the ultimate app (from a marketing and business standpoint). It really comes down to a few core reasons, which include incredible functionality (providing value), effortless usability (making it easy for users), and commerce (the ability to complete transactions easily, while giving Flixster the ability to generate revenue). I'll briefly explain each below.
1. Valuable Functionality
I covered some of this earlier, but the app does exactly what you need it to do, and more. I can't remember a time that I searched for a movie (no matter how obscure), and didn't find a boatload of information about it via Flixster. The combination of rich information, movie reviews, video trailers, box office information, etc. give movie fans everything they need.
The Movie Information Screen in Flixster: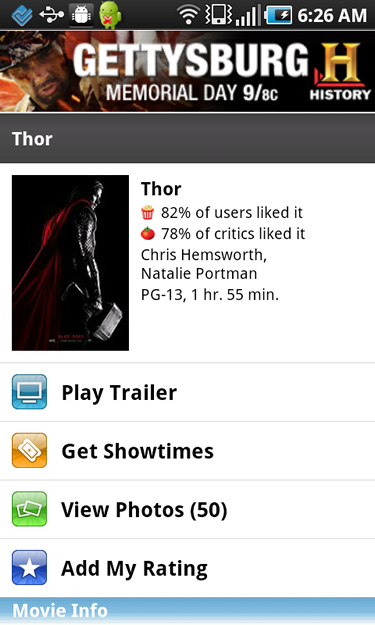 Movie Reviews in Flixster: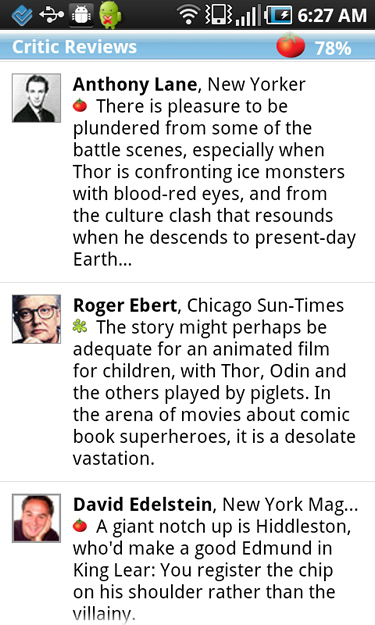 2. Effortless Usability
The app is ridiculously easy to use, laid out extremely well, and has incredible performance. If you own a smartphone, then you have probably come across some apps that are slow, bomb all the time, etc. Flixster has never failed me performance-wise. It's organized well, and even enables you to buy tickets in mere seconds. More on that below.
Mapping Your Movie Theatre in Flixster: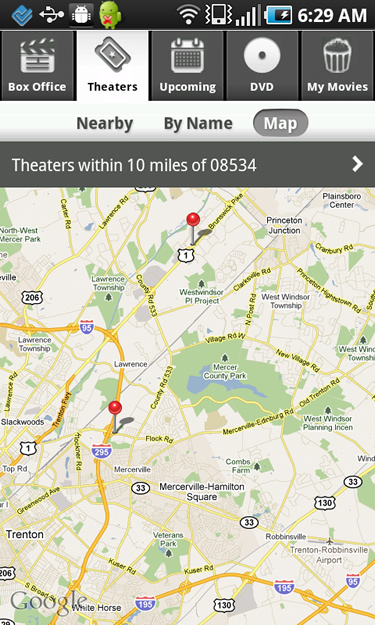 Connecting With Facebook or Netflix in Flixster: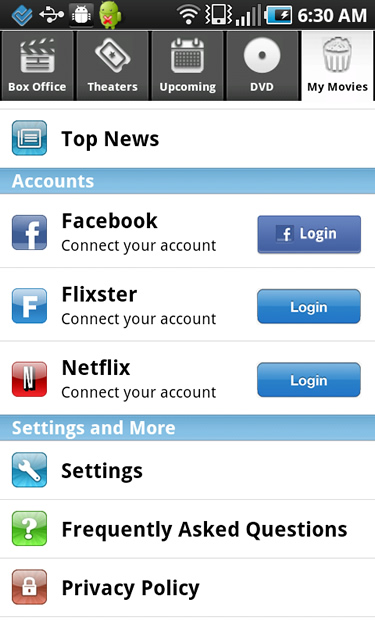 3. Commerce
Flixster is a free app, which greatly helps with adoption. But make no bones about it, there is a serious commerce aspect to the mobile app. I've mentioned the ability to buy tickets via Flixster, and it's a great addition to the ultimate app. From any movie page, you can quickly check movie times at theatres located near you (GPS-wise). You can also enter a location to find movies in an area not close in proximity. Once you are ready to buy your tickets, the app seamlessly enables you to go through the process of selecting the number of tickets, entering your credit card information, and completing your purchase. You are immediately sent a confirmation email and you can be off and running in less than a minute or two. You need to try this out to appreciate how elegant of a solution it is.
Viewing Movie Times in Flixster: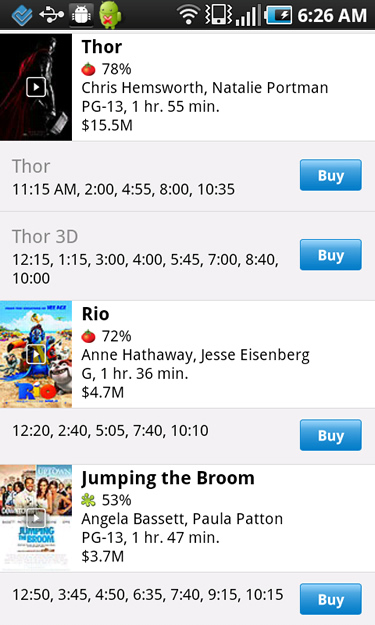 Seamlessly Buying Movie Tickets in Flixster: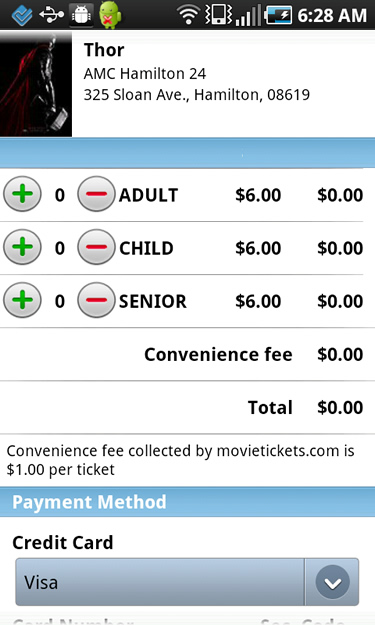 What This Means To You
If you are looking to develop a mobile app, I highly recommend spending some time with Flixster. I believe you'll understand pretty quickly the power of the app, and how it potentially could be a model for your own mobile app (no matter what you focus on). As I explained throughout this post, Flixster combines functionality, usability, and commerce extremely well, which makes it a great model for mobile apps. Sure, you can try and create fun, silly apps that go viral, but I don't like basing business decisions on "viral". Instead, you can provide real functionality that solves real problems and can generate real revenue for the long haul. Now excuse me while I check the latest move releases. :)
GG