In October of 2010, Google launched Place Search, which was a big change for its local search results. As part of the change, Google began clustering information in the search results for specific listings. The clustered results include information from a number of sources, including CitySearch, Yelp, TripAdvisor, etc. You can see a screenshot below of what the clustered results look like in Place Search. By providing clustered information directly in the search results, Google's goal was to aggregate rich local information so users could find what they needed without having to dig. This information was usually contained just on the Place Page for a given result, and not in the search results.
An example of the clustered results in Google Place Search: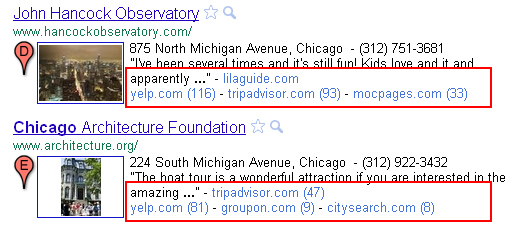 Groupon Shows Up, And Why That Matters
As I mentioned earlier, there are several sources of information that Google is pulling from in order to provide the clustered information for local businesses. Additional sources to the ones I mentioned above include InsiderPages, Expedia, UrbanSpoon, Zagat, etc. As I was performing research for a client, I came across an interesting addition to the various sources of clustered information in local search. I saw Groupon showing up! That's right, the clustered results for some listings provided links to Groupon reviews for the company at hand. To clarify, the link in the clustered results took me to the Groupon page for the specific company. So, if a local business was ranking highly in Place Search, and it had run a Groupon (or multiple Groupons), I saw a link to the Groupon page directly in the search results. See a screenshot below of this happening.
Groupon showing up in the clustered results in Google Place Search:


The Problem for Local Businesses
Although my immediate reaction was positive, I quickly started to think about the implications for local businesses. For those of you unfamiliar with Groupon, it's an extremely popular group buying site. And by "popular", I mean it's big (and hot) enough that it turned down a $6 billion offer from Google to buy the company. Instead, they are supposedly preparing for an IPO.
In a nutshell, businesses offer a heavy discount and set a threshold for the number of units they sell. This means that you only receive the discount if a certain number of people buy the Groupon. For example, 51% off X service, but only if 250 people buy the Groupon. So, although there's a heavy discount, the business knows that they will land a certain amount of revenue (which in theory will make up for the discount). That hasn't always worked out so well for the business running the Groupon, but that's for another post. :)
OK, So What's the Problem With Groupon in the Clustered Results?
Here's the biggest problem. All of the Groupons I came across were expired. That's right, when you click through the link in the clustered results, you end up at the Groupon page for the business (with the expired discount staring you in the face.) Imagine a customer searching for a spa treatment, finding your Groupon page (where you provided a huge discount), then finding out they can't get that discount, and then possibly taking measures based on that fact.
Some people may push for the discount, others may wait for the next Groupon (based on the extreme discount), and others might simply wonder why you offered such a large discount in the first place. None of these situations are great for local businesses, as they can be hurt by their past promotions. Google is essentially embedding links to those discounts into the local results (via the clustered information).
I know several businesses that have run Groupons with varying levels of success, but I'm not sure any of them want their expired Groupons front and center for prospective customers to see.
An example of the clustered results linking to a Groupon page with an expired deal (with a 57% discount):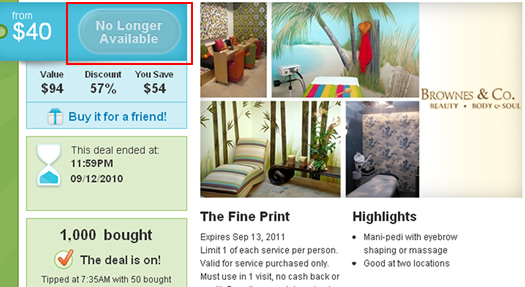 Adding Insult to (Groupon) Injury
My research also revealed something that could be alarming for some local businesses. On the expired Groupon page, there were other LIVE Groupons for competitors! That's right, prospective customers visit your expired Groupon page, only to realize they can't receive your discount, and then they are presented with live discounts from your competition. Wonderful. And remember, these are heavy discounts, not 10% or 20% off. Many are over 50% off… See screenshot below for an example.
A link from a company Groupon page with an expired deal to an active competitor deal: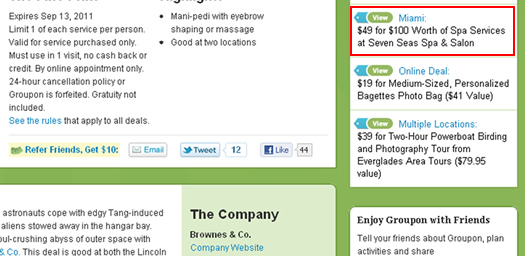 Here's the active competitor deal that was linked to from the expired Groupon page seen above: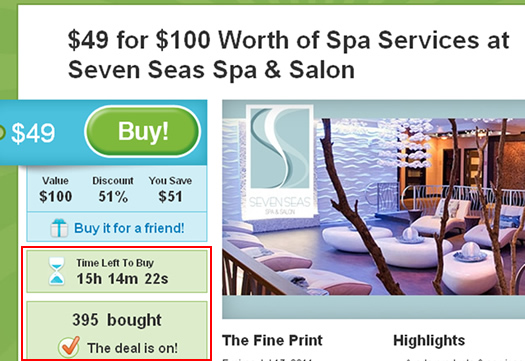 Recommendations For Dealing With Groupon in Google Place Search:
Form a plan for dealing with the "Re-Groupon". When you launch a Groupon, understand that it can possibly show up down the line (when prospective customers are searching for your services). Have a plan for communicating why customers either will or won't receive the Groupon pricing they found in the clustered results.
Be careful how much you discount your products or services on Groupon. One of the core benefits of Groupon for consumers is the massive discount you can receive. I've seen some as high as 70% off. If you offer a discount this high, and it ends up showing up in the search results, how will this reflect on your business? Will it hurt your brand? Will questions pop up in a consumer's mind about why you were offering such a large discount? And will they ultimately push for that discount, wait for the next Groupon, or worse, find your competitor's Groupon…
If you don't want your Groupons showing up in the search results, you can ask Groupon for help. Note, I have no idea if they will help keep your Groupons out of the search results, but it's worth asking. This can potentially apply to both the standard search results and the clustered results in Place Search. Just be aware that this can potentially hurt your Groupon when it's live. For example, people searching for it on Google won't be able to find it as easily. Also, Groupon appears to be marking up their pages using rich snippets, which enables Google to collect structured information that can show up in the search results. You can ask Groupon to not mark up your pages. Again, I don't know if they will do this for you.
Summary – Should Groupons Live Forever?
It's one thing to have helpful information show up in the clustered results of local search, but it's another thing to provide links to heavy discounts, for very specific promotions, after they have expired. As a local business, you might end up trying Groupon to see if it works for your company, and that's a good thing to do. But, you should also understand that the massive discount you are offering could haunt your business for a long time (beyond your Groupon expiration date). That's especially true if a link to the discount shows up front and center in the search results of Google. For better or for worse, Google never forgets.
GG