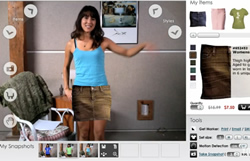 This is the second post in my SES NY 2010 series. The conference is only one week away and I'll be covering it again via blogging and Twitter. As part of my coverage, I'm writing a few posts about sessions that piqued my curiosity. As I was scanning through the list of topics being covered at this year's conference, it was hard not to be interested in the session about Augmented Reality (AR). AR is the hot new technology that merges real world data with computer generated elements, and it provides a world of opportunity for mobile marketers.
Last week I was able to speak with Rachel Pasqua, the Director of Mobile Marketing at iCrossing, who will be co-presenting the session titled "Augmented Reality: A Brave New World". The session will focus on how marketers can use Augmented Reality to create new and engaging ways to connect with consumers. The session is being held from 4:45PM-5:45PM on Tuesday, March 23rd. And if you're not that familiar with Augmented Reality, you're not alone. Although there has been quite a bit of buzz about AR over the past year or so, there are still many marketers scratching their heads about how to best use the technology.
Augmented Reality and The Blistering Speed of Online Marketing
Online marketing is now moving at a blistering pace. That's up from a staggering pace last year, and an astounding pace the year before. :) It's part of what I love about the industry. Augmented Reality is one of the most recent advancements, and I find there's a lot of confusion about what it actually is, how you can use it, and what the future looks like for the technology. Currently, the iPhone is driving AR, based on how many devices are in the market and the ability to easily develop iPhone apps. Then of course, you have the app store, which then makes it easy to market and sell apps once developed.
What Is Augmented Reality?
As mentioned above, Augmented Reality combines computer generated elements with real world data. For example, an AR Twitter app for your iPhone might superimpose other Twitter user profiles that are in your vicinity, based on the GPS signal on your mobile device. Another example would be the ability to virtually try on clothes via an application that uses your webcam mixed with computer images from an online store. Although there are endless ideas for using Augmented Reality, the technology is still extremely new (which somewhat limits the real-world possibilities for marketers in the short-term). You can build the best app in the world, but it's worthless if few people understand how to use it! Many of the AR apps available now still struggle with providing the value needed to gain traction, but that's definitely starting to change. For example, Zugara recently launched a shopping app that enables you to virtually try on clothes via your webcam. It looks pretty cool, and definitely provides more value than many of the AR apps on the market. I expect more of these types of AR apps to hit the market in 2010.
My Interview About Augmented Reality With Rachel Pasqua

Based on my interest in Augmented Reality, I was able to track down Rachel Pasqua to ask her some questions about her session. Since Rachel is neck deep in mobile marketing, I was eager to hear her thoughts about Augmented Reality, the future of the technology, and how marketers can use AR to connect with consumers. I found that Rachel provided a very real-world view of the technology (no pun intended).
So without further ado, here is my interview with Rachel:
Glenn: What are the top two or three things people will learn at your session?
Rachel: Like most new technologies, AR is mostly being used right now for its own sake (because marketers are excited about using this new technology.) My presentation, entitled "What's the ROI of AR?" will focus on ways in which various verticals can use Augmented Reality to support real marketing goals, as well as simple tips for getting started.
Glenn: Can you provide some innovative ways that companies are starting to use AR in their marketing efforts?
Rachel: The only truly innovative usage I have seen so far is the United States Postal Service's Virtual Box Simulator. It's a great example of AR being used to provide a service and improve the overall customer experience.
Glenn: Is there a high cost of entry to developing AR applications? Also, what type of turnaround is there for developing an app?
Rachel: The cost of developing an app all depends on the complexity of the app itself, what you put into it, and who develops it. You could get a freelance app developer to build you one for ~$25K or you could hire a hot agency to concept, design and market one for $150K+. Like all digital marketing, it really all depends on what you're trying to achieve. There are several AR SDKs out there that can be used to implement the actual AR functionality so there's not much additional cost to developing an AR app versus any other kind.
Glenn: Are there many vendors or developers that are up to speed on the technology?
Rachel: Yes, many – AR is one of the most promising new areas of mobile marketing so this is something developers are pretty excited about.
Glenn: Are there services, software or tools on the market that can help companies develop and employ their own applications (without external development)?
Rachel: The LAYAR API is probably the best known right now. http://layar.com/
Glenn: Are there any case studies you are going to provide (along with statistics) about AR apps?
Rachel: None that I'm aware of just yet – this is all so new and most examples are gratuitous use of technology rather than well planned out marketing initiatives.
———————————
If you are interested in learning more about mobile marketing and how Augmented Reality works, then you should definitely check out Rachel's session at SES. Again, the session is titled "Augmented Reality: A Brave New World" and is being held from 4:45PM-5:45PM on Tuesday, March 23rd. I believe the session will give you a solid understanding of how AR is currently being used, as well as what the future looks like for the technology. Now, let me go virtually try on some new cargo shorts via Zugara. :)
If you have any questions, post them below. Either Rachel or myself will respond.
GG